As patients and recipients of medical care, we tend to take for granted that science is a sure thing. But, in truth, doctors are sometimes limited by the technology around them, which in turn complicates the care they can provide their patients.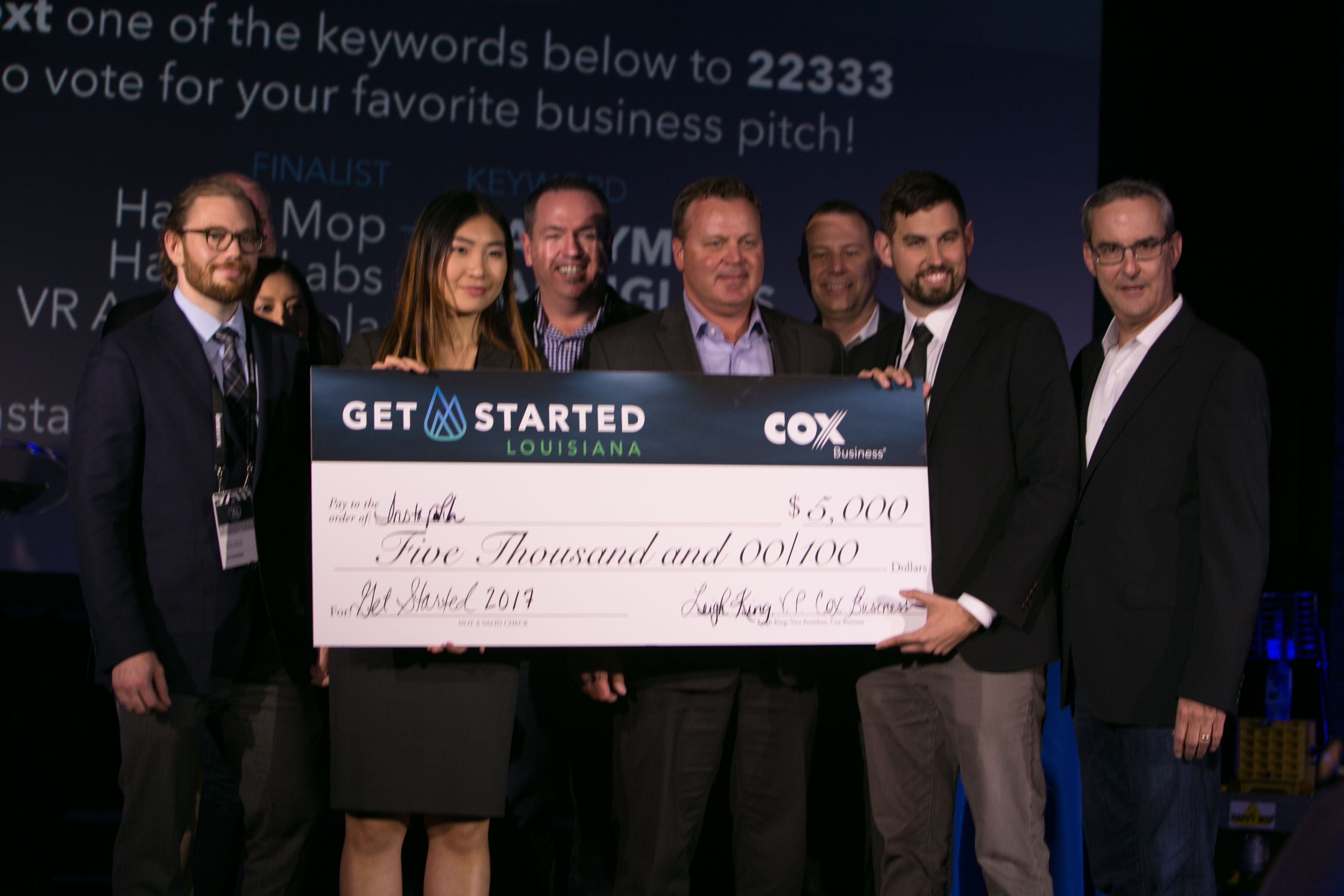 When a doctor attempts to diagnose a certain type of cancer, for example, they often collect cells for biopsy. But with current technology, biopsy results take up to two weeks to process, and even then, often don't provide concrete answers. In fact, one in five patients will receive an inconclusive result on a biopsy. For these patients, that means more procedures and more testing, or the doctor will need to rely on best guess assumptions and begin a course of treatment.
However, what can be even worse, is when patients wait two or even three weeks for a test result, and then they decide not to return for treatment. That's a problem.
Meet Mei Wang – From Get Started New Orleans Winners Instapath Bioptics
Instapath Bioptics is looking to provide doctors with a solution. Mei Wang and her colleagues J. Quincy Brown, Pete Lawson, and David Tulman are in the process of building a faster, more accurate microscope that removes the guesswork. The goal? "[We want to] reduce repeat procedures and improve overall outcome patient care. If [doctors] can get better answers, they can treat a patient better," says Wang.
And it seems like the public agrees. At the Cox Business Get Started Louisiana pitch competition, Instapath took home multiple awards. "They first announced we won the audience favorite, and then it was like, 'Oh, I guess we didn't win the big thing.' I was a little disappointed when we sat down. Then, five seconds after, he was like, 'Yeah, you won the big thing as well.' Of course, we were so excited!"
That "big thing" is a $10,000 cash prize package including cash and advertising that Wang's team plans to use for the next phase of their business—moving from a lab prototype to an industrial prototype. "For a medical device, it's typical to take about six to 10 years from a prototype to an actual product on the market. It's a very long time. We're going to use [the prize] for further product development."
Improving Patient Outcomes
Every year, 5 million biopsy procedures are performed to diagnose cancer in the U.S. alone. Of those 5 million patients, 1 million need repeat procedures due to inadequate biopsy quality. Repeat procedures can delay life-saving treatments for over two months. Instapath ensures biopsy quality, thereby reducing repeat biopsies by half.
The Instapath microscope ensures the quality of biopsies by providing an exact picture of a whole biopsy at subcellular resolution within seconds of removal. By reducing procedure time, Instapath doubles throughput for hospitals. Instapath ensures millions of patients receive their diagnosis faster, so they can begin treatment sooner.
As many physicians shared with the Instapath team, when a patient has to wait for an extended period of time for test results, it decreases the likelihood that they'll return for a treatment plan. By giving more accurate answers at a faster rate, Instapath hopes to encourage more patients to seek treatment. As Wang puts it, "One of the things we think we can potentially do is help the physician, at the time of the procedure, to give [an] answer. If the patient knows they have some kind of disease, they [are] more likely to come back [for treatment]."
Exploring the Business of Science
A biomedical engineer might not seem like your typical entrepreneur—and you'd be right! But Mei Wang is learning as she goes (and reading quite a few books about the entrepreneurial journey). Her experiences as a scientist have influenced the company for the better.
When I asked about Instapath's process for product development, she warned me, "I'm going to sound very, very scientist for now… We are always trying to find data that's from different kinds of samples."
Her passion for data taught her over the past several years to consult her customer base—and then consult them again and again. It's not enough to think you're building a good product; you need to know it serves your base. The Instapath team has been to international conferences, read industry journals, and talked to hundreds of doctors about their product.
"It's not just building something that works. It's also building something that works for that group of people. What do our users say, what do they think? Do they think this is too big, too small, too fast, too slow? From that, we get another iteration of our product through feedback from our users."
And if Wang has learned one thing from all that conversation, it's this: "A lot of times people are afraid to talk to people about their new ideas because they're afraid of criticism or how people don't understand it. We got the best feedback from talking to people. I think that's the biggest thing: Don't be afraid. Talk to people about it."
It's sound business advice for any entrepreneur. Most business owners think of their business like a child—but in product development, as in writing, you need to kill your darlings to be successful.
What's Next for Instapath
The microscope is just one piece of the doctor-patient puzzle Instapath hopes to complete. Over the next several years, in addition to prepping their product for market, Mei Wang and Pete Lawson will develop an automatic recognition program to help physicians better recognize patterns in order to further accelerate the diagnosis process.
It's a long road from start to finish (Mei admits this project has consumed her life a little bit), but the Instapath team has what it takes to see it through: perseverance and passion. "You just have to have that little voice in your head saying, 'You've got something,' and then, 'Don't give up just yet.'"
For Mei, the payoff is worth it: "It's absolutely amazing. It's an adrenaline thing. It's a rush."
If you'd like to learn more about Instapath, visit instapathbio.com
Highlights from Get Started New Orleans 2017
Get Started Louisiana 2017 RECAP from Creative Review on Vimeo.