Outsourcing some of your IT needs to a technology partner can increase your business' growth and profitability. Using a Managed Service Provider (MSP) or Internet Service Provider (ISP) frees up your IT team to focus on innovation and internal initiatives, while many of the routine or daily needs are managed by a third party.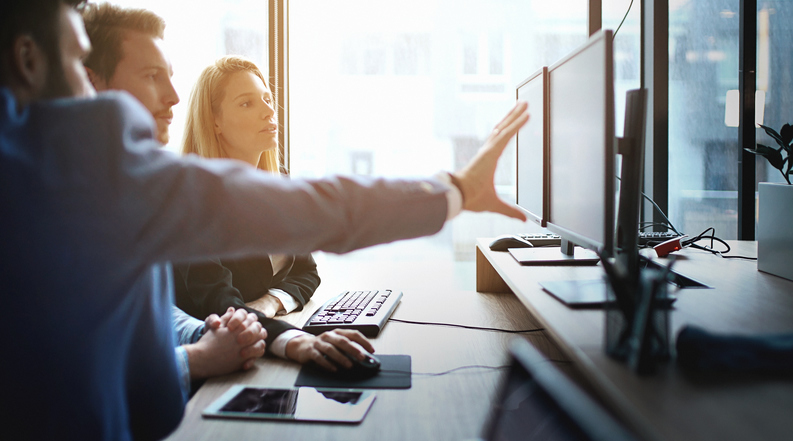 However, this only works when your technology partner is fully able to meet your needs and aligned to work with your organization. If you don't find someone able to be on the same page, you end up spending more time than you save, and can also end up creating double work if your IT department can't trust the outside organization to do its job effectively. At the same time, you need to give MSPs and ISPs the space they need to meet their deliverables, which means resisting the urge to micromanage.
So how to do you find the right company to outsource? Here are six questions to start with.
1. Do They Have Expertise?
Ultimately, this is the first and only place that you need to start. Do they actually know what they're doing, or are they making promises that they can't keep? This is probably the simplest question to answer because it comes down to track record. What you're looking for is experience with companies that have needs similar to yours, or recommendations from people you trust, keeping in mind that the strongest testimonial is a long-time client.
While there is always space for innovators to come in and disrupt an industry, it's also important to keep in mind that the kinds of services that MSPs and ISPs provide are generally key to your core business remaining operational. At the end of the day, reliability is key. Looking at how long a company has been in business and what's on their resume are great shorthands for what you're really after, which is expertise and reliability.
2. Are They Responsive and Do They Communicate?
Beyond making sure your potential outsourcing partner has the credentials required to get their foot in the door, it's important to also evaluate how your companies will communicate. A contract with an MSP or ISP is so valuable because it's not just based on a set of deliverables — it's an agreement to provide an ongoing service, without the need to micromanage the details of how that service gets implemented.
The best service providers know that communication is key to a successful relationship. This isn't just about setting up an autoresponder so that the company can claim that it has a lightning-fast response time. Instead, it's about letting the person on the other end of the computer know that a human is on the case, understands what the problem is, and is working to fix it. An MSP or ISP that doesn't communicate is a recipe for disaster.
3. Do They Offer Value?
If you're going to use an MSP or ISP outsourcing solution, you need to know that it's worth the cost. Because they're providing a service and not concrete deliverables, it's important to understand what the ROI calculations actually look like.
First and foremost, look at how many man-hours you're saving by going with outsourcing, as compared to how much time was previously spent patching up leaks and putting out fires. After that, you'll need to factor in less tangible things, like less exposure to liability with improved security, better resilience, and more IT hours devoted to innovating.
4. Are They Available When (and Where) You Need Them?
This will partially depend on what service-level agreement (SLA) you hammer out, and what the prospective ISP or MSP is capable of. One of the major benefits of moving to a specialized outside vendor for these services is the possibility for around-the-clock monitoring.
It's also important to keep in mind that technology has its limitations. Even with expanded and improved networking capabilities, some issues simply won't get solved unless someone shows up to figure out what's going on. Can the partner you're looking at get people to you quickly, or do they have to put someone on a plane?
5. Are They Proactive?
One of the big reasons to switch to a managed solution is that, by going with an expert, you also secure access to cutting-edge technology that can take your business to the next level. A great MSP or ISP will offer new solutions and ideas to help grow or optimize your business.
While fulfilling and exceeding SLAs is a great start, it's not going to get you the edge you need to compete. If you're talking with a company about becoming a potential partner, it's important to touch base about longer-term goals. That conversation will tell you a lot. A quality partner will have ideas about where you're headed, not just where you are.
6. Does Their Business Culture Align With Yours?
Beyond experience, this might be one of the most important things to take a close look at. Culture is a nebulous word for a lot of things: communication style, level of formality, expectations for documentation, and far more. Ultimately, this is about fit. If you don't operate under the same assumptions, there's going to be a lot of miscommunication and, like we said before, clear communication is the key to success with a technology partner.
What You Can Do Right Now
Picking a technology partner for your business can be a big decision, but it can pay big dividends in terms of growth and profitability. By focusing on key questions, you can quickly figure out if a vendor is right for you.
First and foremost, consider their resume.
Look at how they measure responsiveness, and whether or not that extends to 24/7 support.
Prioritize proactive companies who seek to innovate, not just check things off a list.
Take a close look at their business culture and see if it's actually a fit.
Learn more about Cox Business solutions for your business. Visit us.

Latest posts by Murray Goldstein
(see all)