In the hospitality industry, customer satisfaction is the name of the game (literally). Anything you can do to improve the customer experience can pay big dividends in terms of loyalty, word of mouth, and good reviews.
Technology can play a vital role in helping you create personal, memorable, and frictionless experiences for your guests. Here are some ways your hotel can use technology to boost customer satisfaction in 2018.
1. Offer More With Your WiFi
First of all, it should go without saying that, in 2018, you need to offer free WiFi for your guests. Hospitality is all about offering your customers a home away from home, and internet access is one of the ways that we feel at home, especially for millennials where the second or third question when someone is visiting is, "What's the WiFi password?"
Assuming you already have free WiFi, are you also prepared for everything your guests throw at it? First of all, guests are sure to bring multiple devices with them, and that number only multiplies when you're talking about roommates on a business trip or a family of four sharing beds. It's reasonable to expect each guest to have around three devices: a laptop, a smartphone, and a tablet, but that number will only grow as more and more connected devices (like the Apple Watch) become a part of our daily lives.
It's critical to know how to scale in this landscape. For each device, there are IP schemes to pay for, challenge engine licenses, and more that your infrastructure needs to be able to handle.
To make sure your service is top notch, anticipate future demands and plan your hotel's Wi-Fi infrastructure for the long haul, thinking three to five years out. Look for ways to make sure your access point system is modular and easily updatable, so as technology ages you can make upgrades without disabling the entire network.
2. Leverage NFC Technology
Near-Field Communication (NFC) technology is the process that allows two different devices, one of which is usually a smartphone, to communicate with one another when they are brought close together. It can make a big difference for your customers in removing friction and making their experience seamless. The most obvious place to start is with payment. As services like Apple Pay and Google Pay become more and more ubiquitous, customers are getting used to the idea that all you need to something like check-in or pay for room service, for example, is a smartphone. Smart businesses are taking advantage.
Beyond payment, many hotels are working to make room keys a thing of the past. After completing a wireless check-in, keycard information can be transmitted wirelessly to the guest's smartphone to unlock their room and other amenities without ever dealing with the concierge. For the customer, it removes friction from the experience and gets them through the front door and into their room as quickly as possible. For the hotel, it saves on key cards and saves staff time that would otherwise be spent replacing lost or faulty keys, which can add up over time.
3. Take Advantage of CRM to Increase Customer Satisfaction
The CRM revolution is already upon us, but it's important to realize that merely collecting data is half the battle. The real differentiator is in how you use it. In the hospitality industry, there are all sorts of data points you can use to personalize the experience and add that extra bit of care and attentiveness that can really make a difference for your customers.
For example, if you're in Canada your CRM can tell you that your guest is American and probably wants their thermostat to show temperatures in Fahrenheit, rather than Celsius (though you might want to use the same theatrics that Banff Fairmont Springs did and have your bellhop change it in front of them so they notice it).
Going even further, you can use your CRM to collect data on your customer to help you tailor the experience to their preferences. From their preferred room temperature to their meal and drink preferences, these systems make it easy to turn little interactions into actionable data that gives your business a memory and makes customers want to come back again and again.
4. A Concierge in Your Pocket
Embracing tablets and smartphones as a part of your guest care plan can mean so much more than just using it to get people from one place to another quickly. If you invest in developing an app and really integrating it with your business, you can do a lot to personalize the experience and keep customers coming back for more.
With the right app, you can put everything from climate control to room service at their fingertips. This can cut down on time your staff spends fielding orders or giving directions to common locations, but, more importantly, it puts your guests in the driver's seat for their experience. Combined with the creative ways that you're collecting customer information, you have the tools to make a truly memorable customer experience.
5. Use Marketing Automation to Take Care of Customers
We often think of marketing as a tool to get customers in the door, at which point customer service takes over to make sure that they have a good time. However, there's no reason that marketing and messaging need to stop once you have the customer in the building, and, in fact, there's a lot they can do to make the customer feel taken care of every step of the way.
A simple way to get started is to come up a marketing automation sequence that sends your guest a series of emails, depending on why they're there and how long they're staying. You can set up a sequence to ask the customer for feedback in the middle of their stay, which you can then act upon, or send out a series of recommendations for restaurants and points of interest nearby.
What You Can Do Right Now
Hospitality is all about anticipating your customers' needs and acting accordingly, and technology can help you go even further to increase customer satisfaction. By taking advantage of everything smartphones have to offer, using what you know about guests to personalize their experience, and anticipating their questions, you can provide a top-notch customer experience that will keep them coming back for more.
Offer free WiFi that can handle any device your guests throw at it.

Leverage NFC technology to get them through the door and into their room faster than ever before.

Use a CRM to collect any and all information you can about your customers, and then make it actionable.

Build an app to help your guests customize their experience.

Create email sequences with marketing automation to solicit feedback and improve their stay.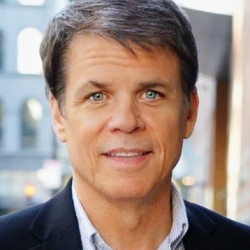 Latest posts by Martin Jones
(see all)