A lot of the basics of the hospitality business don't change. You want to deliver excellent service, provide great entertainment options, and pay close attention to details that will make customers return again and again. You want guests to feel like your hotel is their home away from home. The challenge? The definitions of what this means are changing quickly in the eyes of consumers, and the hotel industry.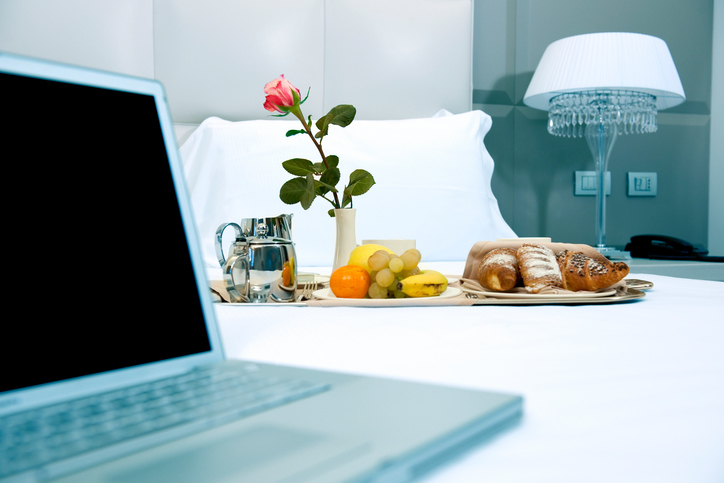 The one known variable about the future of hospitality and tech is this; that for the foreseeable future, consumers needs are only going to increase as technology continues to evolve. As options multiply, customers' expectations of what they should be able to do in their room, away from home, will continually multiply also.
A short time ago, hotel management primarily had to worry about a guest's physical comfort, but times have changed. Now they need to also focus on how to keep their network secure, boost bandwidth as connectivity needs increase, determine how many "screens' are optimal for the number of guests in a room, manage the data they generate to deliver an optimized guest experience, and much, much more.
Balancing everything can be a challenge, so it's become increasingly important to know what options are available. With that in mind, here are four tech trends in the hotel industry you'll want to keep an eye on in the coming year.
1. Bandwidth on Demand
The one thing we know about the future when it comes to Internet usage is that the need for increased bandwidth will continue to rise. The Internet connection your hotel provides to current guests is most likely perfectly acceptable today, however; there's a good chance it could be woefully inadequate tomorrow. If you host events or conferences, this isn't just an aphorism—you could run into a major connectivity problem literally tomorrow, depending on the event.
An average non-millennial traveler carries 2.5 devices with them. This makes sense when you think about it: a phone, a laptop, and maybe something else like a tablet or a connected watch. In comparison, the average millennial expects connectivity on an average of five devices.
Your property needs a network that can handle all of these connections, and the bandwidth increase that can comes with it. At the same time, you don't want to be paying for a theoretical cap that you'll only hit a few times a year when large conferences are in town.
The way to do this is to work closely with your Internet Service Provider (ISP) to take advantage of on-demand options for bandwidth. Most of the time you won't need to dial it up all the way, but you want to be able to have the option when you need it.
2. Device Integration
At home, entertainment has increasingly moved into on-demand subscription services that offer a wide variety of options. More and more people opt to settle in for the night with a laptop or tablet in bed, or on the nightstand, and it's no different when they're on the road.
So, how do you impress a customer that already has all the entertainment they want? By making it seamless for them to use their device to do things they wish they could do at home. Casting technology, for example, is one way to do this by making it easy for guests connect their devices to the display and sound options in their room. It's a simple perk that will keep guests coming back, as well as talking about the amenities of your hotel to friends, family, and co-workers. 
Device integration doesn't stop with entertainment, however. With a proprietary app, you can offer your guests the ability to control their lighting, heating, and cooling, and even unlock their door from their smartphone. Mobile-friendly room service, check-in, and checkout make things easier for both your guests and your employees, cutting down on overhead and delivering an outstanding customer experience.
3. Energy Efficiency
In the past, there's been a hesitancy to encourage guests to take steps that can conserve energy. People understandably feel that, since they're paying for their stay, they should be able to do whatever they want with the lights, heating, water and anything else in their room.
The number of hotels that have switched to LED lighting, and added sensor systems to control temperatures, has increased dramatically in the past decade. There are good reasons for this: Being conscious of energy efficiency isn't just good for the environment, it's great for your bottom line. For one thing, you're spending less on energy, but even more importantly, you're positively impacting your brand: Almost 75% of millennials surveyed by Nielsen in 2015 said that they were willing to pay extra for sustainability.
Options like LED lighting, OLED TVs, keycard-controlled lights, and energy efficient laundry machines save you money, and telling your guests about them can build trust. Saving on energy is good business sense, but bragging about it is even better marketing.
4. Big Data
As the hotel industry continues to expand the options it offers to people, the amount of data it stands to collect is growing exponentially. Most hotels are sitting on a mound of information that could be leveraged to increase efficiency, improve customer retention, and change the way they do business; the question is how.
Moving forward into the future, data collection and the analytics tools necessary to make sense of it are shifting into the foreground. Even something as simple as what time a customer checked in and out can tell you a lot about their habits, and the brands that figure out how to make that data actionable are the ones that stand to reap the rewards.
What You Can Do Right Now
While keeping people comfortable and simultaneously providing top-notch service is the key to the hotel business, keeping your eye on tech trends that can help you do this is vital. It's essential for hotels to exceed their guests' expectations for connectivity, device portability, and seamless integration in today's competitive market. Meanwhile, leveraging energy efficiency and big data can help you build your brand and keep people coming back for more. The one thing we know for sure is that tech will continue to evolve, and brands and properties that innovate and adapt quickly, providing the best experience for their guests,  will not go unnoticed by consumers.
Have a plan for when you need to give your bandwidth a boost.

Provide entertainment and equipment options that work with and improve upon the devices guests are already bringing from home.

Jump on the energy efficiency bandwagon to save money, stay on-trend, and build goodwill.

Take advantage of the data you collect.
Martin Jones is a Senior Marketing Manager with the corporate Cox Communications social media team where he assists in leading strategy, campaign ideation and marketing execution for Cox Business social media & content marketing. Today, over 1 million fans engage with Cox Communications content, campaigns and Customer Care on Facebook, Twitter, You Tube. LinkedIn and Google+.