Hotel Guest Experience and Customer Service
If you're a hotelier, you're in the business of serving others. Your hotel's profitability directly correlates to the guest experience and customer service you provide.
Remember, the customer experience starts long before a guest even arrives at your hotel and it doesn't end when they leave. Here are 21 new ways to create a great customer service experience at your hotel.
1. Make your marketing mobile-first for a better guest experience
Technology is rapidly changing the customer's path to purchase. According to PhocusWire, 94% of leisure travelers use multiple devices when planning and booking travel. Think of your own behavior: you might research on mobile or tablet first, then book on desktop.
Websites that are mobile-friendly and responsive are no longer "nice to have." They're a necessity, and hen it comes to marketing campaigns, hoteliers need to use a cohesive, multi-channel and multi-device approach to reach travelers at different touch points.
2. Optimize your website for voice search to improve the guest experience
According to research by comScore, voice search will make up 50% of all queries by 2020. So how can hotels optimize for voice search and take advantage of this growing trend? Start by understanding how people are using Siri or home assistants like Echo or Alexa.
Voice searches tend to be longer, question-like queries and location-based "near me" phrases. Hotels should make sure the content on their site answers common questions about their destination. For those "near me" voice searches, hotels should optimize their local listings, like Google My Business, with accurate information and recent guest reviews.
3. Showcase your product using virtual reality and 360-degree video
Compelling visual assets help hotels stand out from their competition.
Immersive experiences like virtual reality (VR) and 360-degree video help the customer place themselves at your property. Hotels can create a VR walk-through of their guest room, facilities, or even nearby neighborhood highlights. 360-degree tours are also an effective way to showcase meeting and function space to event planners.
4. Use a cloud-based property management system to provide better customer service
The days of keeping tedious, pen and paper booking records are long gone. Even existing software can be too manual and outdated. 96% of hotel software buyers are now looking for a cloud-based system.
A cloud-based PMS stores information on the internet, making it accessible from any device. This also streamlines the day-to-day tasks involved, from checking availability to handling guest inquiries. Using business cloud services frees up time and resources, too. This means staff can focus on providing the best possible customer service experience to guests.
5. Unlock keyless entry for the ultimate guest experience
Back in 2014, Starwood Hotels & Resorts (since acquired by Marriott) made waves when it introduced keyless entry via their SPG mobile app. Other major hotel brands like Hyatt and Hilton have followed suit, allowing guests to check-in and access their hotel rooms while bypassing the front desk entirely.
Some guests prefer to skip the small talk and welcome low-touch, quick and efficient service. Sometimes, the option of keyless entry is the preferred customer service experience.
6. Offer more self-service options through a mobile app for improved customer service
Mobile apps aren't just for keyless entry. Smartphones have trained consumers to interact with brands and businesses through their devices.
The best hotel mobile apps include options for guests to manage their booking or request a late check-out. They also present opportunities for smart upgrades and incremental revenue. Guests can order room service, even book a tour or dinner reservation with a few taps on their smartphone.
7. Use interactive TV to greet and guide
Interactive TVs don't just look good, they can add to a positive customer service experience in a few ways.
Discerning guests expect to enjoy the same quality, high-definition TV they have at home—or better. Program an interactive TV to display a personalized greeting upon arrival. This is particularly useful for recognizing returning, loyal guests. Interactive TVs also cut down on the excessive printed materials that often litter hotel rooms. Replace outdated compendiums by storing your menus, facility guides, and other useful information on the TV.
8. Invest in voice assistants like Amazon's Alexa
Amazon partnered with Marriott International to launch Alexa for Hospitality, a program designed specifically for hotels.
The program works with Echo devices installed in guest rooms. Customize Alexa's voice assistant technology to control room functions like temperature and lighting. You can also store information on gym hours or check-out times, and even request housekeeping services.
9. Create memorable experiences with AR
Hotels can use augmented reality (AR) to enhance a guest's real-world experience. AR technology can create an interactive guest room, as seen at Premier Inn's Hub Hotel. When guests point their smartphone at a map on the wall, they're able to view information about local points of interest.
Other uses of AR technology would be showing guests the last time their room was cleaned or highlighting the chef's personal recommendations on dining menus.
10. Utilize wearable tech for cashless payment systems and a memorable guest experience
Hotels might want to take a lesson from cruise ships and theme parks. Both industries make smart use of cashless payment systems using wearable tech like Disney's MagicBand.
Cashless payments are convenient and efficient for both guests and hotels. Since swiping a bracelet doesn't involve handling physical money, cashless payments create easier upsells and incremental revenue possibilities.
11. Automate great customer service using chatbots and Messenger
For common questions and simple tasks, preprogrammed hotel chatbots deliver great customer service over SMS or Facebook Messenger.
Edwardian Hotels in London use an AI-powered chatbot called Edward as a modern-day, digital concierge. Edward can fulfill housekeeping requests, handle complaints, and provide local recommendations. All this in real time. The chatbot's ability to respond immediately appeals to guests and frees up the front desk to step in for even more personalized service.
12. Exceed expectations with free, fast and reliable Wi-Fi
It's hard to imagine a time when hotels could get away with charging for internet. Nowadays, free Wi-Fi is not only expected but required.
90% of hotel guests surveyed indicated that the ability to access a hotel's Wi-Fi is 'very important.' As more guests opt to travel with laptops, smartphones, and wearables, owners must make sure their hotel Wi-Fi is equipped to handle the extra bandwidth needed by all these devices.
13. Install "green" technology to your advantage
According to Booking.com's sustainability travel report, 70% of global travelers say that knowing accommodation was eco-friendly would make them more likely to book—whether they were looking for a sustainable stay or not.
Hotel who invest in eco-friendly technology can position themselves for this new wave of conscious travelers. "Green" features include LED lights, energy efficient appliances, and sustainable laundry practices. These can also cut down on a hotel's energy costs.
14. Create dedicated spaces for coworking
Hotels are perfectly positioned to take advantage of trends like digital nomadism and "leisure" travel. Creating a tech lounge or coworking hub can breathe life into otherwise dull hotel spaces, like a meeting room or unused sectioned of the lobby.
Coworking spaces in hotels appeal to both guests and locals, creating a centralized hub for connection. Take a cue from The Hoxton Hotel's recent launch of a coworking division and consider creating paid membership plans to maximize revenue.
15. Upgrade meeting room technology
Hotels can stand out from the competition by providing innovative technology that meeting planners crave.
Virtual meetings and the rise of remote teams mean that video conferencing capabilities are more important than ever. Internet connections in meeting spaces must have the bandwidth to handle engaging media presentations and again, multiple devices.
16. Provide guests with personal streaming options
On-demand video in hotel rooms is a thing of the past. Hotels should adapt to their guests' preferences and provide personal streaming capabilities.
Some hotels are already ahead of the curve. Consider upgrading to Smart TVs that allow guests to access their personal Netflix accounts or other streaming entertaining services.
17. Use social listening to surprise and delight
Social media is a powerful marketing tool for hotels. When done right, it can also deliver exceptional customer service.
Social listening for hotels starts with monitoring mentions of your name across different platforms. Rather than simply promoting your property, social listening gives you the opportunity to engage directly with guests. Hotels can build rapport pre-arrival by offering tailored recommendations. They can also delight guests mentioning them on-site with a personal note or amenity.
18. Create connections to local vendors and businesses
No longer just a buzzword, demand for experiential travel continues to grow. Hotels can provide outstanding service by connecting their guests to authentic, local experiences.
Hotels should build partnerships with strategic local vendors and businesses. Besides the benefits of cross-promotion, hotels can position themselves as local curators. This could mean using local vendors for food & drink offerings. It could also mean partnering with a local tour operator to create an exclusive experience for your hotel guests.
19. Keep track of guest preferences
Modern hotel property management systems should include a place to enter guest notes. This is particularly valuable for repeat guests as you can truly create little "wow" moments based on past stays.
Employees should track all guest preferences. This can be a request for feather pillows, mention of allergies, personal interests noted in passing, and more. Imagine your delight upon arriving at a hotel and finding hypoallergenic pillows and your favorite candy bar waiting for you!
20. Personalize your communications with a CRM
Noting guest preferences is one thing, but technology can help hotels act on them even further.
Use a well-built customer relationship management software (CRM) to build detailed guest profiles. CRM platforms allow hotels to further automate their communications with guests. Hotels can create a perfectly timed email sequence to upsell that guest with a room upgrade or personalized dining offer.
21. Empower employees to go above and beyond in providing a memorable guest experience
Technology has the ability to provide your guests with more choices and memorable experiences. But at the end of the day, great customer service at hotels always comes back to the people.
Technology automates certain tasks and empowers your staff to exceed expectations for more guests than ever before. Make sure every employee knows that they're empowered to go above and beyond.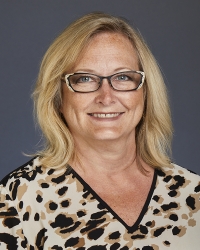 Latest posts by Lisa Majdi
(see all)