The New Year is upon us, and with it the multitude of resolutions that people inevitably make to strive toward becoming a better version of themselves in 2013. These resolutions typically cover all manner of life, from going to the gym more to eating healthier to reading a new book a day. Small business owners are not immune to setting resolutions for their business ventures in the coming year. However, actually following through on New Year's resolutions can be a challenging task, as well as determining what resolution to come up with in the first place.
"People set goals all the time, but 70 percent of them never end up getting carried out in any significant way," Mark Murphy, author of 'Hard Goals: The Secret to Getting from Where You Are to Where You Want to Be,' told the Entrepreneur Magazine.
Here are some resolutions that small business owners should consider for 2013.
Delegate more frequently
One of the biggest plights of small business owners is the constant desire to be involved in every little detail of the business. Owners tend to feel like not only will tasks be accomplished faster if they do it themselves, rather than teaching someone else to do it, but some entrepreneurs are also too afraid of an employee not doing it right. However, according to The Globe and Mail, delegating more frequently can actually be a more efficient way of managing your small business.
Doing everything yourself is totally unsustainable and is sure to burn you – and your employees who have to deal with you on a regular basis – out soon enough. Instead, consider removing yourself from most day-to-day responsibilities to focus on big-picture strategy. After all, you hired your employees, so you should be able to entrust them with any responsibilities. Additionally, your employees will be emboldened and inspired by your focus on more important company issues.
Communicate with your staff more
Similarly, along with delegating more frequently, small business owners in all industries should look to improve two-way communication with all staff members in the new year. This means more than just having a performance review every six months. Instead, talk with them on a daily basis. Ask them about their work. More importantly, ask them about their personal lives and their families.
Doing so gives employees more incentive to come to work. If they are being treated solely as workers – instead of people, peers and even friends – they will eventually regard the job as mundane routine that must be done. However, if they have a good and open communicative relationship with everyone at their office, including the boss, they will look forward to coming to work more often and be more productive. As an added bonus, many employees often have great ideas on how the business should be run. Talking to them more might just unlock the next great idea for your small business.
Making New Year's resolutions is undoubtedly the easy part for most people and small business owners. Keeping them represents a whole different challenge altogether. Here are some tips on how to stick to your New Year's resolutions.
Build an emotional attachment to your goal
"Goals get abandoned easily because you don't really care about them," Murphy told the news source.
Therefore, the solution is to find a way to care about your goals, including your New Year's resolutions, according to Entrepreneur Magazine. Making an emotional attachment to a goal will give that ambition greater meaning and lift your drive to achieve it. For instance, tying in family is usually a good idea. Making more money at business is a good goal to set, but making more money because you want to provide a great life for your kids is a goal with an emotional attachment that makes it that much more achievable.
Challenge yourself with your resolutions
"When the goal isn't difficult, we're about as mentally engaged with it as we are on our drive to work in the morning," Murphy told the news source.
One of the biggest factors in the successful completion of a New Year's resolution is in challenging and engaging yourself. Making an easy resolution just to provide yourself with a sense of accomplishment will ultimately not have a dramatic impact or a long-lasting effect on yourself or your business.
Instead, demand more of yourself by setting a goal that is not easily attainable. The news source reports that challenging yourself forces you to harness your energy. Additionally, successful accomplishment of a difficult goal will give you a similar adrenaline rush to that experienced by people who cross the finish line at a marathon. This will better your business and yourself in the process.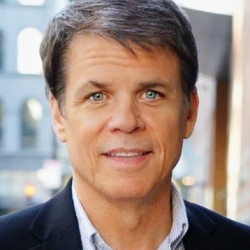 Latest posts by Martin Jones
(see all)