This is part 8 of a 16 part series, "Mastering LinkedIn For Business"
With over 200 million LinkedIn users, odds are good that your ideal customers are already using the networking site. As a business networking site, LinkedIn provides a useful forum for salespeople to generate leads by researching prospects, making connections and building relationships. But it's not an e-commerce platform.
Generally speaking, LinkedIn is more of a prospecting tool than a direct sales tool — and it's a good one. A study by HubSpot found that LinkedIn traffic has a high visitor-to-lead conversion rate (2.74 percent), almost 3 times as high as traffic generated from Twitter and Facebook. When you use status updates to share landing pages or post product descriptions and other sales copy on LinkedIn, focus on bringing prospects into nurture campaigns, not the hard sell. You stand a better chance of gaining a person's attention or contact information than getting them to pull out their wallet.
1) Building engagement with "calls-to-action" (CTAs) and offers: Once you connect with someone on LinkedIn, they may see blog posts and other content you post on your network, but that's probably not enough to keep that contact from going cold. One solution is to focus on getting prospects to subscribe to your newsletters or blog, creating additional ways to keep up those touches through LinkedIn.
Depending on your business type, you could also create a CTA encouraging people to sign up for a free demo or an assessment, or a free download. Once you have the CTA text, you can start adding it to the end of your profile and blog posts, with links to a landing page with details of the offer, designed to create interest.
Extra tip: As a member of a group, you can send out group messages when you're having a free giveaway or running a promotion and include your sales links as well as your CTAs for newsletters and other offers.
2) Using targeted LinkedIn ads to drive current promotions: Like many social media sites, LinkedIn will allow you to advertise to its users. As with any ads you purchase, these need to be carefully targeted to ensure a good return and conversions instead of wasting clicks. You can filter ads by a person's age, level in their company and other factors, and create different ads for each group you're targeting.
The ads can be expensive, and again, LinkedIn isn't an e-commerce site. Instead of sending people who click on the ad straight to a sales page, try to collect as much information as you can. A good strategy might be to send visitors to an opt-in page with a good offer, where you can get their information. True, you can use sales links instead of opt-in links, but unless you already have built the relationship and dialogue that LinkedIn facilitates, they're not going to be as effective.
Extra tip: To get the most from LinkedIn ads, test your campaign before you spend real money on the ads. Through your email or other marketing tools, send the offer to a couple hundred people to see how well it's converting. This also gives you a chance to work out any kinks before you start sending people there from LinkedIn.
To successfully drive sales with LinkedIn, it's essential to understand the expectations of the users, and make sure all of your sales and advertising messaging meshes well with the LinkedIn culture. Many users are not used to sales pitches or don't appreciate them. Others will suspect that a new person contacting them just wants to sell something. It's important for salespeople to be aware of that fear when asking to connect or posting sales links, and using CTAs and LinkedIn ads to direct people to useful offers can help overcome these obstacles.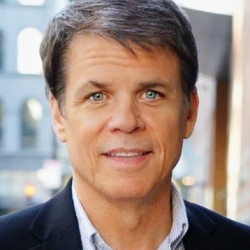 Latest posts by Martin Jones
(see all)