As LinkedIn continues to develop new features and functionalities, businesses should think of the site as a powerful marketing tool. LinkedIn can support (or even transform) your marketing strategy. This article covers the basics: Keeping you profile updated and turning professional connections into opportunities to tell your company's story.
This is part 3 of a 16 part series, "Mastering LinkedIn For Business"
LinkedIn for Marketing: Updating Your Profile, Connecting With Professionals 
When LinkedIn launched in 2003, it provided social media functionality for business people who wanted to network online. Since then, the site has become a key way to share your company's story, and develop trust and subject-matter authority. As LinkedIn continues to develop new business-oriented features and functionalities, the site becomes more powerful and efficient as a marketing platform.
But what does it mean to look at LinkedIn from a marketing perspective? The next three articles present six ideas for how LinkedIn can support (or even transform) your marketing strategy. This post starts with the basics: Keeping you profile updated and turning professional connections into meaningful opportunities to tell your company's story.
1) Keep your profile updated: Many people create a LinkedIn profile when they are applying for jobs, and abandon it once their search is over. That's fine for some purposes, but not when you're using LinkedIn to market your company. A current, complete profile does more than show who you are and your role in the company — it should also show prospective clients how you can help and what specific customers and clients you work for.
When you fill out the "Experience" field, for example, don't just summarize your resume; be strategic. "Use the 1,000 characters in the description section to tell people why they should hire you or your company or buy your product," says Viveka von Rosen, social media expert and author of LinkedIn Marketing: An Hour a Day. She suggests using the space for a testimonial, to list different companies you have helped, or "tell a 'save the day' story."
For marketing purposes, be sure to include information about your company's current projects and promotions, using images for visual enhancement. Even though LinkedIn profiles do not allow for external hyperlinks, you can write a great call-to-action and provide your website address, encouraging people who browse your page to visit your website or landing page. Any recommendations you can get look good on a profile; endorsements are also nice to have, but not essential.
Extra tip: Set a reminder for yourself in your calendar to review your profile on a regular basis — at least once a month. No matter where you work, your skills and accomplishments will change over time.
2) Use your profile to build and strengthen connections: Make sure you're sharing your profile account as you interact with professionals outside LinkedIn. If you're meeting someone on Skype or in GoToWebinar, for example, you can always offer to connect on LinkedIn. You search for people on LinkedIn and connect, even if you don't know their email address. New tools like LinkedIn Contacts have CRM features that allow you to add notes about the people you've met and help you keep track of hundreds of connections. For another example, you can use Outlook Social Connector to manage your LinkedIn contacts within Microsoft Outlook.
Extra tip: You can create a direct link to your LinkedIn profile just about anywhere — from your company website and blog to eBooks, even your email signature. Take time to brainstorm a list of ideas for other areas where professionals might see your profile link.
People tend to use LinkedIn in one of two different ways. Some connect with everybody to grow the largest network they can. Others connect only with people they know very well. When reaching out to connect with people, timing and context are important. A good policy is to send people a message soon after you meet, if you plan to connect, and to personalize the request message.
In the end, LinkedIn provides a great marketing platform for professionals and organizations that want to spread their brand, showcase their work, and develop expertise and authority. The first steps are updating your profile and building connections.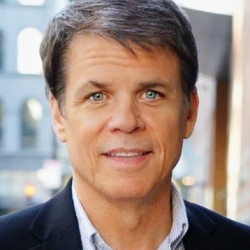 Latest posts by Martin Jones
(see all)