Starting and managing your small business requires many different factors for success – a substantial and steady infusion of capital, a sound business plan and a great team around you. However, one of the most important aspects is also one of the most intangible – long-term vision. Short-sightedness can be the downfall of many small businesses. After all, you're likely starting a new company not to turn a quick profit, but to create a sustainable business model that will help you achieve your larger goals. The implementation and attainment of these goals depends on you creating and eventually selling your long-term vision to your partners, employers, investors and customers.
"A vision outlines the values you hold and the more meaningful contribution people can have as they pursue that vision," John Michela, an organizational psychologist at the University of Waterloo, told Entrepreneur Magazine. "A vision gives [employees] an opportunity to be a part of something great. That's a powerful motivator. Use whatever means you can draw upon to make it inspirational."
Here are some tips on how to create and sell your long-term vision.
Assess the current state of affairs
You can't determine a long-term vision without first examining the short-term ramifications. After all, your current situation – and state of mind – can have a dramatic impact on what you hope to achieve one, five or ten years down the road. For this assessment, look not only at what your goals are or what you hope to achieve, but also look at what is working well, what needs fixing or what has been completely broken and needs a total revamp.
Develop long-term priorities
Once your current state has been properly vetted, you can then move on to the state of tomorrow. A vision is likely very intangible, a conceptual place that you hope to reach. In order to achieve this intangible goal, however, many tangible and concrete initiatives or priorities should be undertaken.
It's important to separate the initiatives that will really help you achieve your long-term vision from the ones that are merely clogging up valuable time and space. Every small business owner will have a million things that he or she would like to accomplish, from increasing sales to innovating new products, from giving back to the community to expanding internationally. However, many of these priorities are likely not important in terms of reaching your long-term vision. Make a checklist of everything you'd like to accomplish and pare the list down to the truly important ones.
Be clear and enthusiastic
Once you have established your long-term vision, the next step is to sell it to your employers, your investors and your customers. The first step is simply to be clear in delineating your vision. Your vision is going to inspire your employees and give them something to work toward. However, if they are unsure of exactly what they are trying to accomplish, they will likely flail and falter along the way. On the other hand, a crystal clear and specifically enunciated goal will help employees keep their eyes on the prize.
Being enthusiastic is all about inspiration and leadership – after all, if you cannot inspire confidence and excitement among your employees, how will you ever get them to follow you in pursuit of your vision? Be genuine and draw people in with your emotion and imagination and they will walk to the ends of the earth with you.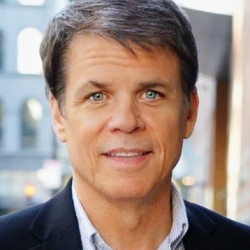 Latest posts by Martin Jones
(see all)