Hotel and Hospitality Trends
Hotel and hospitality trends dominated the conversation and floor exhibits at this year's Hitech Conference, in Minneapolis.
In many respects, the hotel and hospitality industry is leading the charge in the adoption of business technology. From digital display usage to modernized conference rooms, to mobile integration, and much, much, more, the industry is adapting quickly.
From communications and guest experience to cost savings, and from revenue opportunities to enhanced methods of operation, these top hospitality trends are reshaping the hotel and hospitality industry wherever you turn.
1. Mobile Technology
One of the most important hospitality trends that shows no sign of slowing down, is mobile technology integration.
Mobile technology continues to evolve in the hotel and hospitality industry. Innovations such as remote check-in, room reservations, and mobile room keys lead the way. And there is more. Small, boutique hotels now offer guest-facing apps that allow the ordering of room service, or drinks at the poolside.
In some of the larger hotel chains, guests can use their mobiles for elevator floor selection. They can also control room lighting, opening, and closing curtains, playing music, or selecting a TV program.
Gustaaf Schrils, CIO of White Lodging, believes we're a short step away from using mobile to facilitate frictionless transactions. He predicts this will come through a combination of biometrics, voice recognition, artificial intelligence (AI), machine learning, and blockchain.
There's also the option of push notifications using mobile, which can have a huge impact on a guest's experience.
Hotels can drive loyalty through personalized offers.
Additionally, they can deliver value by providing information about the property, surroundings, transportation, restaurants, and local events. All of which can be personalized from guests preferences.
2. WiFi Everywhere and Bandwidth on Demand
Wi-Fi, in particular, has made significant inroads into hospitality over the past few years, so much so that for any hotel or B&B—and even restaurants, not to offer reliable, fast, free Wi-Fi is almost unheard of. This is one of the hospitality trends every hotel should be on board with. In fact, a recent survey shows 65% of hotel guests are using the onsite Wi-Fi with seven minutes of arrival, which suggests it has become almost as important to guests as running water.
And, since the majority of guests connect using more than a single device, it's essential to provide quality hospitality WiFI services. The demand for greater hotel property bandwidth continues to increase exponentially. Support for digital services like content streaming and casting from personal devices is now a common guest expectation.
People today often bring their entertainment with them. With digital libraries of music and movies moving to the cloud, and subscriptions with services like Netflix, HBOGo, and Hulu, customers have essentially the same options in the hotel room that they have sitting at home.
More and more, your guests want to bring their own content and get that content onto the big screen that's already in their room. With on-demand entertainment being an excellent source of hotel revenue for a long time, this can be challenging. On the other hand, offering a casting solution or smartphone controls that are over and above what they have at home, can build loyalty. You'll need to identify new revenue sources and trust that long term customers will enjoy and adopt these services.
Other ways Wi-Fi is being used include powering tech lounges and other communal spaces for video meetings. In guest rooms, Wi-Fi connects people with voice-enabled in-room appliances and smart room service. Guest services such as the restocking of mini-bars over the Internet of Things is also becoming common.
58% of hotel guests indicate that availability of onsite Wi-Fi is 'highly likely' to impact their booking decision. With this in mind, however, it's surprising to see that more than 3/4 of the survey's respondents still have unsatisfactory experiences. Guests are also increasingly concerned with the security of their activities over hotel Wi-Fi.
The one thing we know about the future and hospitality trends is when it comes to Internet usage, the need for increased bandwidth will continue to rise. The Internet connection your hotel provides to current guests is most likely perfectly acceptable today, however; there's a good chance it could be woefully inadequate tomorrow. If you host events or conferences, this isn't just an aphorism—you could run into a major connectivity problem literally tomorrow, depending on the event.
An average non-millennial traveler carries 2.5 devices with them. This makes sense when you think about it: a phone, a laptop, and maybe something else like a tablet or a connected watch. In comparison, the average millennial expects connectivity on an average of five devices.
Your property needs a network and bandwidth that can handle all of these connections. At the same time, you don't want to be paying for a theoretical cap that you'll only hit a few times a year when large conferences are in town.
The way to do this is to work closely with your Internet Service Provider (ISP) to take advantage of on-demand options for bandwidth. Most of the time you won't need to dial it up all the way, but you want to be able to have the option when you need it.
3.  A Connected Guest Experience
It's no surprise a service-driven sector like hospitality would take the "connected" guest experience seriously. In some instances it begins with facial recognition technology, enabling hotel staff to greet guests by name and be aware of their preferences. Enhancing guests' experience through services such as smart reserved parking and personalized assistance from AI can set a hotel apart from its competitors.
Advancements in immersive virtual reality (VR) make this a solid option for entertainment, and some forward-thinking hotel brands have already begun experimenting with this. VR enables viewers to get a better idea of the hotel property before they book, and research suggests that visiting a destination virtually makes users more interested in visiting in real life.
Augmented reality is also growing in popularity in the hospitality industry, in a number of ways including:
The inclusion of interactive elements in hotel rooms. At The Hub Hotel from Premier Inns., for example, guests can point their smartphones at wall maps to see information about local places of interest. This enhances their use of the map and potentially makes their stay more convenient and enjoyable.
Gamification along the lines of Pokemon Go, with hotels creating their own apps that make exploring the area more fun.
Augmented environments, such as the ability to redecorate their room or view famous celebrities at the next table. A good example is Best Western's app, which enables guests to see themselves alongside Disney film characters in the hotel setting.
Almost all of these enhancement opportunities are driven by data, which is another trend changing the hotel and hospitality industry.
4. Dynamic Customer Data
Big data is at the heart of technology, and the hotel industry is no exception. With every aspect of guests' hotel experiences collected, analyzed and parsed for future use, data is essential. Customer data from loyalty programs, price comparisons, location, and booking data are all being used to develop valuable insights.
AI, machine learning and analytics allow teams to translate data into informed decision-making, understand where competitors are setting trends, anticipate guest requirements, and identify important patterns. The use of facial recognition software, for example, only works if hotels have data to support it, such as information about guests' previous visits.
By combining data that hotels gather themselves with information available online, hospitality managers can use it in several ways. These include:
Boosting revenue management with more accurate projections. Demand and optimization of rates, past occupancy levels, current bookings, KPI's, and external data about the holiday periods and local events all come into play.
Targeting marketing more effectively, by identifying key demographics and the best opportunities to reach them.
Identifying trends in customer satisfaction by gathering feedback from social media, review sites, and guest queries about any services.
Discovering potential partnerships with other businesses such as online travel agents (OTAs), local taxi firms and nearby restaurants and bars.
Tracking competitors and see what they are offering, and where they are in relation to rivals.
It's not only about the guests, either. Detailed analytics can help hotels and other hospitality organizations to develop better internal systems. Options such as predictive maintenance plans can improve property performance and impact profitability.
One critical reminder – data usage goes hand-in-hand with the responsibility to protect confidential information.
5. Best-in-Class Property and Guest Management Software
Hotel management software has come a long way since the Sheraton Corporation introduced the industry's earliest automated electronic reservation system, Reservation, in 1958, which made Sheraton the first hotel chain to centralize and computerize reservations.
To ensure a smooth and relaxing experience for guests, it's paramount to have the right software in place. Today's programs go far beyond booking rooms and taking payments, with capabilities such as:
Synchronization of housekeeping and the front desk
Management of multiple properties, inventory, and facilities
Collecting and responding to online reviews for reputation management purposes
Integration with self-service kiosks via the hotel's Wi-Fi, which allows guests greater freedom and reduces staffing costs
Modern management software enables hotels to track information about guests' preferences, both before and during their stay, to impress them at the next visit with their favorite brand of coffee or have the room set at the perfect temperature.
6. Energy Efficiency
In the past, there's been a hesitancy to encourage guests to take steps that can conserve energy. Guests may feel that since they're paying, they should be able to use lights, heating, water and anything else as they wish.
The number of hotels that have switched to LED lighting, and added sensor systems to control temperatures, has increased dramatically in the past decade. There are good reasons for this: Being conscious of energy efficiency isn't just good for the environment, it's great for your bottom line. For one thing, you're spending less on energy, but even more importantly, you're positively impacting your brand: Almost 75% of millennials surveyed by Nielsen in 2015 said that they were willing to pay extra for sustainability.
Options like LED lighting, OLED TVs, keycard-controlled lights, and energy-efficient laundry machines save you money. Informing your guests about them can build trust. Saving on energy makes good business sense, sharing your "why" is simply good marketing.
7. eSports
A growing phenomenon among hospitality trends that is important for larger event spaces is eSports. While it might not sound like such a big deal, The League of Legends World Championship Finals was 2018's biggest tournament. It was watched across Twitch and YouTube Gaming, garnering 81.1 million hours watched.
eSports are similar to conventions and live events, but with a few specific tech needs that need to be addressed. The main event needs to broadcast both for the live audience and people tuning in at home via Periscope or Twitch.
These events are also meant to have a high degree of interactivity. Attendees aren't just there to watch, they also expect to be able to play a little. It's important to give the main event attention it deserves, but also reserve space for groups to gather together.
Obviously, this is a situation where you are expected to provide plenty of bandwidth. Plan ahead, and ensure you have the flexibility to scale bandwidth if needed.
8. Millennials
As the earning power of millennials grows into a larger and larger share of the market, people are looking for ways to cater to their specific needs and tastes. By 2020, experts forecast that 50% of all money spent in the travel sector will come out of the pockets of millennials.
Anticipating this shift, more and more businesses are moving to offer a lifestyle hotel experience. Millennials are seeking a unique experience. This requires bolder design choices with spaces set up to mix work and play, alone or in groups.
When making choices that cater to millennials, it's important to have the right technology. They expect to seamlessly transition from their room to the lobby or the bar, and bring their devices with them.
These insights also apply to millennials in your own workforce. The trick is to find ways to adapt the tools that they already use every day to work for productivity. Things like video chat, mobile, and social are all tools which millennials will appreciate and use.
Hotel and Hospitality Trends – Why The Future is Now
Other technology hospitality trends are on the horizon. They include; The use of robotics, the introduction of blockchain for a variety of purposes including accepting payment in cryptocurrencies, and increased use of biometrics for security.
One thing is for certain: the hotel industry will never again look like it did a couple of years back. Technology is the way of the future, and everything has changed.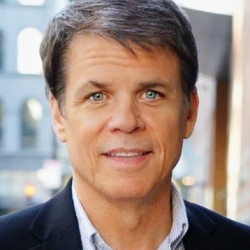 Latest posts by Martin Jones
(see all)