Gone are the days when customers viewed business WiFi as simply a nice amenity. Today, customers see it as a necessity and expect fast, reliable business WiFi access everywhere they go. Yet even as more and more businesses provide a free internet connection for their customers, many aren't taking full advantage of the benefits business WiFi can provide.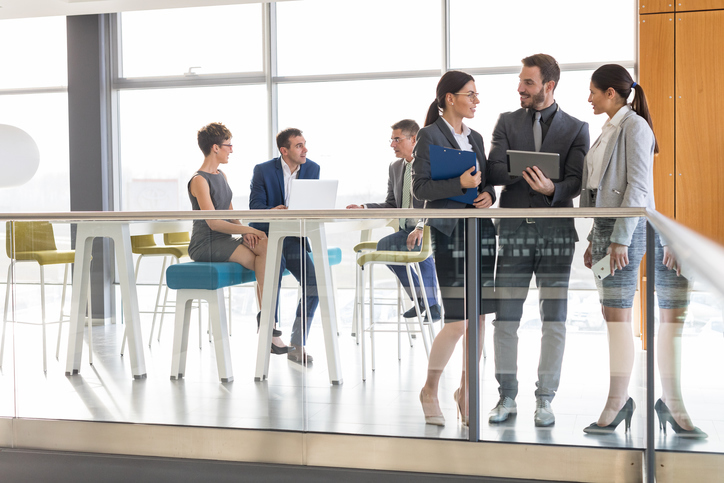 With careful consideration and planning, you can create a wireless environment that solves customer needs while also building your brand and benefiting your business.
Below are four ways WiFi can drive revenue and customer loyalty for your business
1. Business WiFi Allows You to Gather Customer Information
The best way to target your customers is to gather information about them to help guide operational and promotional efforts. Unfortunately, many brands lack the necessary data to understand their shoppers' behaviors—a problem easily avoided if you're using business WiFi effectively.
If you've ever been prompted by a company's WiFi to accept their terms of service or to create an account in order to use the company's internet, you may not know that this prompt can also be used to collect information to help grow their business.
To gain additional advantages at your own establishment, you can work with your service provider to set up a WiFi access point gathering information about WiFi users in the area (this can occur whether or not they are connected to your WiFi). From this type of setup, you can acquire behavioral data and analytics that can be used to create better customer experiences.
By leveraging the data, businesses can ensure they are effectively engaging with customers throughout their buyer's journey and meeting consumers' needs in real-time.
2. Business WiFi Can Be Used as a Marketing Tool
WiFi marketing is an innovative and effective tool many businesses overlook. In fact, Black BX reported that WiFi marketing has proven to convert 5x more customers than the industry average. Additionally, 25% of people who receive an SMS message are likely to return, significantly higher than the industry average.
Using WiFi to enhance marketing efforts is perhaps one of the most overlooked yet useful tools for businesses looking to increase engagement, loyalty, and customer retention. WiFi marketing allows you to deliver custom, location-based content to specific customers, using tactics such as:
Delivering non-invasive marketing messaging
Sending custom deals and coupons to customers based on their user behavior and interests
Implementing targeted email and SMS marketing campaigns
Encouraging the customer's use of social media to write business reviews and increase brand awareness
Sending customer surveys to get direct feedback from your target audience
Rewarding repeat customers for their business
Marketing to your customers at the right place and time will help increase customer conversion because you'll be sending them relevant and useful information. By giving them what they want, they'll be more likely to become loyal customers.
3. Business WiFi Encourages Extended Lengths of Stay
One of the many benefits of providing business WiFi to customers is that it increases the length of time people spend at your business. According to a Small Business Trends report, as many as 62% of businesses noticed customers spending more time on their premises when WiFi access was offered. For establishments, such as coffee shops, this can greatly increase sales as well, as the longer a customer is at the shop, the more likely they are to continue to buy additional food and beverages from the establishment.
For while-you-wait business providers, such as auto mechanics, WiFi can make wait times appear to go by quickly, providing a pleasant experience and leaving your customers with a positive impression of your company.
4. Business WiFi Provides Exceptional Customer Experiences
It's the little things in life. Customers may not remember the product or service they purchased from a company, but they'll always remember if a company made them feel special by paying attention to the details. Since business WiFi allows you to access customer data, consider using this data to provide exceptional customer service by creating a personalized experience.
One of the many ways you can create this type of experience is by providing value to a customer once they are in your store. Since it's likely that many customers will have their phones in hand, you can gain their attention by sending messages to their phones for offers and deals on products within the store (this can be done through the use of beacon technology). Additionally, based on previous buying habits, you can send coupons directly to them. The more relevant and timely your offerings are, the more likely the customer will consider adding that item to his or her shopping cart.
Making customers feel unique and understood will leave a lasting impression they won't soon forget. This can establish a strong connection between the customer and your brand, which can also turn casual buyers into loyal customers.
With the right business WiFi solution, your organization can go beyond the basic amenity of WiFI service and begin creating personalized experiences which lead to long-term customer loyalty.
Latest posts by Martin Jones
(see all)