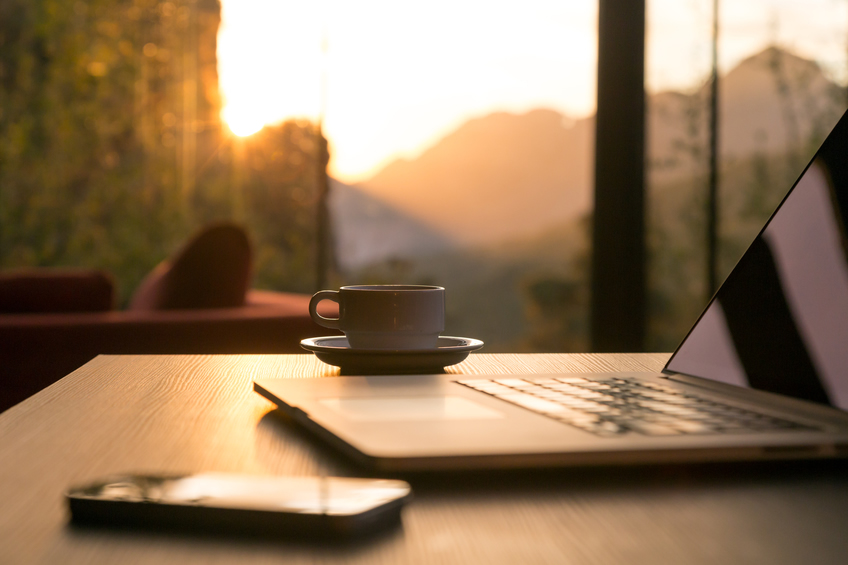 As a small business owner it's easy to feel overwhelmed when it comes to digital marketing. It can seem like an endless time suck. Between finding ways to leverage your social media presence, keeping up with your newsletter, and planning local events to host, it can often seem like you don't have enough time to simply run your business, let alone start blogging.
The bottom line is that having a blog is one the biggest boosts you can give to your business. It can help amplify the web presence you already have; actually make it easier to provide solid content across social media channels; and turn into a great resource for building your brand, and more importantly your leads.
It's easier than you think to get started blogging, and there's no excuse to wait any longer.
Setting the Right Goals
When thinking about starting a blog, we often hold ourselves to unreasonable standards that make us quit before we even get started. Taking a look at a high-end company's blog, you start to get the feeling that anything you do is going to look amateurish and bad in comparison. On a small business budget, you might not be able to hire a web designer, a graphic designer, an editor, or anyone else to help give your blog the professional polish it needs.
The fact of the matter is that Seth Godin's blog, one of the most popular blogs on the internet and the third-ranked page when you Google "blog," still looks like it was designed when Typepad was launched in 2003. In fact, search for anything involving the words "Seth Godin" and you're almost certain to get back a page full of his blog posts and other areas on his site.
The moral of the story is that design isn't the end-all be-all that it can seem to be. What makes Godin's blog popular and effective isn't the design, it's the content he's writing for it. As he himself put it, it's a "Purple Cow," his term for "something phenomenal, something counterintuitive and exciting and flat out unbelievable."
This isn't to say that you need to write the same sort of succinct, insightful, and weird posts that Godin is famous for. That's what works for him, but not necessarily what will work for you. The key is to be yourself, and not worry so much about making it perfect.
Get to Know Your Small Business Blogging Choices
The other great thing about blogging right now is that with current blogging platforms you can make a dime look like a dollar. You have a lot of options when it comes to choosing a platform to get started. We'll give a very brief overview, but it might be useful to dig a little deeper with a more in-depth guide like this one from Dear Blogger.
WordPress is the first and most obvious option. It's one of the most ubiquitous solutions on the web, with clients running the gamut from Techcrunch, to The New Yorker, to MTV News. WordPress has a lot of features, and with the right knowledge offers a very high level of customization. This extends beyond the design into other areas like eCommerce, analytics, mailing list management, and more. On the flip side, it also means that you're pretty much left on your own in terms of maintaining it. If you can't get something to work, you need to do some research or hire someone to help you.
On the other end of the spectrum is SquareSpace. It sets out to stand itself apart as an easy option that looks great, is easy to use, and quick to set up. It's pretty simple to make a great looking website on your own, without any technical skills. The downside is that it simply isn't all that customizable, and more advanced features that are free in WordPress cost extra with SquareSpace.
Rounding out our options are Blogger, Wix, and Tumblr. Blogger and Wix are different versions of compromises between these two options: the former is easy to use but not customizable; the latter is easy to customize but expensive to grow, with many "premium" features. Tumblr distinguishes itself by mixing social media, putting itself somewhere between Twitter and a blog.
Small Business Blogging Bumps Your SEO Ranking
Going back to the Seth Godin example, perhaps the most obvious example of why to blog are the search engine results he's able to get. In addition to his ranking for the completely ubiquitous keyword of "blog," he also shows up as numbers 1, 2, and 3 when you search for "seth."
At the end of the day, blogging will boost your SEO ranking, and that's a huge deal. Search engines like to see updates to your page, and if there's anything going on because you've been smart and shared it via social media, so much the better. Your customers need to find you, and the vast majority of shoppers do that online.
Writing Content That Works
Coming up with topics for posts isn't as difficult as it may seem at first blush. On the one hand, there's a fear that what you're writing is irrelevant to your business. On the the other, there's the risk of making something so much of a sales pitch that it's boring. One thing to keep in, says Mike Kappel, CEO of Charis Holdings in an Entrepreneur article, is that "users don't hop on the Internet for the sole purpose of buying your stuff. They go because they want information."
So the question to ask is what information you might have to share. The magic of this question is that you can write about what you're learning as you're learning it. A great example of this is Buffer, who have tracked their experiments in transparency and management on their blog. A Kappel puts it: "How you're doing it and why you're doing it are just as important as whether you're any good at doing it! Give this information away for free."
When coming up with a schedule, Kappel has some great advice: "Blogging is like exercise, and the best exercise is the one that you'll actually do."
What You Can Do Right Now
Blogging can be intimidating, but the time has never been better to get something that looks good and yield tangible results to your bottom line.
Set the right goals and be yourself.

Pick a platform that works for your content.

Write posts that are engaging to read, and not just a sales pitch.

Latest posts by Chelsea Segal
(see all)