From reducing costs to improving collaboration, teleconferencing connects people while providing significant benefits to companies. Although remote meetings aren't new, today's business owner relies on voice or video calls more than ever before.
Fortune Business Insights estimates that the global video conferencing market size will double by 2026 to $6.37 billion. This data supports Logitech's findings, which show that "video conferencing increased by 800% over the last four years."
[coxblue snippet="banner_business-telephone-wide"]
Discover what's in store for the future of online meetings and teleconferences. Use these insights to prepare your organization for a shift to this money-saving technology. Plus, learn how to personalize experiences for your customers and teams.
Explore Future Trends in Teleconferencing
What comes next in the future of workflow collaboration apps for teleconferencing and video meetings? This technology has gone mainstream, increasing expectations from your partners, customers, and vendors. Thankfully, advanced capabilities from artificial intelligence (AI) and machine learning are redefining business operations.
Conferencing Platforms Shift Focus to User Experience
A functional remote meeting system is no longer enough. Most people already use online messaging and calling in their personal spaces. They expect as much or more from companies they interact with. As such, the best teleconferencing solutions enhance the user experience. For instance:
Features like automatic zooming and framing create a friendly environment for real-time collaboration.
Video editing options quickly change conferencing backdrops, also known as virtual backdrops or greenscreens.
Meeting participants personalize and improve meeting experiences using AI-enabled solutions. The result is better customer and team outcomes.
An Increase in Advanced Integrations Improve Productivity
People have tons of apps. They don't want to disrupt their workflow to learn new meeting software. Instead, industry leaders select familiar solutions used in everyday processes. To meet this demand, vendors combine team meeting solutions with hardware or telecommunication services.
You'll also see specific integrations to enhance user experiences like file sharing, AI transcription, and productivity applications. As a result, conferences are more enjoyable and productive.
AI and Machine Learning Support Meeting Objectives
Ineffective meetings drain resources to the tune of more than $399 billion per year. But, updated technology helps leaders meet goals without spending more money. Two conferencing trends include:
Machine learning that automates processes for attendee headcounts, audio transcription, and engagement insights.
Algorithms that reduce noise disruptions and emphasize active speakers.
How to Develop Your Teleconferencing Strategy
As more companies turn to audio and video conferencing, it's vital to prepare your organization to face new challenges.  After all, teleconferencing is a critical component in business continuity and disaster planning. It supports remote company operations while reducing downtime. Take these steps to future-proof your business.
1. Upgrade Your Internet and WiFi
Dropped calls and technology issues reflect poorly on your business reputation. However, these problems are easily remedied using the recommended internet speed for small business owners and upgrading your WiFi setup. Improve your virtual meetings by:
Boosting your business internet speed to support teleconferencing, video conferencing, and virtual teams
Reviewing fast business internet services as your need increases for higher Megabits per second (Mbps)
Enhancing WiFi connectivity and responsiveness in your building with custom solutions from your business internet provider
Learn more about Business Internet & WiFi from Cox Business
2. Migrate to the Cloud
Cloud computing isn't only for large corporations. Instead, today's affordable technology allows small to medium business owners to take advantage of enterprise-level solutions.
To reduce costs and get the most from your teleconferencing strategy, it's essential to move business-critical documents and programs to the cloud. Doing so ensures that every team member has access to vital data during a meeting. The benefits of cloud computing include:
An increase in data security through the use of tier 3 data centers, encryption, and managed firewalls.
Productivity improvements due to real-time collaboration and file-sharing applications.
A reduction in IT spend for upgrades, maintenance, and licensing requirements.
More efficient processes from a centralized knowledge base, in-depth analytics, and virtual desktops.
Learn more about Cox Business Cloud Solutions
3. Select Cloud Platforms for Communication
"67% of organizations now have at least part of their unified communications in the cloud," according to Logitech. The shift to cloud computing supports barrier-free communication between vendors, customers, and virtual teams.
Relying on a free teleconferencing app may work during low-volume call times or for occasional needs. But, these services fall short when it comes to reliable performance. Leaders must ensure that teleconferencing applications give a return on investment.  Do this by selecting solutions that support team and customer communication.
For example, Microsoft 365 and Teams provides intuitive software and an easy-to-use platform. Along with virtual conference rooms and meetings, you get solutions like:
Together Mode uses AI segmentation to give all meeting participants a shared background in a cafe, classroom, or conference room.
A Dynamic view allows up to 49 participants to appear on the screen at the same time.
Virtual breakout rooms support brainstorming sessions for smaller groups or team workshopping experiences.
Live transcriptions with speaker attribution help users focus on the meeting instead of notetaking.
4. Choose Teleconferencing Equipment
Fortunately, teleconferencing doesn't require a bunch of specialized equipment or devices. With the right conferencing platform, you can use any device from any location. If your virtual teams handle customer support calls or participate in daily sales and marketing meetings, consider investing in teleconferencing headsets or devices for remote and in-house workers.
5. Document Company Teleconferencing Best Practices
As with any change, communicating your expectations keeps your team on the same page and helps protect your brand reputation. Take full advantage of teleconferencing benefits by:
Developing a teleconferencing tips and tricks guide
Providing conferencing etiquette suggestions
Asking for feedback and addressing technology questions
Help teams get the most from virtual meetings by uploading a list of best practices to the cloud. With guidance, your workforce finds new ways to achieve productive sessions.
The Future of Communication is Happening Now
Budgets are tight. More teams work remotely. And business owners need solutions to stay connected and deliver personalized experiences. Teleconferencing services provide an easy solution to your pressing concerns. Adding conferencing to your communication repertoire isn't complicated or expensive. Yet, it boosts overall collaboration and is a reliable way to future-proof your organization.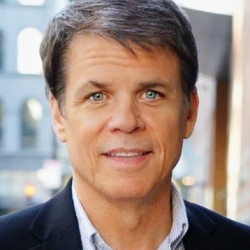 Latest posts by Martin Jones
(see all)