Savvy marketers see opportunities to promote their businesses just about everywhere. Increasingly, however, social media continues to take on a bigger and bigger share of a marketer's attention. After all, that's where the customers are! Social sites and apps such as Facebook and Twitter give us opportunities to interact, learn, explore new interests, and discover new favorite brands. Everything we want to know is on a social platform somewhere.
You're likely already using social sites to promote your business. You've got one account here and another account there, and you're chugging away, putting up as many posts as you can fit into your daily routine. The great thing about handling your social presence yourself is that it's quick and cheap.
But eventually, as the social world becomes so big and so complex, you realize that there's only so much one person can do. If you really want your social strategy to have an impact, you're going to need a cast a wider net. That means more talent—and more money.
If investing budget dollars into social media is something you've been resisting, it's time to reconsider. A social media budget is a must-have to remain competitive. Happily, an investment in your social media should pay off many times over. Here's why you should consider upping your social budget.

Social Media Budgets on the Rise
It's easy to see that business leaders everywhere are spending more money on their social media campaigns. Late last year, the Fuqua School of Business at Duke University conducted its 2015 CMO Survey (which pools responses from over 350 top marketing executives to assess today's marketing landscape) and determined that social media marketing is a long-term trend that we'll only see grow over the next five years.
The survey revealed that this year, social media accounts for approximately 11% of companies' marketing budgets. Within one year, that figure is expected to rise to 14%, and within five years, it will reach nearly 24%. As traditional advertising is fading out, social media is booming.
This new budgeting strategy makes sense, given consumers' changing purchasing habits. If you're willing to spend online, your customers will be, too.
Quality Content Matters
Plenty of business owners have gotten by in the past by maintaining a simple, free social media strategy and executing it themselves. It's not hard to understand how—bang out a quick blog post, put it on Facebook, tweet it out, and you're all set for the day. You can knock it out during your lunch break.
But if you really want your social content to make a difference, you need to invest in quality. That means bringing in more talent (and more experienced talent). You'll need research people who can dig up original information and relevant data. You'll need creative people who can write, create art, shoot video, and so on. You'll need strategists who can keep track of social media analytics and gauge whether your efforts are making progress.
Today's social media climate is crowded, and your content isn't going to strike a chord with customers unless it's up to professional-level quality standards. You need a team that's capable of producing great content in a wide variety of formats, from infographics to videos. Those blog posts you wrote by yourself at lunch? They're now just the tip of the iceberg.
Standing Out from the Crowd
To really give you an idea of how jam-packed with content every social site can be, here's some hard data. Soon after the launch of the News Feed format in 2013, Facebook estimated that 1,500 potential "stories" could be featured in a user's news feed in a given day. Between friends' status updates and new content from brands, it adds up. That 1,500 figure has surely only increased as more brands and users become more active on the social network.
But no one really reads 1,500 things per day on Facebook, and the organic reach of businesses' posts is steadily declining. How can you make sure your content makes it into that small percentage of the 1,500 that people will actually see? One strategy is to make content that has true viral potential—either because it's entertaining or funny, or because it offers people real value (like a tutorial or a discount). The other, surer bet is to pay to promote your updates on Twitter and Facebook so more people will see them.
The truth is that either of the above will cost money. Either you're paying creative talent for making more content in the hopes of going viral, or you're paying the social sites to feature your posts. Increasing your budget increases your visibility—and increases the chances that your content will resonate with your audience.
Experimenting with New Strategies
Everybody knows Facebook and Twitter, those biggest names in social media. But the beauty of an increased social budget is that you can branch out, investing in additional platforms to reach different segments of your customer base.
For example, younger customers are flocking to Instagram. One reason why is that when teenagers decide to commit to new brands, they want visual proof that it's the right choice for them. Whether it's a new gadget or an article of clothing, a picture or video is the best online evidence of its quality. If you're trying to target this younger demographic, why not try out Instagram?
If you're aiming more for B2B companies, you can put more investment into LinkedIn. If you're going after college kids, put more videos on YouTube and GIFs on Tumblr. Every platform offers its own demographic and unique oportunities to interact with your audience. The more your broaden your horizons, the better you'll be able to loop in new markets.
What You Can Do Right Now
Are you spending enough on social media? If you could benefit from investing a bit more, here's where to begin.
Remember that although Facebook's user base and the amount of content are enormous, the organic reach of your posts is extremely limited. Consider setting a small budget for promoting posts, which starts as low as $5.
Facebook and Twitter aren't the only social networks where you can connect with your audience. Research where your ideal audience is hanging out online (Instagram? LinkedIn?) and add these networks to your arsenal.
Consider bringing in help

for managing your social media, or

outsourcing it altogether. From an individual virtual assistant to a full-fledged digital marketing consulting firm, there are plenty of options for your situation and budget.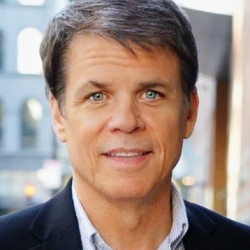 Latest posts by Martin Jones
(see all)