We'll be covering keynotes and select panels at the Atlanta Social Shake-up, September 16th and 17th.  Visit this link for livestream coverage of the event.  Livestream
2013 will enter the history books as "The Year of Real-Time Marketing," according to a panel of experts at the Social Shake-Up in Atlanta, Georgia. Events across the globe are being covered by numerous mediums and driving brand-driven, real-time content. However, the struggle for companies is to produce timely posts and tweets that are actually relevant to customers and potential partners.
The Social Shake-Up Panel featured speakers Pablo Henderson, Marketing Manager for W Hotels, Ragy Thomas, Founder and CEO of Sprinklr, and Erika Brookes, VP of Product Strategy for Oracle Social. This panel of experts was moderated by Peter Kim, Chief Solutions Architect for the Dachis Group.
The discussion began with a notice for audience members to turn their devices on, a nod to the connected nature of real-time marketing and a comedic jab at other conferences where people are asked to tune in and turn off.
Real-time marketing: What is it?
Ragy began the discussion by defining real-time marketing as something that just happens – brands don't necessarily control the events – usually unstaged occurrences – and the message is also unplanned.
The CEO of Sprinklr explained that it is almost like standup comedy – there is a balance between impromptu actions and a basic framework that the performance is centered around. You can't simply wing it and you cannot read a script. Real-time marketing should have a real feel to it, while also being a good representation of the brand's voice.
Pablo Henderson added on to this point, noting that one needs to be extremely agile in their use of real-time marketing. Some chances have to be taken for a brand to stay ahead of the curve, and this is best done through the use of small, nimble teams that are empowered to make decisions for the respective companies.
Erika Brookes noted that processes need to be set up in order for brands to have effective real-time marketing.
"What is our brand about, what is relevant to us?" she posed to the audience. Businesses need to look to these questions while creating their real-time content, and each member of the marketing team should be on the same page with regard to towing the company line.
Ragy confirmed this sentiment, adding that each member of the company should be able to effectively reiterate points made by people in the C-suite.
Overcoming barriers, building infrastructure
Certain companies may not be able to take a freewheeling approach to real-time marketing, especially in industries and verticals with significant regulatory and compliance hurdles. Figuring out the topics and areas to avoid in real-time is key for these businesses, especially if messages are going to be quickly sent through social media channels.
Erika also noted that the right technology also has to be in place at these companies, as this will ensure that the message gets out as soon as possible once the compliance hurdles are overcome. Brands need to have their respective ears to the ground to keep up with consumer chatter, and internal people should constantly be monitoring different mediums to ensure this happens.
Ragy spoke to the need for infrastructure to extend beyond social media apps, with community management strategies coming in many forms. Without the right framework in place, and in turn the right people manning these technologies, sustained results won't be an achievable goal.
"You need a plan A, B and C – there should be backup options in the case of something going wrong or down a path that wasn't initially predicted," Erika Brookes added, highlighting how this type of planning is possible thanks to the infrastructure that Ragy outlined.
Where do brands start?
Pablo Henderson brought the conversation back to the merits of real-time marketing and the specific approaches that companies can take. He spoke to the three essential types of real-time: Anticipatory, reactive and predictive.
Anticipatory real-time is when brands follow a situation that has two potential outcomes. They craft responses for both cases and then release the given statement based on what occurs. Reactive real-time requires relatively little preparation, as these events sometimes come out of left field and catch people off guard. The final type, predictive real-time, requires a company to take a chance. Here, a marketer may gamble and make a decision based on what they think could happen.
Once a marketing team figures out what resources they have, and in turn which types of real-time they can support, it comes down to selling executives on the respective ideas. You need the C-suite to buy into the plan, noted Erika Brookes, as they will be the people who allow for success to happen by granting permission to use the brand voice in that manner.
Demonstrating ROI: Possible with real-time?
Executives want to hear about return on investment, and it may be too early for marketers to truly show ROI for real-time. However, there are several ways for marketing teams to appeal to the C-suite with regard to real-time campaigns.
Erika noted that a positive customer experience on social media sites thanks to real-time campaigns can eventually lead to long-term value for any brand. Word of mouth is extremely important on networks like Twitter and Facebook, so promoting positive feedback is essential for businesses.
Pablo confirmed this, and also noted that effective real-time campaign can also serve as an excellent cost-cutting measure. Branding campaigns can be simplified and budgets for real-time pushes will be much lower than for more traditional forms of marketing.
Ragy reiterated these points, and added that ROI really is return on relationships in the modern world of marketing. Customer loyalty is built through real-time campaigns, which develops a strong base of support for the brand. This is the type of back-end method of driving revenue that marketers can show to executives, which easily justifies the initial costs of these marketing efforts.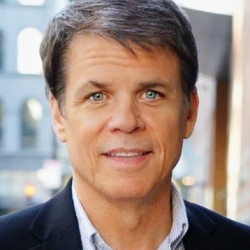 Latest posts by Martin Jones
(see all)