Customer focus represents a definite leg-up for small business over the big guys. Customers choose small businesses over their bigger competitors for great service, personalized interactions, and extensive knowledge of customers' needs.
Is your business reaping the benefits of that advantage? Here's how strong technology helps build great customer relationships on each of those three important fronts—and how technology can help your business deliver positive interactions at every turn.
Excellent Customer Service
Strong technology helps you meet customers' needs more quickly and efficiently. Make sure your technological infrastructure is enhancing, not harming, your customer interactions by updating this equipment.
Better Point-of-Sale Systems
A major factor in whether customer interactions are positive or negative is the point of sale. If the process of actually paying for items is overly long and frustrating, customers may go somewhere more convenient next time.
Upgrade your point-of-sale experience with a technologically savvy solution such as Square, Shopify, or Vend. If you run a restaurant with table service, consider a tablet POS system like TouchBistro, which streamlines ordering, makes orders more accurate and even automatically splits checks. Business News Daily breaks down best POS options for various industries.
Over-the-Phone Service Solutions
When customers call your business, you want to not only resolve their question or issue but also to provide a positive experience that will bring them back. This means you need a knowledgeable, polite staff handling phone inquiries—but it also means you need an efficient, convenient phone system.
An up-to-date business phone system reduces customer wait times and dropped calls. Call and voicemail forwarding ensures that you receive important messages even when you're away from your business.
Personalized Interactions
Customers turn to you for personalized recommendations and advice based on your expertise in your field. Make sure you have the tools to curate and recommend relevant products and services to your customers—and make the best impression.
Speedy, Reliable WiFi for Research and Inventory
In those rare cases where you don't have the answer to a customer's question or request at the tip of your tongue, you need to be able to access resources at your fingertips.
For that, you'll need a super-fast and reliable WiFi connection—ideally with downstream speeds of at least 3-4 Mbps per user. These speeds will give you the bandwidth you need to identify and locate exactly what your customer is looking for at a moment's notice, while you still have their attention.
A Platform to Showcase Your Expertise—and Your Customers' Content

A blog or email newsletter—better yet, both!—allows you to showcase your expertise in your field and to provide useful content for various demographics within your customer base. In addition to sales and coupons, you can share product usage tips, staff recommendations, gift-buying guides, behind-the-scenes glimpses, event photos and recaps, and more. Any information that's helpful and relevant to your customers is fair game.
And you can use these platforms to invite and highlight customers' own experiences with your business. Promoting customer-created pictures, testimonials, artwork, contest entries, and more makes your audience feel included in a larger community, with your business at the center.
Knowledge of Customers' Needs
Customers rely on small businesses to know their needs and anticipate them. But to do that, you have to listen to what customers have to say. It also doesn't hurt to put yourself in your customers' shoes: as a consumer, what would you want your business to provide?
Tools for Tracking and Responding to Customer Feedback
Tools for inviting and organizing customer feedback are vital in meeting customer expectations. Every in-store interaction provides an opportunity for individual feedback—but through social media, you're able to listen to what an entire network of customers are saying about your business, respond appropriately and promptly, and show them that you care about customer concerns. A social media dashboard (like Buffer, HubSpot, or HootSuite) helps you manage multiple accounts at once and alerts you of any messages or mentions.
A customer relationship management solution (CRM) such as Salesforce or Nimble is another way to track customer feedback, both in-store and online.
Free Customer WiFi
Offering free on-site WiFi is another way to anticipate customer needs. In our connected society, consumers expect reliable, free internet access just about everywhere they go.
Meeting that expectation has perks for your business, too. As establishments such as cafes and coffee shops, free WiFi entices customers in and encourages them to linger (possibly indulging in one more latte while they do so). For small businesses where customers wait for service or appointments—such as mechanics' shops, salons, and legal, medical, and dental practices—free WiFi can boost customer satisfaction by making the wait feel shorter. Retail establishments can use it to send targeted coupons and specials directly to customers' mobile devices, increasing sales.
To offer free WiFi to customers, you'll need to set up separate access points to your network: one that's secure, for your business's use, and one that is open to the public.
For retail establishments, speeds of 1-2 Mbps per user will be sufficient to allow customers to comparison shop products, browse web pages, or check social media from the check-out line.
If your business has a waiting room atmosphere, take the average number of guests in your waiting area and multiply it by five. This will be your ideal Mbps downstream speed to give guests great connectivity for streaming videos or music, loading HD images, and super-fast web browsing. With speeds like these, they won't even notice the time they spend waiting!
Onsite Television
Like free WiFi, offering TV in your establishment can encourage customers to linger with a relaxing atmosphere, or make a wait fly by with entertainment or up-to-the-minute news. Onsite TV also offers you an opportunity to share important information about your business or promotions with your customers.
What You Can Do Right Now
Strong technology helps you provide better customer service and build better customer relationships. But it doesn't make a major overhaul to make a big improvement in the customer experience you're providing. Here's what you can do to begin today.
Remember that great customer service is your biggest asset and advantage over big-box competitors. Make a commitment to prioritize customer needs throughout your operation.
Take an inventory of your current tech equipment and software. Where are you weakest—specifically with regards to customer service? Where are you strongest? Identify one or two of the weakest points to focus your upgrades.
Research the solutions you'll need to take your technology to the next level for these weakest points. For example, are you missing out on valuable customer feedback? Look into social listening tools and CRM software. Is offering complimentary WiFi your best next step? Explore managed WiFi options for splitting access for employees and customers, and providing customers with a branded WiFi portal.
How Can Cox Business Help? Visit us at CoxBusiness.com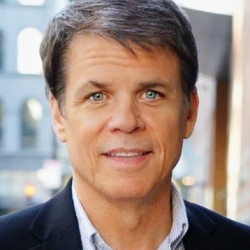 Latest posts by Martin Jones
(see all)