Smart Park Solutions – Understanding the Challenge
Competition is high as cities compete for remote workers and new businesses. Areas flush with opportunities and amenities attract talented entrepreneurs, families, and more. Indeed, 83% of Community Builders survey respondents prefer to live "in an ideal community with a lesser salary" over earning more but living in a less desirable location.
But what fuels growth, and how can your city stand out in a sea of choices? The bottom line is that people prioritize accessible recreational areas and safe places to play and work. An effective approach focuses on your city's safety, operational efficiency, and resident amenities, such as smart park programs. Learn how technologies help municipalities rejuvenate their image, entice newcomers, and satisfy residents.
Changing the Game With Smart Park Solutions
An influx of new community members can lead to increased use of your parks and recreational areas. To stay ahead of the curve and make strategic improvements, it's critical to understand what draws people to your city and how they use amenities. Intelligent technologies are game changers for towns of all sizes, allowing them to capture real-time data for quick responses and analysis.
Smart park solutions give municipalities granular insights into usage while identifying ways to improve consumer experiences. In locations like Las Vegas, intelligent infrastructure, including people and vehicle analytics, helps city leaders operate their public parks in a much more innovative way. The initiative began as a way to answer pressing questions about safety, community use, and amenities.
Michael Sherwood, Chief Innovation Officer for the City of Las Vegas, said, "In different locations throughout our city and parks like Baker Park, there's always that ability to think what other amenities we can provide, how can we make a park safer, how can we ensure that the park is being utilized properly." With help from Cox Business, the Smart Parks Program was born. "You can't be everywhere 24/7, but with this technology, we can analyze data and use it in new ways that really improve community outcomes," added Sherwood.
Behind the Scenes: How Smart Parks Work
City officials and technology partners design initiatives that are as unique as the communities they live in. Together, they identify strategic objectives that align with specific community outcomes. While plans vary, all consist of three components: network, technology, and an application and its related data.
According to Brett Lasher of AVP Managed Private Networks, top considerations for city officials include:
Throughput
Cost of ownership
Ease of deployment
Ability to expand quickly
Support for future use cases
Cox Business works with city leaders to develop solutions incorporating key infrastructure improvements and hardware while centralizing management.
Backbone of Connectivity
Private network infrastructure makes up the core of smart park solutions and similar amenities. It allows cities to make strides towards improving safety, increasing efficiency, and monitoring use in public spaces.
In the case of Baker Park, technology and connectivity are powered through a wireless 60 GHz Cox Managed Private Network that allows secure real-time monitoring and insights to flow seamlessly. Lasher said a "60GH backbone of connectivity" can connect sites within days instead of months.
The infrastructure enables:
24/7 video monitoring
Vehicle and pedestrian data collection
Maintenance notifications
Real-time responses from enforcement or city officials
Capturing Real-Time Activity
Once the core infrastructure is in place, video cameras and radar sensors can be put to work. City officials customize their setup by selecting multiple options, from Automated License Plate Reader (ALPR) technology to intelligent parking solutions.
In Baker Park, high-definition (HD)  360° view cameras sit atop static poles in strategic locations. The devices use artificial intelligence (AI) to detect activity, zoom in or out, and log activities of interest. After recording an action, the video snapshot goes to a centralized facility within the park. Baker Park relies on a localized private radio access network.
"We look at people and vehicles because the city wants to know who is coming to the park, how the parking lots and facilities are being used, and whether there are new opportunities to improve the overall experience for park goers," said Alex Han, General Manager of Cox2m Smart Cities.
Accessing Timely Insights
Data-driven smart applications are crucial to successfully operating and managing communities. The app should be user-friendly, allowing city officials, law enforcement, and maintenance supervisors to receive notifications and review AI-powered insights.
Han said, "Automating the collecting of that data and having a smart platform where city leaders can view activity and insights across multiple locations all at one time reduces operational costs and improves decision-making capabilities."
Las Vegas city officials use the Cox Business Smart Community Platform. It's a secure dashboard providing real-time data, such as parking capacity or trash receptacle volume. The application also generates insights about activities of interest.
Meeting Tomorrow's Challenges Today
Flexibility is critical to intelligent technology deployment. City officials can expand capabilities and handle future needs with a foundation like Baker Park's 60 GHz Cox Managed Private Network. "Connectivity is fast, highly redundant, and malleable, which is a perfect match for rapidly evolving smart parks of the future," said Lasher.
Smart technologies can help your community by:
Observing traffic patterns or pedestrian flow
Monetizing curb space
Guiding visitors to available parking spots
Receiving real-time alerts for dangerous conditions
Providing traffic information to visitors
Analyzing historical trends for workforce optimization
The Smart Approach: Level Up Your Amenities
A community-driven approach to technology helps city leaders improve safety and attract families, professionals, and businesses. And smart park solutions are one step toward enhancing your city's amenities and the lives of community members. It all starts with a conversation and a partner who can help facilitate the journey. Contact us to learn about solutions for your municipality.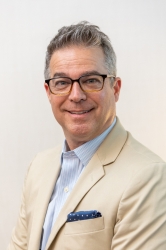 Latest posts by Stephen Rusche
(see all)