There are few things more important to a small business hoping to expand its online presence than its domain name. A company's online address is often the first thing a potential customer learns about it, so it is important a great deal of care is used when selecting a domain name.
Picking the right URL is important for branding your business, generating high search results and increasing web traffic. Conversely, a bad or confusing name can turn away customers before they even visit the site.
Of course, picking the right name isn't easy. Like a company's name itself, the perfect URL requires deliberation, creativity and a basic knowledge of marketing and brand curation. Here are a few tips for picking the perfect domain name.
Brainstorm
This is the perfect opportunity to get input from everyone on your team. It is impossible to know when and how inspiration will strike, so instructing employees to jot down words, associations and phrases about your business can sometimes lead to a serendipitous strike. Writing down all the suggestions and displaying them in a common space for a number of weeks can help you see which names stick, and which lose their luster after a few days.
Keep it short
Although it can seem like a good idea to pick a name that is as descriptive and informative as possible, it is usually wiser to go with something more direct and to the point. Shorter words, of course, are easier to remember and type, so they are more likely to remain lodged more squarely in customers' minds.
It is important to remember that domain names aren't simply limited to the web. Business cards, print advertising and radio commercials often feature URLs, so keeping it short will make it easier for you to promote your company in the long run.
Be creative
With each passing day, the number of available domain names shrinks. This is especially true for popular the popular .com and .net addresses. Although many people don't immediately recognize it, there is a variety of other website locations that can allow you to get the domain name you're after.
A tool such as Domai.nr, makes it easier for professionals to find the address that fits best with their company's mission and personality.
There is no scientific formula for finding the right domain name, so it is important to think creatively. As you surf the web, keep track of which domain names capture your interest and which leave you cold, and talk about them in the comments below.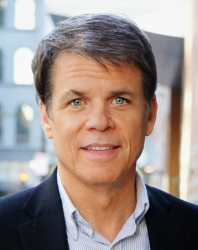 Latest posts by Martin Jones
(see all)