Hotel guest services involve accommodating requests, greeting guests, and ensuring their stay is top-notch. To this end, attentive staff members are a must. However, hoteliers also use technology to enhance guest visits.
While some tech is guest-facing, like mobile apps, others support your employees through automated features to improve efficiency and guest experiences. Learn how technology can improve your hotel operations and deliver the interactions your guests crave.
Streamline your daily operations and give guests the exceptional experience they expect at your hotel with business Internet and Hospitality WiFi solutions from Cox Business. Visit us at Booth #1614 during Hitec 2021 in Dallas, Texas, or online at CoxBusiness.com.

Learn More
Provide an Outstanding First Impression of Your Hotel Brand
The guest journey begins long before they arrive at your establishment. They may come across your brand on social media, a Tripadvisor review, or through a search engine advertisement. A mobile responsive website and integrated communication tools show potential guests that your brand prioritizes hotel guest services.
In addition, various technologies improve guest experiences, including:
Social listening tools: These alert your team when a question, review, or testimonial involving your brand appears online.
AI-enabled, multilingual chatbots: Website or reservation chatbots help your hotel serve guests from all backgrounds.
Voice over Internet Protocol (VoIP): Cloud-based phone systems support multi-channel communications, allowing staff to chat, text, and speak with potential guests.
Post-booking communications: Automated systems confirm reservations while assessing guest preferences or special needs.
Virtual reality (VR): These tools let website visitors tour your property indoors and out, view meeting room configurations, and make the best room selection.
Give Guests 24/7 Access to Hotel Guest Services
Your hotel guests use their phones for everything. So it makes sense that a mobile guest app improves experiences. It enables contactless payment, two-way text messaging for hotel guest services and streamlines the check-in process.
Hotels with food services can also incorporate ordering into their mobile guest app, allowing visitors to place orders when and how they want. Along with digital or mobile check-in capabilities, hoteliers may use chatbots and self-service kiosks.
According to a Hospitality Tech 2021 Lodging Technology study, 60% of hotel operators currently offer or plan to add check-in via kiosk this year. In comparison, 82% say the same about mobile check-in technology. Likewise, app-based chatbots can answer guest questions while collecting data for providing personalized guest experiences.
Behind the Scenes: Using Technology to Optimize Operations
Cloud-based hotel tech tools on a secure and separate network ultimately impact guest experiences. However, hotels may need to update existing infrastructure to ensure that property staff can access critical guest services data anywhere.
Hotels use technology, such as:
Property management systems (PMS) automate task scheduling and give managers an overview of priorities.
Artificial intelligence (AI) tools track maintenance schedules while the Internet of Things (IoT) monitors equipment.
Building analytics systems help hoteliers maintain safe indoor air quality (IAQ) while providing insights about potential energy savings opportunities.
AI-based platforms review guest demographics and historical trends to predict an influx of guest requests for electronic help or increased service calls.
In each case, technology frees your staff from menial tasks and gives them more time to focus on excellent hotel guest services. Additional efficiencies occur when using integrated services that connect to your maintenance and cleaning work order system and scheduling platform.
Supply Fully Equipped Smart Hotel Rooms
Hotel guests appreciate in-room technology, such as voice- or app-controlled TV, lighting, and thermostats. Low-touch tools let travelers adjust the room without leaving their beds. However, smart hotel rooms also provide location-based services and in-room entertainment.
For example, in-room Quick Response (QR) codes let guests scan a code to connect with your front desk or order room service instantly. In comparison, interactive voice and touchscreen interfaces deliver real-time information about the weather and local events.
Of course, high-speed internet and WiFi services continue to top the list of essentials for excellent hotel guest services. Spotty connections or complex sign-on methods are an instant turnoff for travelers.
Support Business Travelers With Meeting Room Technologies
As the number of remote workers increases, so does the possibility of your visitors wanting meeting room technologies even if they're on a family trip. These may be quiet niches with secure internet connections, allowing users to join a video call.
On the other hand, companies opt for hybrid meetings with groups of people joining from multiple locations. Business guests want access to spaces equipped with wireless high-definition video and audio hardware.
For instance, Radisson Hotels offers broadcasting studios and hybrid meeting rooms furnished with the latest video-conferencing technology and room backdrops designed for live or recorded feeds.
Help Guests Find Their Way and Plan Their Day
Digital signage captures attention, making it an excellent way to promote a special or display restaurant menu items. Hoteliers often add a video wall to elevators or common areas to showcase various guest services.
Also, digital signage can interact with mobile devices for personalized experiences. It can show live local weather radar or give a QR code for a discount at your gift shop. Location-based tools support wayfinding, which is a must for resorts or multiple connected properties.
Improve Guest Interactions With Cloud-based HR Tools
Cloud-based human resource (HR) tools, such as training and performance assessments, continually improve your team's performance. Although travelers want low-touch hotel guest services, they also rate your hotel based on experience with your reservation agents and front desk staff.
Modern technology lets hoteliers collect details about guest experiences using speech analytics and Customer Satisfaction Scores (CSATs). Plus, location-based IoT and sensors generate data that AI turns into insights. It can reveal ideas to create efficient routines or highlight problem areas, such as spaces that take longer to sanitize or clean.
When integrated into a mobile-friendly training program, your team can select scheduled times to update their skill set. Short videos and interactive virtual meetings can demonstrate critical skills, such as empathy, and use role-playing to assess and improve interactions.
Enhance Guest Experiences
According to Medallia Zingle's report COVID-19 & the Future of Commerce, "77% of individuals say that in the future, the amount of in-person physical interaction required at a business will factor into their decision of whether or not they visit it." Add in the fact that fully staffing your hotel is harder than ever, and you may find that incorporating technology into your processes leads to remarkable improvements in hotel guest services.
Learn more about hospitality technology solutions including, Smart Technologies, Managed Hospitality WiFi, and In-Room Entertainment solutions from Cox Hospitality Network. Visit us at Booth #1614 during Hitec 2021 in Dallas, Texas, or online at CoxHN.com.

Learn More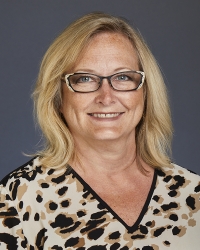 Latest posts by Lisa Majdi
(see all)