Seven Essential Hospitality Trends to Follow at Hitec
After a tumultuous year with many on-site events canceled, hospitality industry employees are thrilled to attend HITEC. This year's event features outstanding speakers, exhibits, and learning sessions to empower IT leaders and hotel professionals.
During the four days of presentations; speakers and educational sessions will cover many important hospitality trends and provide attendees the latest information for improving operations, facilities, and guest experiences.
Explore seven of the top hospitality trends at HITEC 2021.
1. Digital Transformation: Exploring Smart Hotel Features
Increasingly, hoteliers face competition from "digital hotels" and tech-enabled vacation rentals. These services target guests with a tech-forward, mobile-first approach to travel and lodging. As hoteliers search for ways to differentiate their business, understanding what a digital hotel is and what they're doing differently can provide insights.
In addition, the phrase "digital transformation" is more than a buzzword. Smart hotels deliver outstanding customer experiences while improving operations. Although features differ among smart hotels, a solid wireless network and robust digital transformation strategy are vital.
Attend the following presentations to learn about these trends and explore ways to improve your hotel business:
"The Next Wave in Hotel Development: What Is a Digital Hotel – and Are They Hiring?"
"The What, Why, and How of Digital Transformation"
2. Hospitality Trends: Making Smart Financial Decisions
While technology is vital to your hospitality business, it's essential to maximize your return by choosing technologies that give you a mix of quick wins and future sustainability.
The HITEC presentation, "The First-mover Advantage: Are You the Leading Edge, or the Bleeding Edge?" is a strategic management session. It'll take a look at current trends and potential competitive advantages. However, the session will also consider the financial implications of emerging technologies.
While many guests look for innovative hotel features, it helps to have real-life case studies to determine where to invest funds. Likewise, technology accelerators and incubators can help hoteliers take the first steps in technology adoption without heavy investments.
3. Future Design: Network Decisions for Growth
To take advantage of essential hospitality trends, leaders should consider their business's current and future needs. Most hotels experience greater demands due to cloud applications and many new connected employee and guest devices. To this end, your network infrastructure plays a key role.
Working with a managed service provider (MSP) can help you meet today's challenges while ensuring your systems can handle future needs without requiring extensive upgrades. Several exhibitors, including Cox Business,  BlueprintRF, and CoxHN will demonstrate ways today's technology can help prepare your hotel for the future.
Streamline your daily operations and give guests the exceptional experience they expect at your hotel with business Internet and Hospitality WiFi solutions from Cox Business. Visit us at Booth #1614 during Hitec 2021 in Dallas, Texas, or online at CoxBusiness.com.

Learn More
4. In-Room Technology: Personalizing the Guest Experience
Whether for leisure or business, travelers expect convenient, personalized experiences. Technology helps hoteliers deliver on the promise of a home away from home while realizing homes mean something different to each guest.
Although in-room entertainment isn't new, the fact is that more people crave access to streaming and casting capabilities. Providing guests with access to their favorite streaming apps along with convenient in-room opportunities to discover local events and hotel amenities is an important element for guest satisfaction.
Explore the case for personalizing in-room entertainment by attending the exhibitor technology showcase session on "The Future of In-Room Entertainment."
Moreover, hotels can enhance guest experiences using hyper-personalization. Hotels use artificial intelligence (AI) and big data to derive insights from micro-moments and use that information to customize visits and experiences. But, there are privacy risks to consider. Head over to the session called "Hyper-Personalization: The Future of the Guest" to explore the value, risks, and use cases for hyper-personalization.
5. Food & Beverage: Uncovering Emerging Technology
Many of the technologies customers demanded in 2020 are here to stay. For hotels and restaurants offering food and beverage services, leveraging these technologies can improve guest experiences leading to higher sales and repeat visits.
However, hospitality leaders should understand the restaurant guest's journey and how technology fits into their visit. Key areas to consider for the food and beverage sector consist of:
Contactless ordering, payments, seating, and delivery
Self-service options for orders, payments, and order pick-ups
Quick response (QR) codes for discounts and ordering
Various delivery technologies for in-house use and from third-parties
Consider attending "Food for Thought: Emerging Technology in F&B" to learn about technology solutions for your restaurant.
6. Labor Shortages: Using Technology for Hiring & Retaining Staff
Many hotel and restaurant businesses currently face a labor shortage. It's due in part to longtime staff members leaving the industry. The loss of institutional knowledge combined with short-staffed shifts makes it difficult to deliver excellent customer experiences. But, human resource technologies may help hoteliers bridge the gap.
Technology tools help teams communicate and collaborate online, allowing them to assign tasks and monitor project activity. Meanwhile, various training techniques encourage technology adoption among employees. In many cases, a technology platform can improve employee engagement and help hoteliers support their teams.
Lastly, technology assists leaders with budgeting. It can provide forecasting and scheduling tools to handle staffing challenges while delivering reports that enhance accountability.
Check out the sessions below to learn how technology can improve hiring, training, and scheduling:
"A Post-pandemic Hiring Epidemic: Where Did My Team Go?"
"Managing Labor Today: Focusing on Hours Not Dollars"
"Doing More with Less: The Pandemic and the Effect on the Labor Market"
7. Cybersecurity: Keeping Guest & Business Data Safe
Successful hotel operations rely on secure wired and wireless systems. The theft of your guests' data or inability to access critical hotel systems can lead to reputation issues and put your operations at a standstill.
To combat these issues, companies require both a business continuity plan and cybersecurity technology tools. Attend "They Are Out to Get You: Your Hotel's Most Pressing Cybersecurity Threats," sponsored by BlueprintRF to learn:
Details about current cybersecurity threats
How to prioritize threats
Ways to improve existing cybersecurity measures
The basics of a business continuity planning
Essential Hospitality Trends: Join Us at HITEC 2021
Prepare your business for the future. Follow the HITEC 2021 Conference in Dallas, Texas, on Monday, September 27 through Thursday, September 30. To learn more about the event or see the full schedule, head to HITEC Dallas 2021.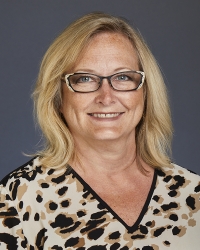 Latest posts by Lisa Majdi
(see all)