Managing your small business, mid-sized enterprise or large corporation isn't an easy feat, especially as the market changes, consumer demands evolve and digital resources affect day-to-day operations. You have to be willing and ready to adapt at all times in order to ensure that your company can thrive in the modern economic climate.
However, evolving to meet new challenges isn't as simple as changing basic practices and implementing new technology. You must perform careful research into whether you should change and then determine the best strategies for implementing those strategies.
In many cases, the best way to learn how you can improve your company's operations is to learn how other entrepreneurs have succeeded in recent years. To that end, we recently sat down with Nicholas Holland, owner of CentreSource Interactive. In addition to running the Nashville-based web and mobile development agency, Holland also recently debuted Populr.me, an online publishing platform. Read on for a look at how Holland and his company have adjusted to modern challenges to achieve new objectives.
Starting out and recruiting
As with every other small business owner, Holland started out by tackling almost every responsibility by himself. He handled the marketing, sales and other critical facets that affected CentreSource's everyday operations. When it came time to delegate tasks, the first order of business was hiring an administrator, a practice Holland believes other entrepreneurs should follow.
"I often recommend that the first employee that you hire is an office admin. At CentreSource that was the first employee I hired, and her focus was to do everything not related to sales and the professional services," Holland said.
Indeed, starting a staff by adding administrative support may be the best way build a team, but that doesn't mean you can stop hiring once you have a reliable assistant. Recruiting is an ongoing process, according to Holland, that never truly stops.
Business owners must keep their eyes out for potentially strong contributors who can strengthen their staffs. The thinking is that if an entrepreneur is always searching for top talent, then he or she won't have to hire someone because of a pressing need. Instead, company operators have the time and flexibility to research candidates and grow the team naturally.
Holland emphasized the importance of relationships and networking when it comes to finding great employees. Additionally, all CentreSource are expected to provide referrals and help the company recruit.
"Every employee that joins your company should know that you expect them to help you recruit talent as well. Because if you find a person with good character traits, there is an excellent chance that they have similar friends. That's also my policy at CentreSource," said Holland.
Marketing and customer communication
Of course, business owners primarily rely on social media for marketing and customer communication purposes. Sites like Facebook, Twitter and Pinterest allow entrepreneurs to reach out directly to their clients. For advertising and cultivating prospects, Holland has found that Google+ is quite effective.
"It's a very close-knit community, so on Google+ you can make relationships very fast with other types of Google+ people. I found that barriers or the hesitance to talk to other people is much lower on Google+," Holland explained.
CentreSource doesn't just rely on traditional social content for consumer engagement. On its profiles, the company also links to guest articles that it has contributed to industry publications to show prospects that the firm is a thought leader.
Social media also allows consumers to provide feedback to companies. Many people use this feature to air their grievances and complain about problems that they have with a company. During the interview, Holland noted that he takes all criticisms personally, but that responding is what matters most.
"If a customer tells you that they're unhappy, I believe you should pull out all the stops to try to make them happy because by telling you that they were unhappy, they did you a good deed – the vast majority of dissatisfied clients never use you again," he said.
Challenges and stress
For potential challenges, Holland noted the the gradual decrease in government stimulus efforts and the possibility of increasing inflation over the next few years. Independent companies may have to increase their prices soon to keep pace with the rate of inflation, which can lead to financial difficulties.
These external forces will change how entrepreneurs go about managing their enterprises. Making necessary adjustments and preparing for potential challenges like an increased inflation rate will help ensure that a company will remain financially solvent despite the changing economy.
Challenges also create stress that owners have to deal with on a daily basis. Holland noted that CentreSource's early days were among the most difficult, but he was able to relax as he delegated responsibilities to new executives. Once he started Populr.me, however, he returned to the stressful work style.
"I've traded the easy life to go start another company, but I guess that's how entrepreneurs are wired," Holland said.
Finally, Holland spoke about how he manages to stay productive throughout the day. His preferred strategy is to avoid constant connectivity and distractions so he can actually focus on the task at hand.
"As far as how to stay productive, I think email is the devil. You should try to find at least four hours a day to stay away from email to do solid work and avoid too much stress," Holland said.
As the business world continues to evolve, companies will have to adjust accordingly. Do you agree with Holland's strategies?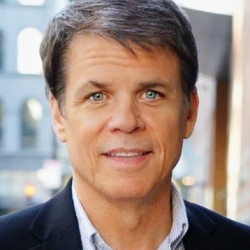 Latest posts by Martin Jones
(see all)