Hotel Guest Experience and The Importance of Guest WiFi
The hospitality industry is one of the most competitive, particularly for hotels. While impeccable cleanliness, excellent service, and convenient locations have always been priorities, modern hoteliers know that both their business and leisure guests have one more item on their "must-have" list – Guest WiFi.
According to a 2017 article from Travel Trends Today, WiFi has become an essential part of the modern travel experience – and expectations for flawless connectivity are high. Being able to offer guests a quality internet experience can be the path to resounding praise from satisfied guests. Failure, on the other hand, can result in scathing reviews and lost bookings.
In the past, the first thing hotel guests would do upon entering their room was switch on the television set. Today, the first moments of a guest's stay are more likely spent attempting to connect one or more devices to the internet using the hotels' WiFi signal. According to Accenture, how swift and easy you make this process can be a major factor in customer experience (CX).
9 ways your hotel can exceed guest experience with guest WiFi?
Different travelers will have different expectations. Someone checking email won't have the same expectation or sense of urgency as someone trying to stream a movie. A business professional traveling alone may simply wish to check work email and spend a few minutes on social networks before retiring for the night. A family on vacation may be more demanding, with parents making or finalizing itinerary plans while kids watch videos or play games on different devices.
Your guest's expectations can be tied to a sense of anxiety about a potential bad connection. By making high quality, high-speed internet a priority, you can exceed expectations making your hotel stand out. These nine things can aid you in your efforts to deliver seamless customer experiences.
1. Plenty of bandwidth
There's nothing worse than sitting in a hotel room and watching an internet icon spin on a device. Ensure you have enough bandwidth to carry your guests when the hotel is at full capacity. You can look into options to scale seasonally if your hotel has regular highs and lows, raising the limit when holidays or tourist season comes around and dropping back down in slow season.
2. High-speed connectivity
Laggy internet speed can make some guests give up in disgust and cross your hotel off the list for their next trip. Making sure your provider offers fast browsing and buffering can mean more satisfied guests. It can also benefit your guests who need to work throughout their stay, delivering a seamless experience making it a driving reason they choose your hotel over and over.
3. Excellent reliability
An unreliable connection is almost worse than a non-existent one. A continual tease of "will it or won't it connect" can prompt guests to head over to review sites and rant about their "unacceptable" hotel experiences. Making sure your internet connectivity can outlast stormy weather and high traffic days will help keep guests content and encourage multi-star praise on review sites.
4. Easy sign-on process
Make it as easy as possible for guests to join your network. Generate a password tied to the room number for peace of mind, and allow multiple devices to utilize it at once. Doing so means everyone in a room or suite can get online quickly and effortlessly. A card with the WiFi password presented along with the keycard at check-in or waiting for them on the nightstand shows your commitment to ensuring guests have everything they need.
5. High-level security
Your Guests should feel confident that your internet service is secure, and that their devices will share in that protection when connected to the hotel network. Your systems should be fully siloed, with processing methods used to capture customer payment data kept firewalled away from the WiFi network. As noted, passwords that are exclusive to a room number and unique to each visit can help increase security.
6. Property-wide access
Your network should provide for access in all hotel rooms and suites, including meeting or conference rooms, restaurants, the lobby, and any other common or public areas. A perimeter around the hotel that is inclusive of the grounds can allow your guests to step outside while staying connected. Strategically located charging stations (especially in business centers) will attract those who work-on-the-go.
7. Managed performance
A vendor who not only supplies high-speed internet service but also continually monitors and optimizes the service can enhance guests' experience by eliminating downtime and lag. Connectivity can be improved, and speed accelerated when the system is being managed in real-time for optimal performance.
8. 24/7 technical support
If something goes wrong with the internet service, make sure your guests have a direct line to the people who can actually fix it – not to your hotel staff, who likely aren't IT professionals (and have enough to keep them busy). A provider that delivers around the clock technical support can help ensure guests' needs are taken care of swiftly and competently, getting them back online with minimal interruption.
9. Free or paid?
With high quality, high-speed WiFi topping the "can't live without it" list for all types of travelers, investing in property-wide accessibility should be a top priority. Both free and paid WiFi offer something for both hotel and guest. Free internet will allow you to compete effectively against other hotels, while a paid option that allows priority data traffic or boosted speeds can be attractive to those who travel frequently and who have experienced the frustrations of poor internet connections. By offering both free and paid options, you can allow guests to self-manage their expectations while controlling their quality of service.
Post-stay feedback
When your guests check out, a quick survey can remind them to log out of the hotel WiFi, and also provide feedback on their experience. This survey can be kept to three questions rating several aspects of their stay, with a simple, clickable 1-5 star grade. Suggested questions include:
How did you feel about your stay at [hotel name]?
Was your room kept clean, and any requests swiftly met?
Did your WiFi connection satisfy you?
A field for comments can allow guests to leave more detailed feedback. By placing WiFi on a level with hotel cleanliness/service, you acknowledge how important connectivity is to the average guest and gather important aggregate feedback you can then use to track WiFi performance over time.
A slump in WiFi performance during peak booking times or local events can help identify when you need to scale. Reports tracked by room or floor can help highlight where additional access points should be installed for improved coverage.
Provide the best level of WiFi service possible, making it easy to access by guests at all times and from any point on the hotel property, and following up with feedback requests. This single item can make or break your hotel's reputation and significantly impact guest loyalty.
Once you have a reliable, high-speed network and support system in place, you can make your WiFi a cornerstone of marketing campaigns, attracting guests for whom a good connection tops their priority list. When your hotel exceeds expectations with guest WiFi, you create a seamless experience that encourages rebookings from individuals and corporate customers alike.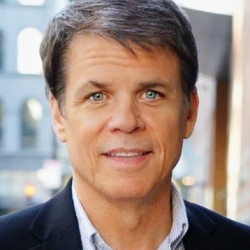 Latest posts by Martin Jones
(see all)