With wellness-related resolutions top of mind, data from a recent Cox Business survey indicates today's patient demands a dose of digital when it comes to their healthcare.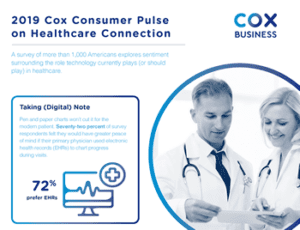 According to the Cox Business Pulse on Healthcare, almost three-quarters (72%) of patients would have greater peace of mind if their primary care physician put aside pen and paper for electronic health records (EHR) to chart progress during visits.
Forty percent of people surveyed use wearables such as a Fitbit or Apple Watch to track their health goals. Most of those respondents (83%) would provide their primary physician access to their fitness-tracking data to monitor health and wellness progress.
More than half (56%) of survey respondents report that their primary doctor doesn't offer telehealth services. However, of the 49% of consumers who used telehealth last year, most found it easy to use. And while the negative effects of technology are often reported, 88% of respondents view technology as actually helpful to their health.
From calorie counting and mileage tracking to therapy and medical testing, patients now have access to an unprecedented number of apps to manage all facets of their health, from the palm of their hands. It also gives Healthcare providers a unique opportunity to leverage this technology and the insights it offers to enhance patient care.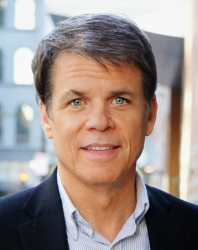 Latest posts by Martin Jones
(see all)