The 7th annual Shorty Awards were held in New York City this past week, honoring outstanding members of the social media community. The award recognizes those who produce exceptional content on a variety of platforms across the Web, including Twitter, Facebook, Tumblr, YouTube, Instagram and Vine. The award show was hosted by comedian Rachel Dratch in New York and was simultaneously live streamed across the world (through the power of social media!).
"Kevin Jonas presented the award for Best Business Blogger"
Categories for the award run the gamut from Arts and Entertainment to Innovative Technology, Global Issues to Create and Design. The poop emoji even won an award! Individuals are selected through nominations submitted on Twitter, with millions of fans supporting their favorite social media content producer. Voters were even able to create their own categories by making up an original hashtag. More than 2,000 community categories have been created for the Shorty Awards to date. Winners are selected by the Real-Time Academy of Short Form Arts and Sciences, which includes respected members of a variety of fields, including advertising, entertainment, media and the Internet.
Kevin Jonas Presents Cox Business for Best Business Blogger
Kevin Jonas presented the award for Best Business Blogger to Barrett. Along with showing some of his signature dance moves while jamming out to ABBA's "Dancing Queen," Jonas used his time on stage to explain the importance of business bloggers and why Cox Blue chooses to honor one of them each year with a Shorty Award.
Using social media to share knowledge
Social media can be used to raise awareness on a variety of topics, market products, tell jokes or just document daily life. But at Cox Blue, we believe one of the most important uses of social media, and the Internet in general, is to share information with anyone that wants it. In the spirit of distributing information and
supporting technological entrepreneurs, Cox Blue sponsored the Best Business Blogger category of the Shorty Awards.
This award honors writers who have created thought provoking content for members of the business community. When looking for this year's winner, the Academy considered the impact and creativity of each writer's Tweets, their innovation in the use of social media and the total number of nominations they received. There were seven finalists this year, but Status Creative CEO Jeff Barrett took home the honor.
Jeff Barrett is the CEO of Status Creative, a digital public relations firm. Along with taking home a Shorty Award, he has also been named one of Forbes' Top 50 Influencers in Social Media and Business Insider's #1 Ad Executive on Twitter.  Barrett contributes pieces to Mashable, Technorati, The Washington Times and currently writes for HootSuite.
Special thanks to our judges
Special thanks to our judges Tim Washer and Dino Dogan for a fantastic job, and kudos to Cox Blue social ambassador Melany Berger, winner of the Vox Populi award for most fan votes in the overall blogger category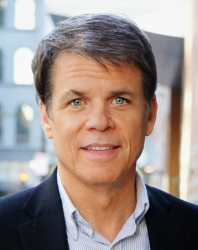 Latest posts by Martin Jones
(see all)