Event management and hospitality leaders must pick their digital transformation objectives strategically. Each should streamline processes and deliver relevant, meaningful attendee experiences. High-speed, wireless internet is the foundation for modern technology and techniques in your office and event facilities.
It enables your company to future-proof your approach, measure outcomes, and achieve a return on investment (ROI). Consider five effective ways and reasons for digitizing your business activities at all levels.
1. Complete Business Processes In the Cloud
Cloud technology is a cost-effective solution that can boost productivity and support business continuity. The benefits extend to each department and employee in your company, allowing them to do their job better and faster. According to Flexera's 2022 State of the Cloud report, the top cloud initiatives include optimizing their current cloud use, migrating more workloads, and moving from on-premise software to SaaS.
Start by evaluating and prioritizing cloud technology platforms on a departmental basis. Look at how implementation affects key business outcomes and team metrics. Set your digital transformation up for success by reviewing employee training requirements and on-site and remote internet bandwidth.
Assess your business internet speeds and wireless connectivity throughout your building and virtual locations. Upgrade when needed to support mobility and cloud applications. In addition, each department should identify staff weaknesses and address them through live and virtual training.
Three practical cloud technologies are:
Business phone systems: Cloud-hosted Voice over Internet Protocol (VoIP) solutions connect hybrid teams, support business continuity, and improve caller experiences. Additionally, Customer Relationship Management (CRM) integrations help staff personalize interactions.
Development and training systems: Put educational materials in the cloud and provide a knowledge base. Self-service portals let employees access information and resources, including videos, interactive webinars, and workplace forums.
Collaboration tools: Manage projects, tasks, and teams from anywhere with an internet connection. Consider a platform like Microsoft 365 that provides messaging channels, document collaboration, and video conferencing capabilities.
2. Leverage Hybrid Event Technology
The American Hotel & Lodging Association (AHLA) reported, "one-quarter of meetings being sourced are hybrid, and 72% of surveyed meeting planners are sourcing events with an in-person component." Hybrid events provide several advantages over traditional conventions and are a cost-effective way to expand your audience.
Yet, a Markletic survey found, "35% of event organizers say that finding the right venue to host a hybrid event is a challenge." Moreover, "39% of people who attended hybrid events virtually state that they felt not included in the event." Venues must combine event technology and digital attendee tools to enhance the user experience by immersing them in physical and virtual spaces.
Event facilities must offer high-speed internet access (HSIA) and ensure wireless connectivity throughout the facility. With this basic infrastructure in place, the possibilities are nearly endless. Markletic reported that 34% of marketers say they'll "add hybrid events to their event portfolio in the near future."
3. Use Event Digitalization for Data Collection and Insights
Gain insights into every event and use them to sell your services and improve your format recommendations. Occupancy counter tools and sensors track movement, allowing you to analyze booths or line times. Event technology provides data you can use to adjust events in real-time and proactively highlight on-site and virtual solutions to optimize foot traffic. It also helps you decide where to place concessions and sponsor booths.
Again, wireless connectivity and a high-speed internet connection are vital to data collection success. However, Near Field Communications (NFC) sensors can reduce your network's burden and allow you to capture information from spots with less reliable coverage.
There are multiple data points your event, and venue technologies can help you collect, including:
Ticket sales, virtual and on-premise check-ins, and registrations
Repeat event attendance
Web traffic to company and event websites
Post-event surveys
Mobile application downloads
Sponsor and exhibitor foot traffic and ROI
4. Showcase Human-Centered Digital Tech Tools
Go beyond electronic tickets and improve event attendee experiences with digital technologies. According to the Hotelier Technology Sentiment report, contactless check-ins "increased by 42% during the pandemic." Usage is forecasted to "increase by 32% in 2022." Conference participants may have digital tickets or QR codes for contactless check-ins and mobile apps for wayfinding and personalized event promotions. The top solutions use NFC and Artificial Intelligence (AI).
Smart badges and wristbands reduce wait times, enhance experiences, and improve security and customer trust. NFC innovations, such as photo booths and tap-to-pay wristbands delight attendees by providing convenient solutions. Both options collect user data for event management and provide convenience for consumers. Advanced solutions leverage AI for event check-ins with facial recognition and personalization for digital signage and mobile apps.
Other popular and easy-to-implement technologies include digital signage and self-service kiosks. These tools can help attendees navigate your facility and find event agendas. They also serve as excellent marketing tools, giving sponsors and hosts a chance to promote personalized offers.
5. Personalize the End-to-End Experience
Digital tools improve the journey for event hosts and attendees. AI-powered technology like chatbots can help both parties find information during the consideration phase. Likewise, virtual venue tours can entice prospective sponsors and exhibitors. But augmented reality (AR) helps them envision their event in your space. Your sales team can also use AR technology to demonstrate possibilities in person.
Improve experiences by leveraging:
Email marketing: Combine data from past events with subscriber details to generate persuasive messages. Include helpful links and information to excite and inform attendees.
Website: Optimize your site for mobile users and use a countdown timer to encourage last-minute sign-ups. Don't forget to update your website in real-time during your event.
Event networking: Keep remote and on-site attendees connected through virtual chat spaces. Consider adding a moderator and hosting giveaways or special promotions.
Post-event surveys: A digital transformation refers to all technology, not just high-level applications. Indeed, post-event questionnaires remain a top format for engaging attendees after your event ends.
Transform Your Event and Venue With Digital Technologies
Convention centers and hospitality leaders can improve attendee experiences and attract hosts by moving forward on their digital transformation objectives. However, reviewing your options and choosing improvements that deliver a solid ROI are essential. But don't discount the value of future-proofing your infrastructure. Explore your options by speaking with a dedicated hospitality representative from Hospitality Network (HN).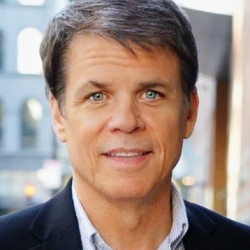 Latest posts by Martin Jones
(see all)