The business world has certainly evolved in the past decade, and as a business owner, you might find yourself conducting significantly more video interviews today than in the past. In order to leave a long-lasting impression on your job candidates, you need to understand how to speak to another professional via interview services like Skype or FaceTime. After all, the candidate experience is an essential component in branding your business – make sure you utilize the resources available to you and build a drive workforce.
Here are three steps to conducting the ideal video interview.
1.) Lighting – When you use video conferencing services to speak with potential new employees, make sure the lighting on your end is bright enough that your interviewees can see who you are. There is nothing more stressful than speaking to someone online that has odd shadows covering his or her face – it takes away from what is being discussed, and it makes you look unprofessional.
2.) Eye contact counts – It's important to remember the qualities of a good in-person interview when speaking with candidates online. Eye contact is a vital part of good communication, so make sure you angle your camera in such a way that you are speaking directly to your interviewees. Otherwise, the conversation will lack the personal feel.
3.) Posture improves appearance – When you sit at your desk, you don't always have the best posture. However, if you are conducting an interview, make sure you sit upright, or else your hunched shoulders and casual demeanor won't look professional, and you also won't look your best. Make a positive first impression by engaging with your candidate and acting like the video conference is an in-person conversation.
What are some other tips to improve video interviews?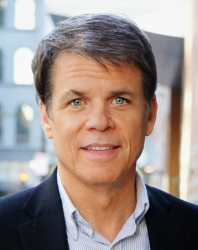 Latest posts by Martin Jones
(see all)