The Benefits of Moving Your Small Business to Microsoft 365 and Teams
From workflow disruptions to an uncertain economy, 2020 made it tougher for small businesses to stay connected and profitable. While many entrepreneurs increased their use of digital communication tools, practical online collaboration remains elusive.
A piecemeal approach using various applications leads to a disconnect. Conversations get lost. Messages go unread, and no one knows who's in or out of the office. It's frustrating to you, your teams, and your customers, whether directly or indirectly. Yet, few SMBs can afford to spend money on advanced cloud computing tools. Even when they know, remote technologies are the answer to revenue growth, employee, and customer satisfaction.
Fortunately, Microsoft 365 & Microsoft Teams provide a productivity cloud platform that puts everything you need in one spot. It gives you access to enterprise-level capabilities and an affordable price tag. Learn how adopting a productivity suite into your tech stack helps you future-proof your business while improving existing processes.
Learn how Cox Business can help your small business prepare for the future of business with Cox Business Cloud Solutions, Microsoft 365 and Microsoft Teams.

Learn More
1. Reclaim Your Attention and Time
Workflow interruptions cost you precious minutes of productivity. You may offset diversions by working faster. But, studies show that distracted individuals experience "more stress, higher frustration, time pressure, and effort." While it's impossible to end all intrusions, smart solutions promote effective time management by:
Showing real-time presence data for all staff
Unifying workflows and tools in one dashboard
Giving users control over home screen functions and actions
Sharing calendars with set work hours
Providing an admin dashboard to manage permissions and data
Whether you're scheduling a meeting or assigning a task, any action is just a few clicks away. Plus, Microsoft 365 shares status data, so teams see who's available, out of office, busy, on a call, or in a meeting. If you need uninterrupted time, select Do Not Disturb. Your teams can still message you, but it temporarily halts banner notifications.
2. Balance Your Budget
Your small business has a tight profit margin. And you're feeling the squeeze more acutely in 2020, with 62% of SMBs indicating lower sales in the last 30 days compared to 2019, according to Facebook. Microsoft 365 alleviates your budget woes and helps you realize extra savings by:
Application consolidation: Reduce or eliminate unnecessary software-as-a-service solutions, and replace them with one app that includes six tools and nine services.
Travel expense reduction: Save money on travel without sacrificing meetings or events using Team Meetings to host online gatherings for up to 250 people.
Remote work adoption: Transition staff into virtual positions to achieve tremendous savings, as Microsoft reports that SMBs realize a $20,000 annual savings with full-time telework.
Office downsizing: With a full or partial remote workforce, you can reduce office square footage without sacrificing workflows or customer experiences.
Predictable monthly costs: Pay one affordable monthly payment per user, with no hidden fees, for a full suite of communication and collaboration tools.
Scalability: With flexible pay-as-you-go solutions and the ability to mix and match license types, you can easily add or reduce users during peak seasons or downtime.
3. Build a Mobile Workforce
Your customers want seamless experiences and access to personalized service. That's tough to provide without the right tools. With software that syncs in real-time and mobile apps, everyone on your team stays informed. Tap your screen to access project details, the latest document versions, and conversations.
You can be on the phone with your client while reviewing notes from your team. Or walk into your client's office with only your cell phone and deliver a solid presentation. Microsoft 365 gives you and your teams the flexibility to work well from anywhere. And with its 99.9% uptime guarantee, you get reliable access to business-critical tools and data.
4. Increase Revenue and Opportunities
Engaged and connected teams drive growth. And the right digital tools pave the way. Deloitte reports, "SMBs with higher levels of digital engagement have a superior business performance to those with lower or more basic engagement." Small business owners who leverage digital tools are:
Two times as profitable.
Three times more likely to experience revenue growth.
Five times more likely to reach new international customers.
Three times more likely to experience customer growth.
5. Improve Employee Performance and Productivity
Frustrations with technology and a lack of human contact wear on your employees. It diminishes their morale and productivity. However, digital tools empower staff to accomplish tasks, leading to a 22% increase in remote employee productivity, according to Microsoft.
Give staff the means to improve their work-life, such as Microsoft's MyAnalytics dashboard. It delivers personal insights and AI-powered recommendations on focus, wellbeing, network, and collaboration. With one dashboard, dedicated team channels, and robust support, your employees can focus on what's necessary to get the job done.
6. Get Enterprise-Level Insights
There's no doubt that access to data drives better and faster decisions. The problem with many workflows is that you're using several applications, all with different reporting requirements, making it tedious to get unified insights. Microsoft 365 supplies administrative and team-level reporting capabilities. Use the data to see teams' productivity or engagement levels, identify security issues, or save money by removing inactive users.
7. Optimize Existing Workflows
As a small business owner, you undoubtedly want to put people first. But too much change unnerves staff. Instead, learn how technology solutions fit into or improve existing workflows. And if you love your current tools, you don't have to give them up. Microsoft offers more than 600 integrations so that you can add your favorite apps right to your dashboard. Unify your processes by integrating with:
Mailchimp
Salesforce
Trello for Teams
Constant Contact
Velocity for Teams
Slack
8. Use Task-Driven Project Management
Many entrepreneurs use various project management communication and collaboration tools. This approach makes it hard to track projects as they move through the pipeline. Microsoft 365 eliminates multi-step processes by putting your project details in one central location.
Along with OneDrive cloud storage, workers keep project-specific conversations, tasks, and content on Microsoft Teams channels. You collaborate with employees or stakeholders in real-time, from anywhere, and on any device. Simply jump into a Word or Excel document to:
Work simultaneously with others to edit or discuss document changes.
Chat via comments and use the @mention tool to get a co-worker's attention.
Quickly designate project responsibilities by checking the Assign Task box when writing a comment.
Need to pull in a client or external stakeholder for review? Invite them to interact in documents without adding extra users to your account. Plus, following up is easy with deadlines on shared calendars and automatic emails to teams about assigned or completed tasks.
9. Ensure Business Continuity
With the ongoing market and environmental disruptions, staying connected to teams and customers is vital. Small businesses that embrace agility and flexibility build resilience, allowing for seamless transitions during turmoil. A KPMG International report shows, "67% of CEOs say that acting with agility is the new currency of business and being too slow risks bankruptcy." Give your company a competitive edge with a productivity cloud that puts the right tools and data at your fingertips.
With your essential documents on OneDrive, everyone can do their job using any phone or internet-connected device. You stay on track with projects, deliver personalized customer experiences, and connect with teams regardless of external disturbances.
10. Strengthen Your Online Business Culture
Creating a meaningful and inclusive remote workplace culture is tough. Fortunately, Microsoft's all-in-one system lets you personalize digital experiences and monitor activities. Use engagement tools like polls or surveys to interact with staff and gather feedback. Or enhance your virtual environment by:
Setting up a Teams happy hour or coffee break channel
Using a Microsoft Teams bot for internal tech support
Adding a crisis communication app to keep staff updated
11. Attract and Keep Top Talent
Finding and retaining great employees in the digital age isn't easy. However, shifting to a virtual workforce is an excellent way to boost staff retention rates. The 2019 State of Remote Work shows remote employees "are likely to stay in their current job for the next five years," reflecting a 13% increase in job loyalty over onsite workers. In comparison, data from Microsoft reports a "50% reduction in employee turnover" due to flexible work environments.
Microsoft 365 helps you deliver excellent employee experiences right from the beginning. The New Employee Onboarding (NEO) hub provides tons of resources to design a custom onboarding plan that welcomes new hires then sets them up to succeed. With a people-first approach and supportive technologies, remote teams thrive.
12. Skyrocket Your Digital Transformation
For many small companies using cloud solutions and completing a digital transformation takes many years. However, enterprise-grade features are now readily available and easy to deploy. With Microsoft 365, you can signup and get started immediately. The software is intuitive with a minimal learning curve, so most of your staff won't have trouble using the services. But, you can easily create a learner's hub using Microsoft's resources such as:
Extensive video tutorials and guides on its website and YouTube
Self-guided support channels and knowledge bases
Step-by-step set up guides
Free downloadable Microsoft Adoption workbook
Or simply sign up for FastTrack, included free with eligible subscriptions. The services help you deploy your Microsoft 365 solution, including data migration, to get teams up and running quickly.
Drive Strategic Growth With Microsoft 365
Boost operational efficiency and profits by putting your teams and projects in one spot. Microsoft says, complete adoption of Microsoft 365 results in workers having "66% higher confidence in their organization's ability to adapt and thrive amidst uncertainty."
If you're using a piecemeal approach to online collaboration, then it's time to take back your time and get your budget under control.  Microsoft 365 is a low-cost solution for remote work, teleconferencing, communication, cloud computing, and file management. Protect your company's future without breaking the bank by signing up for Microsoft 365.
Learn how Cox Business can help your business make the move to Microsoft 365 and Microsoft Teams.

Learn More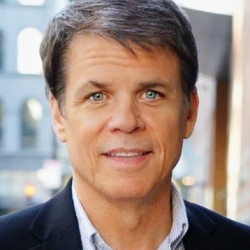 Latest posts by Martin Jones
(see all)