For healthcare organizations big and small, a transformation towards the innovative patient and provider experiences continues to top the current list of digital healthcare trends. From the Internet of Medical Things (IoMT), large-scale data initiatives, telemedicine and more, healthcare organizations are setting their sights on technologies that will spark widespread change.
What are a few of the interesting healthcare trends in 2021?
1. IoMT applications and devices
Patient wearables, digital health tracking apps, virtual assistants and more. The IoMT trend is in full swing, but effectively implementing means having a much deeper understanding of organizational and patient needs.
IoMT technology is aimed at overall health awareness, improving care quality, reduced hospitalizations, and shortened patient recovery times
According to Deloitte, the medical technology available in IoMT Market is more than 500,000. These technologies are providing better outcomes to the patient as well as to the healthcare system.
Here are a few more stats:
According to Frost and Sullivan analysis, the global market of IoMT Market was $22.5 billion, and in 2021, it was expected to grow at 72.02 billion at a CAGR of 26.2%.
According to the Business Research Company, the global medical devices market is expected to grow at a CAGR of 6.1% from 2021 and reach $603.5 billion by 2023.
As per Statista, the digital health market is expected to reach around 660 billion dollars by 2025.
The primary benefit of IoMT is that it provides for fewer mistakes and can deliver accurate diagnoses at a lower cost.
2. Telehealth is changing the way consumers experience healthcare
Consumers have become increasingly open to the idea of telehealth, especially when they realize telehealth means more convenient, accessible healthcare.
Reduced wait times are one of the main benefits. In addition, parents who are managing the health of their children 24/7 appreciate the almost immediate care available from their own home.
Sustainable virtual health solutions support clinicians and patients. The right solution enables comprehensive care to a variety of client populations. But, it also delivers actionable data used to build efficient processes. Cloud-based healthcare is an ethical way to help patients during a public health crisis. Yet, a digital-first strategy satisfies an organization's goals, as well.
3. Patients using digital health tools are satisfied with the experience
Whether using wearables or apps, users reported that they got what they were hoping for from the experience. Even for those who prefer in-person doctor visits to telemedicine, those who have used live video telemedicine are satisfied with it—particularly if they paid out of pocket. 69% of those who paid out of pocket indicated they were "extremely satisfied" versus 30% for those who did not pay out of pocket.
Patients who tracked various health goals—for example, weight, physical activity, sleep, medication adherence—via digital apps and wearables reported making progress on or otherwise achieving their health goals. While encouraging, innovators still have much to do to ensure sustained engagement that helps consumers achieve meaningful health outcomes.
4. Those with self-reported health conditions are more likely to track health goals
Those experiencing health challenges actively track their health, but digital solutions don't consistently reach these high-need populations. Patients taking medication and those with high blood pressure are likelier than not to track a related health goal, but a minority of these groups use a digital solution to do so. Of those patients tracking their blood pressure, only 11% do so with a digital app/journal.
5. Use of IoMT applications, devices and across age group
To highlight demographic hotspots and healthcare trends, we've highlighted four consumer segments:
Digital health adoption is significantly higher among young, high-income adults in comparison to other consumer segments.
Aging adults have the second highest adoption of digital health technologies. However, those with a moderate recurring health issue are more likely to use digital tracking tools and wearables. And, by a margin of more than 20 percentage points.
Not surprisingly, chronically ill seniors have the greatest demand for healthcare services. 86% visited a doctor at least twice in the past year and 97% are managing at least one prescription. Yet they are the least likely to leverage digital health technologies. And additionally have low rates of live video telemedicine use, digital health goal tracking, and wearable use.
6. Over 50% of healthcare consumers search online for reviews
58% of healthcare consumers, at some point in their lifetime, searched for an online review of a provider. This trend represents an increase from 50% in 2018, with the boost largely coming from increases in searches for pharmacies and hospitals.
It is unknown what drives consumers to act on a review (or not). However, one possibility for why many consumers do not take action is that even with more information online, consumer choice is likely constrained by other factors (e.g., insurance, geography).
7. Respondent willingness to share health data with an entity correlates with confidence in that entity's data security
The trend is positive for most consumers who are willing to share health data with their physician. However, there is a significant drop-off in the willingness to share with other stakeholders. 58% are willing to share with health insurance companies and 52% with pharmacies. Though sharing data with multiple entities is inevitable (because sharing information with a physician nearly guarantees, for example, that it will be shared with a payer or pharmacy).
Data security matters now more than ever. Consumers' willingness to share health data technologically, nearly perfectly correlates with consumer confidence in the security of their healthcare provider's IT solutions. Consumer confidence in data security of tech companies declined from 31% in 2017 to 24% in 2018 (and this healthcare trend continues downward).
8. Having an in-person visit followed by a telemedicine visit with the same provider led to higher satisfaction
Consumers who had a prior, in-person visit followed by a telemedicine interaction were significantly more likely to be satisfied with their telemedicine visit. For instance, 92% of consumers with a prior in-person visit were satisfied with their video visit compared to 53% satisfaction among those without a prior in-person visit.
The finding in this healthcare trend holds true across all channels of telemedicine signaling several opportunities. First, providers have a tremendous opportunity to provide continuous care—and offer a great patient experience—through telemedicine. Second, these data support strategies that employ telemedicine to establish a more robust, long-term relationship with patients.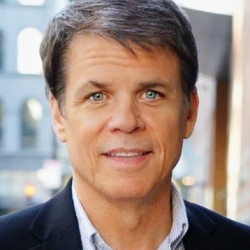 Latest posts by Martin Jones
(see all)