Of all the social media tools out there that can help you improve as the owner of a small or medium-sized business, LinkedIn is perhaps the most misunderstood. Everyone knows that Facebook and Google+ are powerful for reaching a heavy volume of people, Twitter sends out quick text blasts (and more) and YouTube, Vine,  Instagram and Pinterest work for sharing more visual, interactive content. But what exactly can companies extract from LinkedIn?
Sure, there are plenty of professionals out there using their LinkedIn profiles to post their resumes and network for jobs. The site is great for job hopefuls who want to put their names out there and push for better employment. There's more to it than that, though. LinkedIn also makes for an excellent tool for marketing your business, reaching new leads and forging connections in the business world.
Entrepreneur Magazine recently reported an extensive report on the hidden benefits of the site. Kathleen Davis, an associate editor for the publication, explained that LinkedIn is rapidly gaining popularity in 2013.
"With more than 225 million users worldwide, LinkedIn has become a tremendously popular site for job seekers and those looking to make professional connections," Davis wrote. "Business owners are realizing the value of the networking site, too. According to data compiled by Wishpond, a maker of social media marketing applications based in Vancouver, British Columbia, 27 million brands have a LinkedIn company page."
If you run a company of any size, you're likely already using LinkedIn. But are you exploring the site's full potential? Before you answer, pause to ask yourself a few questions.
Have you upgraded your account?
Entrepreneur says 39 percent of businesspeople are paying for premium LinkedIn accounts. If you're not already among this vocal minority, you might want to get on board soon. Upgrading your LinkedIn presence has a lot of positive effects. One is reaching people more easily – with a free account, you can't contact a new lead without first getting an introduction from a mutual friend, and according to CIO, these "InMails" only have a 30 percent response rate. With a paid account, you can contact anyone directly at any time.
You can also view more profiles with the more advanced search features, and you can access more specifics on who's viewing yours. Business accounts start at just $24.95 a month, which is a fairly decent price considering the long-term benefits you stand to gain.
Are you reaching all demographics?
Did you know that 79 percent of LinkedIn users are over the age of 34? It's true.
When many business leaders think of social media, they think of some new platform or tool tool used for reaching out to a younger demographic. That's not actually the case with LinkedIn – the site in reality is replete with seasoned professionals who can help your business.
Are you conducting research?
Entrepreneur found that 77 percent of people are using LinkedIn to conduct research on products and/or services. There are a multitude of ways to do this. Imagine, for instance, you're recruiting candidates for a new job. The obvious use for LinkedIn would be to search through resumes and find candidates you can contact, but there's more to it. You can also speak with connections who already hold a similar position to the one you're filling – they might be able to answer your questions about the job.
Where should you recruit? What skills should you look for? What kind of money should you offer? Doing some background research can help you answer all these questions and more.
Have your marketing strategies improved?
Another stat: 51 percent of online business to community (B2C) marketers are using LinkedIn. When you're working in the B2C realm, you want to reach as many consumers as possible, and you want to fine-tune your marketing efforts to make sure you're targeting the right people. No one likes wasting their time. LinkedIn can help you in this regard, enabling you to gather information on where consumers are and what products they're looking for.
How's your public relations approach?
If you need to drum up a little media attention that will help your business blossom, LinkedIn can help with that too. It's important to note that 65 percent of journalists say they've used LinkedIn, either to find inspiration for a story or to track down a professional connection who could be used as a source. If you're active on LinkedIn, reporters will find you, and this will ultimately lead to some free exposure for your enterprise. That's never a bad thing.
Everyone's using LinkedIn in business these days. That's no secret. But are you really making the most of your time on the site? That's the real question. What's your answer?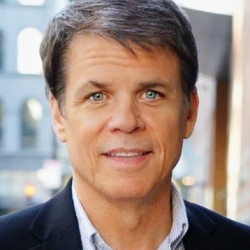 Latest posts by Martin Jones
(see all)