In marketing, we sometimes focus all too often on generating content that simply makes a strong, compelling business case. We bolster our brand position with facts, statistics and projections, looking to effectively make our case to other companies and consumers. But in that creative process its easy to sometimes forget one simple fact… It's not companies that   ultimately make the decision to purchase from us – it's people. And that why it's important to be personable – and yes, even  funny at times – when creating marketing content.
Humor sells, and Tim Washer, senior marketing manager of social media at Cisco, is among the best at effectively using it to engage with consumers.
Recently, I had the opportunity to discuss this with him.
Tim Washer is a Webby-nominated video producer and corporate humorist. His comedy writing/acting credits include The Late Show with David Letterman, Late Night with Conan O'Brien, SNL, Comedy Central and The Onion SportsDome. He's studied improv with Amy Poehler and comedy writing with The Colbert Report's head writer Tom Purcell and performed with Jim Gaffigan, Emmy winner Margo Martindale and Arrested Development's Tony Hale.
To see more about Tim, visit Tim Washer.com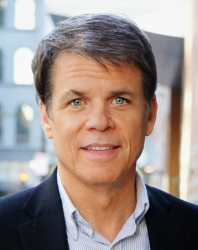 Latest posts by Martin Jones
(see all)