Post-pandemic, teachers and learners realized technology can improve classroom experiences. Indeed, over 60% of students reported to McKinsey "that all the classroom learning technologies they've used since COVID-19 began had improved their learning and grades." But plenty of barriers exist, from integrating emerging tech into learning platforms to training faculty and staff.
Now, it's time to identify what works and find ways to overcome the challenges. By taking a proactive approach, higher education institutions can ensure accessibility and security while improving learning outcomes.
Collaborative Action: A Core Element of Innovation
As technologies evolve, so must educational environments. While many challenges lay ahead, overcoming them enables students to thrive and faculty to set new standards. And the task isn't one to tackle alone. It's a collaborative effort involving your staff and experienced technology partners like
Cox Business
. Together, we can realize the transformative power of education and technology.
Learn more
Challenge 1: Legacy Tech vs. Upgrading
While administrators made necessary infrastructure upgrades to ensure continuity, most campuses rely on legacy technology and systems. These range from on-premise enterprise resource planning (ERP) programs to overloaded WiFi networks and unmanaged switches or routers. Some older switches aren't supported any longer by their vendors. If they go unpatched, eventually you could be forced to replace the technology."
Delaying upgrades can increase costs across the board. Finding tech talent to keep dated infrastructure running is difficult and requires more IT resources than cloud-based systems. A known vulnerability with an obsolete technology puts institutions in a tight spot. There's a huge risk of a malicious attack, yet leaders are looking at a CapEx investment and can't simply "fix" the problem quickly.
Strategic investments — completing necessary upgrades first — enable higher education institutions to use funds wisely and gain flexibility. Phasing out on-premise systems can free up system administrators, allowing them to plan and implement new projects. It also provides agility to adopt new technologies and address threats.
Challenge 2: Cybersecurity Threats
According to an annual report from IBM, the average data breach in the higher education and training sector cost $3.7 million in 2023. Unfortunately, "more than 5% of the breaches studied originated from known vulnerabilities that had yet to be patched." As noted above, legacy systems contribute to security weaknesses and make it more challenging to safeguard institutional and student data.
The fast pace of technological advancements extends to criminal activity, meaning bad actors learn how to exploit emerging tech like AI to hold data hostage, steal confidential information, and insert malware. However, educational institutions can leverage similar technologies to stay ahead of adversaries. Often, the first step is to upgrade outdated or obsolete architecture while partnering with a managed technology provider.
The bottom line is that sophisticated attacks require a multi-level approach, including ongoing staff, faculty, and student awareness training. Universities should secure their perimeter and IoT connections and deploy advanced security solutions that continually scan for anomalies. You can reduce threats by developing robust access controls and policies while following the latest cybersecurity best practices.
Challenge 3: Adapting to Remote Learning Platforms
A recent Barnes and Noble College survey found that 35% of faculty and 49% of students favor a hybrid learning format. Today, teacher and student interactions extend beyond classroom boundaries. Hybrid educational or blended approaches occur in virtual learning environments (VLEs), which rely on learning management systems (LMSs).
Online learning platforms to enable communication, material sharing, and collaboration. Students expect responsive sites that work seamlessly across all devices, don't hinder hardware performance, and load quickly. And yes. They want education to be entertaining and engaging.
Furthermore, remote learning platforms must be accessible. According to new research published in a special issue of the journal Sustainability, "passion and presence are the main challenges to student engagement in online education." Teachers should adjust their participation levels and instructional methods to support live learning experiences.
Strategies for adapting to remote learning platforms include the following:
Identify the best online formats, such as self-assessment activities, video lessons, and exercises.
Prioritize engagement and real-time transmissions by encouraging class discussions, responding to questions, and offering tutorials or lectures.
Assess your institution's technical limitations (is your WiFi bandwidth enough?) and make necessary upgrades to ensure seamless real-time streaming.
Evaluate student readiness for web-based learning before beginning the session and check engagement levels throughout the semester.
Challenge 4: Managing Cloud Migration
The global analytics firm Astute Analytica forecasts that the international higher education cloud computing market will expand by 22% by 2030. Indeed, the benefits are clear. Institutions save money by downsizing server rooms and increasing IT efficiency. Cloud computing also improves accessibility. Still, many challenges exist, from planning and prioritizing systems to security risks and network downtime.
Preparation is critical. Institutions should establish a cloud migration strategy to be completed in stages and monitored through key performance indicators (KPIs). The process involves selecting a single or multi-cloud environment, determining your deployment model, and choosing applications for each phase.
Your cloud partner can play a key role during migration, allowing your university to overcome challenges. The right vendor can fill skill gaps and keep your project on track. Karuna Pande Joshi, director of UMBC's Center for Accelerated Real Time Analytics and IT professor, told GovTech, "It's much easier for the university IT system to have support from cloud providers as opposed to managing and maintaining a large data farm."
Challenge 5: Integrating Emerging Tech Into Learning Environments
Emerging technologies like artificial intelligence (AI) or virtual reality (VR) can engage students, identify at-risk learners, and improve outcomes. The potential use cases are almost unlimited in smart learning environments. However, higher education institution administrators and faculty face several challenges to implementation and deployment. According to McKinsey, the top barriers to "using more technologies to support student learning" include a lack of awareness, inadequate deployment capabilities, and cost.
Like other obstacles universities face, solving the problem starts with understanding what you want to achieve and what it'll take to get there. Technology and industry partners can help colleges establish small pilot programs to test innovative tools such as platforms with augmented reality (AR).
Faculty should work together to form a digital learning strategy. Explain how the tech will affect teacher and student experiences, define expected outcomes, and determine KPIs. Since emerging technology benefits the school, project information shouldn't be kept in a bubble. Engage multiple departments to share best practices and collaborate to integrate technologies effectively.
Challenge 6: Identifying Technology Partners
The right technology partner rounds out your IT team. They provide access to people with specialized skill sets and experience with substantial infrastructure project implementation. But every vendor is unique. Not all have the breadth and depth of educational industry knowledge. Likewise, not understanding governmental regulations and guidelines can slow deployment and increase costs.
It's essential to consider a provider's partner network and integration capabilities. An internet service or cloud provider can seamlessly sync complex systems and support your future needs. Additionally, reliability and flexibility are top concerns. Vet potential candidates carefully during your selection process. You'll be working side-by-side with them and must be comfortable communicating with many departments.
A leading telecommunication and technology solutions provider like Cox Business offers an extensive portfolio from smart campus tools to managed security services — all backed by 24/7 expert support.
Challenge 7: Training Faculty In New Technologies
Multiple studies confirm links between faculty knowledge and acceptance of new technologies and their effect on student learning. Research reported in Technological Forecasting and Social Change said it is necessary to "have technical resources and qualified educators to improve students' competence in order for them to work successfully in the digital economy."
A chief academic officer told McKinsey, "The adoption of platforms at the individual faculty level can be very difficult. Ease of use is still very dependent upon your IT support representative and how they will go to bat to support you." McKinsey recommended that institutions offer "guidance for faculty on how to adapt their course content and delivery" or consider "providing stipend opportunities for faculty who attend technical training courses."
Collaborative Action: A Core Element of Innovation
As technologies evolve, so must educational environments. While many challenges lay ahead, overcoming them enables students to thrive and faculty to set new standards. And the task isn't one to tackle alone. It's a collaborative effort involving your staff and experienced technology partners like
Cox Business
. Together, we can realize the transformative power of education and technology.
Learn more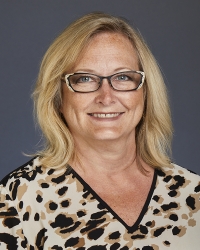 Latest posts by Lisa Majdi
(see all)