As a business or brand, you have the power to inspire and connect with your audience through your organization's backstory. And you can show your authenticity and build trust with consumers by sharing your story.
Your backstory is more than just a history lesson. It's the framework that encourages others to buy into your purpose and create a lasting bond.
To develop an engaging backstory, start by understanding your audience. Explore the events influencing your organization's passion, culture, decision-making, and customer experience. Brainstorm a timeline of significant moments.
Use the five foundational building blocks of persuasion: hero, antagonist, awareness, transformation, and passion, to craft a compelling narrative that captures your unique personality. Remember, your backstory is vital for building relationships and creating a sustainable business.
How to Tell Your Backstory
"Those who lead inspire us. We follow those who lead, not for them, but for ourselves." These thoughts from Simon Sinek in his popular TED Talk tell us not only about ourselves and why we choose specific products but it reminds us that, as business leaders, we have the opportunity to create a connection through a powerful backstory.  
Sharing a narrative that compels action, triggers a behavioral response, and delivers an authentic experience can feel like a hefty task. By ignoring how crucial your origin story is, you limit opportunities. People want purpose. They crave passion and want to see themselves in your brand.  
Businesses that open up about their core values, motivating factors, and journeys show the sincerity and transparency many brands lack. In return, their customers relate, connect, and engage. Learn how to improve your business relationships by developing and communicating your unique backstory. 
Your Personal Backstory is Essential to Building Relationships
In a world where our customers and investors extend globally, we must capture their attention and quickly develop an emotional investment.
Selling a fantastic product, developing a solid marketing plan, and sharing testimonials from your biggest fans will generate sales.  But those alone won't create a sustainable business and a loyal client base. As Jeff Ernst, principal analyst at Forrester Research, says, "Business buyers don't 'buy' your product or service; they 'buy into' your perspective and approach to solving their problems." Your backstory is the framework that encourages customers, investors, and staff to buy into your purpose. When done correctly, you create a unique and lasting bond.  
Starting with the "why" behind your story creates a layer of trust. With consistency, that trust adds to your credibility.
Furthermore, developing a narrative helps you direct the conversation about your brand. There's a reason people still share stories about Steve Jobs and Steve Wozniak, starting Apple in a garage, or how Blake Mycoskie's journey led him to found TOMS. These narratives drive brand loyalty.  
Traits of a Compelling Backstory
D

riven by your personality

 

Shareable by everyone

 

Simple to understand

 

Evolves over time

 

Describes purpose

 

Relatable to your target customers

 
Ways to Develop an Engaging Backstory
Regardless of how your backstory begins, it's essential to understand your audience. Although you may feel your story has universal appeal, no part of a business doesn't benefit from a human-centric approach. 
By observing and interacting with your audience, then analyzing data, you'll have a solid foundation to get the creative juices flowing. Once you know who needs to hear your story, it's time to discover what events influence your company's decision-making, drive your passion, guide your culture, and, ultimately, your customer's experience. Like Sinek says, start with the "Why." 
Why does your business exist?

 

Why did you choose this industry? 

 

Why this 

specific product or service?

 

Why do you care about your mission? 

 

Why do you do what you do with passion?

 
Brainstorm Your Timeline
Backstories don't need to be told in chronological order. But a timeline helps you discover significant events for your narrative. Start by mapping out different years of an organization's journey and highlighting positive and difficult or challenging guidepost moments. Use brain mapping tools to ideate and build out your story.  
Build Your Narrative
Each backstory starts with a foundation of persuasion, which Richard Maxwell and Robert Dickman call the five foundational building blocks in their book, The Elements of Persuasion: 
Hero.

 You, your product, or your brand.

 

Antagonist.

 A problem or force pres

sing against the hero. 

 

Awareness.

 The turning point, your "aha" moment.

 

Transformation. 

Successful resolution of the problem.

 

Passion.

 How your unique interests and traits tie your story together.

 
In a business narrative, the hero (your company, product, or brand) works to overcome an antagonist (problem to challenge consumers have). While doing so, you define your mission and ways of measuring your progress. Your story hits a high point when you realize you have the answer. During transformation, you resolve the problem. Last, your passion connects you to your audience and molds your future.  
Structure Your Backstory
Whether you're telling a small-business-makes-it-big story or highlighting your company's journey through difficulties, captivating narratives have a distinct beginning, turning point, and ending. Structure the narrative of your backstory in a way that builds suspense and holds your audience's attention. While there isn't necessarily a wrong way to write your story, every tale requires four essential elements.  
Relatability

 

Novelty

 

Fluency

 

Tension

 
Share and Promote Your Backstory
There's a good chance you'll come up with multiple stories to tell (watch for our upcoming post – 14 stories every brand must be able to tell). You'll want to repeat the above process for each of your target audiences and tweak your backstory accordingly. This doesn't mean changing your history. Instead, it's about shifting your focus to what's relevant to your intended audience. Your strategy for storytelling should encompass numerous platforms and formats. Consider these ideas when sharing your narrative: 
Lose the jargon. 

Forget about technical terms 

and acronyms. Immerse your audience in your story with simple messages.  

 

Add imagery.

 Showcase vulnerable moments and build trust with images that support your story and attract attention. 

 

Create videos. 

Provide a glimpse into your life by sharing videos

 of authentic moments with your clients and stakeholders. 

 

Use data visualizations. 

Turn blocks of text into data visualizations so your audience can watch and interact as your story progresses. 

 
Use Storytelling on Your Website
Dump your text-heavy "About" page on your website. You want your gripping tale to intrigue and inspire your readers. Consider adding photos, interactive content, and videos that describe your journey and tell your story.  Make it memorable and shareable.
Develop Thought Leadership Content
Get clients, customers, peers, and employees emotionally invested in your brand by sharing thought leadership content that generates discussions, yields familiarity, and fuels passions. Communicate your backstory across multiple platforms by: 
Sharing thought leadership content on LinkedIn.

 

Posti

ng articles on Medium.

 

Blogging on your business and personal websites.

 

Writing for trade magazines.

 

Guest posting on authoritative sites.

 

Being a guest on podcasts and webinars
Get Social and Direct the Conversation
You can share your origin story through a series of tweets just as easily as you can by chatting at a trade show. Learn how to break down your narrative into bite-sized chunks to fit various scenarios. Then, practice writing and speaking these lines in person and online.  
Help Your Audience Tell Their Story (and Yours)
People who feel connected to you, believe in your purpose, and see a part of themselves in your story want to share that feeling. That comes in the form of testimonials and user-generated content. Reach out to your followers. Don't be afraid to ask for genuine stories about how your narrative inspired or encouraged them. When you engage and help others, the favor will be returned.  
Gain Trust With a Powerful Backstory
Every business has a compelling and powerful narrative – a backstory. Understanding how to communicate it and encouraging others to share it effectively opens the door to building strong, lasting relationships with your audience.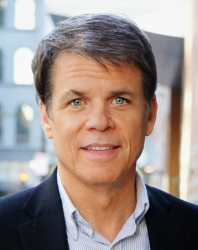 Latest posts by Martin Jones
(see all)