As society becomes increasingly dependent on technology, the number of data breaches and cyber attacks continues to increase as well. This is why industries of all types are focusing their attention on network security.
One of the growing communities experiencing a need for cybersecurity is K-12 education. Schools are turning more and more to technology for operational purposes, testing, and enhancing the classroom experience. The Department of Education recommends that high-speed broadband access and wireless connectivity be top of mind for school districts. EducationSuperHighway.org is also putting a strong emphasis on high-speed broadband, saying it is the key to improving U.S. schools' ranking in technological readiness, which is currently 16th compared to other developed nations. These advances in technology come with increased security risks.
Along with these risks, the increased number of personal devices on campuses from both students and faculty call for the need of BYOD (or bring your own device) policies on campus, ensuring that all of these devices are secure and won't harm the school's network.
Unfortunately, even with the growing use of technology, schools still aren't adequately prepared to prevent or rebound from potential network security issues. This is largely due to a lack of personnel, budget, and resources to ensure networks are always protected.
In lieu of hiring an IT person on staff, school systems are turning to outsourced network security specialists to take on the responsibilities of keeping their network out of harm's way. Outsourcing these tasks provides a viable alternative for schools looking to reduce costs and network management overhead. At the same time, outsourcing gives peace of mind to school administrators and faculty who need experienced professionals to manage their network.
Network security specialists are well-versed in all things related to protecting your network. Schools should consider partnering with a specialist for matters relating to:
Setting appropriate IT infrastructure usage rules – Specialists develop and implement security protocols within a computer network.
Building custom security for your school's specific network – The specialist will gather a school's network goals and will create an efficient and effective custom plan that fits a school's specific IT security needs.
Educating your staff and students on ways they can help to keep the network secure – Specialists will assist in putting recommendations together to best educate staff and students about the dangers and risks associated with network security.
Below are a few examples of the many ways providers can help school systems specifically.
Developing Network Planning Strategies That Keep Your System Secure
Today's modern classrooms rely on network reliability, yet administrators face significant hurdles when it comes to providing this amenity. Schools need to create a network strategy that will scale as technological needs continue to grow and as classrooms become increasingly connected and digitized. Developing a plan to accommodate these changes can be difficult, but specialists have plenty of experience in this area and can help you put a plan in place that works best for your school or school system.
Grossmont Union High School District in California is comprised of nine high schools and 18,000 students. The school system has been going through a major transition to move the classrooms to a more digitally focused learning environment. To accommodate the change, the district is interconnected via WAN, allowing all students and faculty access to high-speed Internet and interactive digital learning apps.
While the move to this type of modern classroom is exciting, the transition can come with potential security risks if not implemented properly. To support these efforts for your school, partner with a specialist to make sure you're implementing these types of efforts effectively and securely. Specialists will ensure your networks are reliable and will set up methodical and practical upgrades that will occur over time so that you're not overloading the system or risking network shutdown.
Bolstering Security by Defending Against Cyber Attacks
There are a number of factors that could contribute to a network shutdown, but cyber attacks are a continuous threat that school systems need to be aware of. Distributed denial of service (DDoS) attacks, specifically, is of growing concern for school administrators. A DDoS attack is an attempt to make an online service unavailable by overwhelming it with traffic from multiple sources. Not only does this threaten uptime and reliability, but it can take hours, weeks, or even months to get the network up and running in its original state again. These delays can result in learning disruptions and can impact a school's reputation or potential to get funding.
To avoid these attacks, develop a close relationship with a network service provider who can help you redirect traffic to your sites if an attack occurs.
Network security specialists can help you develop IT security policies that define security protocols for school-wide implementation. These protocols assist with cyber attack mitigation as well as incident response plans.
Specialists ensure that your network is constantly secure by keeping hardware, software, and security safeguards up-to-date at all times. These initiatives include:
Using a Firewall for your school's internet connection
Installing, using, and regularly updating anti-malware, anti-virus, and anti-spyware software on every computer in your school
Monitoring your systems continuously to detect potential problems
As you can see, Internet and managed services providers aren't just there to partner with you for voice, internet, and TV solutions. As K-12 education continues into the digital world, the importance of reliable, secure networks increase. Partnering with specialists allows schools to reach their educational goals without having to worry about the risks associated with the digital age.
For more information on how Cox Business can help secure your network, visit:
http://www.coxbusiness.com/k12security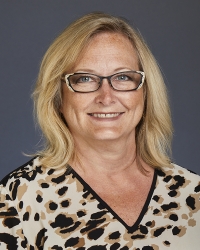 Latest posts by Lisa Majdi
(see all)