Is anybody out there? Don't send your content out into the void. Measure its effectiveness and get to know your audience with social listening tools!
Social listening tools help you identify who is seeing your content, how they are interacting with it, and what they are saying about you (and in some cases, your competition) so you can adjust your marketing strategy accordingly. They also enable you to engage with your audience to address their concerns and questions.
There are a lot of different social listening tools available, with more being introduced all the time. While their overall functionality is similar, each tool has a few unique features and aggregates data from different sources. What's most important is to find a combination of solutions that meets your company's individual needs. Here are six great choices to get you started.
BuzzSumo
With BuzzSumo, you can instantly access mention results for up to the past year. Customize analytics reports with filters to see how an individual content type (infographic, article, giveaway) is performing. BuzzSumo can track your competitors' social media mentions, as well as influential sharers of your content and backlinks to your sites. It can also help you easily find relevant posts from other sources to share with your audience as curated content. BuzzSumo has a range of plans with varied functionality and pricing, starting at $99/month.
Google Alerts and Analytics
Any user can set up Google Alerts for keywords to notify them of new content that might interest them (two "suggested" alerts are "Beyonce" and "Benedict Cumberbatch"). But since alerts can be used with any keyword, it's a great basic, free way for companies to keep tabs on their online mentions. Any new mentions are emailed directly to you, either immediately or in digest form, according to your preferences.
Combine Google Alerts with Google Analytics. This powerful tool can track audience engagement "across ads, videos, social tools, websites, tablets, smartphones, and more," generating reports with easy-to-read charts. With (free) standard, mobile app, and premium versions, Google Analytics has options for businesses large and small. Be aware, however, that you'll need to supplement Google Analytics—especially the free version—with another tool or two, as it focuses mainly on website mentions rather than those on social media or blogs. The Analytics Academy offers several free online courses for making sense of and acting on your analytics reports.
HootSuite
HootSuite is a dashboard for managing your updates across more than thirty-five different social media platforms. Additionally, it generates analytics from the linked accounts. Customized "streams" (feeds) let you monitor mentions, keyword usage, or specific influencer accounts in real time and respond immediately. HootSuite also has several associated apps to help you monitor specific social media platforms (Reddit, Instagram) or types of channels (such as review sites) in more detail. The basic version is free, but it can be upgraded for more robust functionality. The HootSuite University program offers everything from free online tutorials to robust social media certification.
Mention
Mention is a web-based and mobile social listening app. Mention's main goal is to provide data that is instantly actionable, so it has features that allow you to easily share reports and even assign tasks within your team. Data is reported in real-time (rather than in a digest). Mention has several plans, for small companies with only a few users (starting at $29/month) up through corporations with large social media marketing teams ($799).
Sysomos
Sysomos is an extremely robust social listening and analytics reporting tool—or more accurately—suite of social listening tools. Customize your reports, which are drawn from "over 200M social channels and 65K media sources," to break down the data most relevant to you over specific time periods. Sysomos even allows you to track single tweet (who retweeted it when, and who retweeted them). Analyze influencers' reach, learn who else is in their networks and the connection between them, get sentiment reporting, and much more.
Trackur
Trackur claims to have the broadest reach out of any of the social listening tools out there, covering "news, blogs, reviews, Twitter, Facebook, Google+, forums, and much more!" Filter results by country and by channel. Each result is given a positive, negative, or neutral rating based on the poster's "sentiment," and includes a rating of their influence on other users. Like many of these other tools, Trackur offers a variety of tiered plans, from plus ($97/month) to ultimate ($447/month).
Tips for Using Social Listening Tools
No one social listening tool will give you all the information you need, so it's best to use several complementary ones. There will be some overlap, but the unique insights you will receive from individual tools are worth sorting through any duplication.Similarly, no one alert term will capture all mentions of your company or product. Simon Tam at The Huffington Post suggests setting up alerts for:
Your brand name: Add a few variations of your brand/organization names, variations on key staff (first name only, last name only, first & last), and any abbreviations of your company name.
Slogans, key messages, or mottos.
Alternate spellings or misspellings of your name: If you have a "unique" name, this is even more important because chances are, people will forget how to spell your name and typos do occur.

Keywords or items that are relevant to your industry.
What You Can Do Right Now
Ready to connect with your audience using social listening tools? Here's how you can get started today.
Set up Google Alerts and Analytics for free. Choose one or two other social listening tools based on your needs and which social media platforms you use most, and set up accounts there as well.
If you are already using a social media dashboard to manage your posts, spend some time exploring its analytics functionality. Set up alerts or streams based on your company name and keywords.
Make a list of your catch phrases or mottos, additional keywords, and potential misspellings of your company name, and set up alerts for those as well.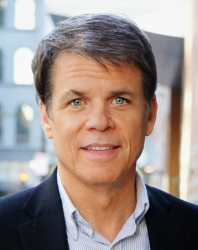 Latest posts by Martin Jones
(see all)