Whether you have two locations or five, or more, deploying technology to multiple sites requires a plan. A technology blueprint can reduce overall costs and disruptions while improving the process. On the other hand, working without a template may cause delays and cost overruns.
Keep your technology rollout on track and garner buy-in from staff at all locations by thinking about your approach, resources, and third-party services. Ask yourself the following questions before moving forward with IT infrastructure upgrades or digital transformation projects.
1. What is the scope of your technology project?
Your technology rollout may involve upgrading your Wireless Local Area Network (WLAN) or installing video security cameras at all sites. In each case, your scope of work should include technical specifications, responsibilities, and communication methods.
Start by defining your technology requirements. For instance, do you need one Internet Protocol (IP) phone per desk? Do you want color or black and white video cameras? This is also an excellent time to think about who will complete various tasks. A technology deployment requires hardware, remote and field technicians, and project management, among other considerations. To this end, it's vital to decide what to complete yourself and which projects to outsource.
Consider these questions:
Will you buy and deliver new equipment to each site or leave that up to your IT vendor?
Do you need permits? If so, will you or your managed service provider (MSP) handle this responsibility?
Who will carry out and oversee site work and field technicians?
What should the communication schedule look like, and who is involved?
2. How can you prioritize technology change management?
Change management is a precise approach to a technology transition. It involves strategies for achieving and controlling change while helping your team adapt. After all, rolling out new technology has a direct impact on people and workflows. If you fail to address these issues early on, you may encounter obstacles during and after your technology deployment.
Get off to a great start by:
Defining the reason for the change: Think about why you're deploying new technology and how that relates to various stakeholders and employees. It may fit with your digital transformation goals and eliminate specific end-user problems.
Determining the benefits of the technology rollout: Write down the advantages of deploying new technology. Consider how it affects and improves outcomes at the executive, management, and individual level.
Analyzing the challenges of deploying technology: Consider the risks of rolling out new technology and the potential impact on workers at each location. Pay attention to site-specific barriers that may add complexity to the project.
Developing a communication strategy: Work with your rollout implementation team, including leaders from each location, to figure out how often and what method to use to report the progress and expected outcomes to employees.
3. What will your rollout implementation team do?
Accountability is vital to technology deployments, but you also need project champions. Depending on your project size, you may have one person leading the project or a team overseeing various sites or steps. Clearly define the roles of each team member and the methods you'll use for collaboration.
Typical responsibilities of a rollout implementation team consist of:
Working directly with the IT vendor to coordinate the rollout
Identifying deliverables for each step
The ability to make decisions regarding implementation
Tracking and measuring metrics
Documenting the process
Reporting on the project progress and outcomes
Creating a feedback loop to hear and address employee concerns
Developing a training team for all sites or one per location
Identifying aspects that could be improved next time
4. Do you have a schedule in mind?
A multi-site rollout is challenging because your facilities may have different requirements and schedules. Yet, a mishap at one location can put your entire project behind. Your timeline should include allowances for building closures and holidays while assessing potential downtime. Plus, it should provide milestones for each step.
There are three categories used to classify technology rollouts, and your IT vendor can help decide which one your technology deployment falls into:
Category one: On-site work takes one day or less.
Category two: The project lasts two to six days.
Category three: Each location requires seven or more days of work.
5. What role does your IT vendor play in deployment?
Deploying technology at multiple locations can be a complex and expensive process. Hiring multiple, unrelated field technicians can result in project variances, as companies have different standards and procedures.
Fortunately, most IT vendors overseeing a multi-location technology rollout rely on a quality control process that technicians at every site follow. Many companies work with an MSP to reduce installation and implementation time, downtime, and overall project cost while achieving a high return on investment (ROI).
Have the following details ready before finding a vendor to assist with your technology deployment:
A clearly defined goal
Your criteria for success
Project budget
Your timeline
A list of all locations involved
Business-critical integrations
Contact information for all users and supervisors
The type of technology required for individuals or offices
Your vendor will work with you to decide how the rollout may differ by location. In addition, they can group services, where possible, to minimize labor costs.
6. What type of post-installation support do you need?
Just as buildings differ, so do employee skill levels and adoption rates. Your vendor can oversee your project's design, implementation, and testing. But, you may also want assistance with integrating new technology with existing software and workflows or training employees.
In most cases, your vendor provides implementation support and serves as the go-to person if there's a problem after installation. They can configure your hardware or software to ensure seamless integrations with existing tools. Some may offer onboarding and ongoing training support.
If you handle training in-house, talk to your vendor to see what type of documentation they provide. Work with leaders at each location to determine site- or employee-specific needs and develop an inclusive education program.
7. Can you create a blueprint for future technology deployments?
In the digital age, it's doubtful your technology deployment is the last one you'll complete. Instead, you'll probably have many projects requiring similar steps and processes. Take what you've learned throughout the process and create a template for future work.
An effective technology blueprint is reliable, flexible, and scalable. It serves as your master list for location-specific challenges and benefits. Moreover, it can include project and budget spreadsheets and analyses from past projects. By defining your approach to technology deployment, you create a repeatable process, making future implementations easier and less risky.
Make Deploying Technology to Multiple Locations Seamless
You have a lot at stake when changing or updating your technology at several sites. A minor hiccup, like late delivery or miscalculation of WiFi access points, can lead to project delays and additional costs. In contrast, having a technology rollout system and partnering with a trusted IT vendor can help you achieve your goals while increasing ROI and adoption rates.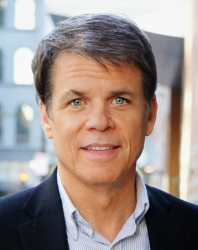 Latest posts by Martin Jones
(see all)