Technology is advancing at a rapid pace.Tech advances help us work smarter and harder, but it's difficult to keep on top of everything that's coming down the pipeline.
Here are four tech advances that you might not have considered that can help your small business or startup in 2018.
1. The Power of the Virtual Office
More and more, remote work is becoming the norm in 2018. For workers, the benefits include increased flexibility, which makes it easier than ever before to fit work into their lives while finding a way to establish some semblance of a work-life balance. For businesses, leaning on remote workers lets them expand their hiring pool. You can consider people outside of typical geographic boundaries or who aren't necessarily able to commit to coming into an office five days and 40 hours a week.
There are a host of collaboration tools that make this easier, from task management platforms like Trello or Asana to workflow tools like the G Suite or Office 365. It's still vital to get face-to-face time, but video conferencing solutions make that easier than ever before. With a platform like Sococo, you can even get the benefits of a physical office without ever having to leave home.
The key is to make sure you have the right tools for the job. Screen sharing is vital functionality for training and presentations, ensuring that everyone is on the same page. You also need to offer a few different channels for communication: you don't necessarily want every bit of office chatter to be on your Slack, so having a place like Google Hangouts or Pidgin for informal communications is key.
2. The Growing Capabilities of Virtual Reality
VR is still a relatively young technology, but there's a lot of promise there for businesses that are looking to collaborate in ways that go beyond the standard conference call. This is especially key for businesses that rely heavily on visuals, like if you're looking at a CAD (computer-aided design) rendering or any other sort of model. VR can allow you to (quite literally) look at things from a new angle, even if your team is spread across multiple locations and time zones. As more and more smartphones come with VR capabilities, the possibilities for leveraging this technology will only grow.
The biggest benefit comes from moving from designs to a minimum viable product. It can be hard to understand what a design will look like in the real world without making a prototype, but VR offers a way for your team to "see" something tangible before you actually spend the money to make it a reality. You can experience the product in real size, and being able to see and "hold" what you're talking about can make a huge difference in knowing what works and what doesn't about the design.
3. Managed IT Services
Network security threats are always on the rise, and as we come to depend more and more on technology for basic things like our calendars and budgets, a breach can be catastrophic.
The good news is that there are services out there to help you protect yourself, and they aren't as out of reach as you might think. Managed services give you the security of hiring someone full-time to monitor your network, without the cost of adding more employees to your team. What's more, because they specialize in just providing IT to companies that need it, you get the benefits of having a team that's as well-resourced as the best IT departments out there without having to spend like you are. With everything from 24/7 monitoring, to live threat response, to tech support for your team, you can rest easy knowing that you have a plan for a worst-case scenario.
4. Migrating to Common Platforms
More than ever before, it's important to recognize when someone has already solved a problem that you're trying to solve and take advantage of that solution. When it comes to tech trends that can help your business, it often makes sense to move things that would have previously been internal to common platforms that make the IT process easier than ever before. These common platforms, like Amazon, Salesforce, Microsoft and others are adept at providing solutions for purposes that used to be custom-made.
With common platforms, you don't need to worry as much about having a solution to a business problem, and can instead hone in on providing the best solution. Working with common platforms lets you customize the user experience, helping your team do their jobs more effectively than ever before. Employees have an easier time fitting into your organization, and you can spend more time thinking about how you can deliver the best experience to your customers.
What You Can Do Right Now
It's tough to keep up with every new tech trend coming down the pipeline, especially if you've already found a business model and workflow that works for you. However, keep in mind that technology can always make things work better if you find the right tool for the job. Here's what you can do right now to take advantage of tech advances to help your small business or startup.
Look for more opportunities to take advantage of remote workers.

Consider the possibilities afforded by virtual or augmented reality.

Think about Managed IT Services as a way to increase your resilience and security.

Migrate to common platforms to focus on how you use the data you have, rather than how you store and manage it.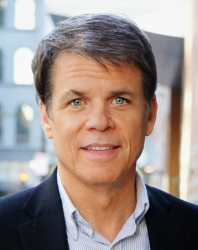 Latest posts by Martin Jones
(see all)