As a small business, it can feel like its going to take a giant effort to compete against big competitors. No matter what you do, you can't offer the same kind of deals and discounts that competitors like Amazon, a big box store provide. When you bring the online market into the mix, you often feel like you're providing customers with a live in-store demo, only to have them turn around and order it from the web at a price you can't match.
The good news is that, as a small business, there are many areas where you have an advantage over big competitors. Customers trust small businesses, and you can use that trust to attract more business.
Here are 3 things your small business can do to compete with big competitors.
1. Cross Promote Your Business with Other Local Businesses
This might seem obvious, but remember that millennials like to shop local, and their influence is spreading. This doesn't mean you need to give your business a beanbag chair and ping pong table makeover. The more important thing to think about is why this might be true.
Shopping local gives customers a chance to feel like they're part of the community. You can provide that feeling by looking at your customer experience and asking yourself what you're doing to connect your customers with the neighborhood.
Are there any cross-promotions that make sense with other local businesses? Could you hang art by a local artist on your walls? Can you sponsor a local organization? The little things matter, so make sure you're reminding your customers they're contributing to their neighborhood when they do business with you. 
2. Focus on Personalized Customer Experience
The other main advantage you have over a larger competitor, especially one that is primarily or entirely online, is that your small business can offer much more personalized interactions. Step up to the plate and start thinking about customer experience.
A customer experience overhaul has to be driven from the bottom-up. Train your staff to recognize the extra steps they can take to make interactions more personal, and find ways to reward their effort.
Getting into the customer experience means getting someone who walks into your business to trust you. Customers are very wary of traditional brick-and-mortar tactics like upselling. Empowering your reps to level with the customer about the pros and cons of any product, regardless of the profit margin, earns you trust. Sure, you'll miss out on a few short-term gains, but you'll win a long-term customer and any friends they tell about their experience.
3. Host Local Events and Create Word of Mouth
One way to stand out and bring new people into your small business is to host an event. There are several different types of events you should consider when deciding what kind of event will work best for your business.
There's the "wine tasting" model, where you give something away for free to people who come to your event. What makes this work isn't the freebie, however. It's the feeling of participating in your business, whether that's face-to-face feedback, getting a chance to see you show your expertise, or an inside look at what's coming up next.
Another model would be the meetup. For this kind of event, you host a group that shares some overlapping interest with your business. The simplest reason to do this is that it's free marketing, connecting you with people who might be interested in buying from you in the future. If you're a business that doesn't typically get foot traffic, it can put a face to a name and make that relationship more personal.
Finally, you can do a "show" model, where you play host to someone else from the community for something mostly unrelated to your business. It can be a hassle to make this kind of event happen, but it pays you back in valuable word of mouth marketing.
What You Can Do Right Now
The key to winning against larger competitors is to think about what you can do that they can't. You're small, but that also makes you unique, local, and personal. You're part of the neighborhood, not controlled by some central office in a far-off state. By taking advantage of your strengths, your small business can compete and win against larger competitors.
Cross promote your small business with other local businesses

Focus on personalized customer experience

Host local events to bring in new people and generate word-of-mouth marketing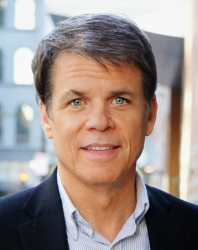 Latest posts by Martin Jones
(see all)