Undoubtedly artificial intelligence (AI) in education and classroom technology will continue to change student experiences. It has the potential to improve outcomes while preparing students for connected workplaces. Indeed, digital literacy is essential to the future of education.
Yet, challenges exist. School administrators and educators must design strategies to incorporate AI and technology into the classroom to ensure a human-centered approach. Moreover, they should equip students with the tools to achieve goals and maximize the benefits.
The Importance of AI and Technology In the Future of Education
Educational technology enables young people to solve problems and increase emotional intelligence. School districts can leverage artificial intelligence, machine learning, and digital technologies to drive critical thinking and enhance student performance. Consequently, nearly all higher education organizations surveyed by Microsoft believe "AI will be instrumental to their institution's competitiveness," with 15% calling it a "game-changer." (1)
Different technologies open the door of opportunities in the classroom. AI helps educators provide personalized instruction, even when facing staffing shortages or larger classroom sizes. A study published in Computers and Education: Artificial Intelligence used adaptive learning systems to assist fourth graders with math. It improved their grades while decreasing their mathematical anxiety. (2)
Digital technologies collect large volumes of data about learning preferences and student performance. AI-powered data analysis allows administrators and educators to identify at-risk students and optimize curriculum design.
Its automation capabilities can streamline administrative tasks, from organizing schedules to grading assessments. AI-powered chatbots use natural language processing to interact with parents and learners, providing immediate support and directing them to resources.
Although students live in the digital age, the education system must support them throughout the classroom digital transformation. New classroom technology can bridge many gaps, but poor implementation can create further divisions.
Preparing Students: The Digital World and Technology Skills
Many educators understand how technologies like cell phones can distract students in the learning environment. However, this is an age-old problem. Today, young people chat online or scroll social media instead of doodling in a notebook.
Therefore, preparing students means more than teaching them 21st-century skills. It's about giving them the tools to navigate everyday life, from appropriate ways to communicate information to understanding how to think critically. In a secure setting, students learn social skills while increasing digital literacy. Purposefully introducing new knowledge and technologies allows schools to guide learners toward better outcomes without sacrificing the human experience.
Strategies for Preparing Students for an AI and Technology-Driven Classroom
The conventional education system and assessment frameworks must adapt to meet new demands and ensure a generation of digitally literate students. Administrators should assess their Information and Communication Technology (ICT) infrastructure and plan for sufficient human resource development.
In doing so, schools provide educators with the ability and knowledge to teach and support tech-savvy students. The right strategies leverage digital technology to help learners accomplish key learning objectives and skill sets.
Building a Foundation for Classroom Technology
Outdated infrastructure creates significant barriers to technology adoption. High-quality ICT resources are essential for the technology-driven classroom. IT leaders and administrators should evaluate the digital landscape, closely examining their internet services and Wi-Fi connectivity.
Work with a Managed Service Provider (MSP) to determine your current capabilities and needs. Your MSP should assess your interior and exterior coverage areas, enrollment, staff numbers, and campus size. A trusted community partner, like Cox Business, will help you devise strategies to upgrade existing technologies and ensure scalability.
Likewise, Cox Business enables administrators to implement cloud computing and the Internet of Things (IoT) in the classroom. These technologies are possible through the successful implementation of reliable internet and Wi-Fi.
Unlock the Future of Education!
Transform Your Classroom: Explore our website to discover practical tips for integrating digital tools into the curriculum, teaching digital literacy skills, and fostering collaboration and problem-solving. Find out how technology can enhance the learning experience and prepare students for the digital world.
Learn more
Integrating Digital Tools into the Curriculum
Digital learning materials can immerse students into the subject matter. Also, online learning tools support flipped classroom methodologies. Start by defining your learning goals, then identify ways digital technology can support and enhance the objectives. Next, evaluate your current tools, like cloud applications and devices.
Develop a classroom technology strategy that considers the following:
Professional development: Digital transformation requires knowledge, skills, and attitudes about ICT classroom integration. Schools should provide professional development opportunities to familiarize teachers with various technologies. But it's also important to demonstrate how digital assets can be effectively used in the curriculum.
Digital tools: Choose technologies that align with your learning objectives. They should foster critical thinking, collaboration, active engagement, and creativity among students. At the same time, your solutions must be scalable, provide accessibility features, and meet the needs of diverse students.
Gradual integration: Present one application or tool at a time, allowing students and teachers to become proficient and comfortable. Gradually increase the complexity and depth of technology integration as skills and confidence grow.
Ongoing Evaluation: Measure the effectiveness of your digital technologies by collecting student and faculty feedback and analyzing performance data. Think about its impact on learning outcomes and make improvement recommendations.
Teaching Digital Literacy Skills and Computational Thinking
Understanding online safety or developing problem-solving abilities are core digital literacy skills. Your strategy should align with your student's needs and be age appropriate. Like other digital transformation plans, each step should be actionable and measurable, allowing administrators to map each application or tool back to specific learning objectives.
Build digital literacy skills and computational thinking into your learning model by:
Using interactive learning tools like data visualization tools, virtual simulations, and educational software
Creating hands-on coding activities with robots and AI-powered coding platforms to teach algorithmic thinking and coding concepts
Supplementing classroom instruction with self-directed learning resources, such as video tutorials or AI-enabled learning platforms
Teaching students how classroom projects and learning objectives relate to career skills and real-world applications, like the fields of digital media and data analysis
Encouraging Collaboration and Problem-Solving with Classroom Technology
Peer-to-peer and active learning bring classrooms to life, and the right technologies nurture these connections and experiences. Educators should establish teamwork norms and design structured activities for effective communication and classroom technology usage. Bring real-world context to conversations by inviting virtual guest speakers and encouraging students to assess their problem-solving skills and reflect on their collaborative experiences.
Introduce classroom tools, such as:
Shared document editors
Project management tools
Online collaboration platforms
Virtual whiteboards
Video conferencing software
Multimedia presentation tools
Discussion boards
Gamification and simulation games
Fostering Creativity and Innovation
Inspire learners to explore new ideas and develop their creative potential. Start with a supportive environment where young people feel comfortable expressing themselves and requesting help. Work with your technology provider to establish support services and resources for faculty and students.
Also, consider project-based learning approaches that use AI and technology skills as part of the design and creative processes, including:
Problem definition
Collecting and analyzing data
Brainstorming ideas
Creating and testing prototypes
Providing Personalized Learning Experiences Through AI
Tailored learning experiences cater to each student's individual needs, the pace of learning, and interests. Educators can use AI-powered assessment tools and adaptive learning platforms to differentiate instruction and meet the needs of every student.
Develop a strategy that involves:
Personalized playlists of assignments, resources, and activities
A mix of multimedia content, project-based tasks, online modules, and interactive exercises
Individualized support or extension opportunities based on each student's needs
AI-enabled tutoring systems with real-time feedback
Examples of Innovative AI and Technology-Driven Classrooms and Tools
Administrators can transform conventional classrooms into interactive and dynamic learning environments using AI and technology in connected spaces. Many educators already gamify experiences, where students earn virtual points and see scores on a leaderboard. But schools are looking beyond gamification to AI-assisted language learning, intelligent tutoring systems, and data visualization tools.
Carnegie Learning is a K-12 smart learning platform offering AI-powered math, languages, and literacy services. (3) It supplements classroom instruction, allowing young people to explore the culture alongside a foreign language or go on a math adventure.
Blippar's no-code platform brings augmented reality experiences to the classroom. (4) Students can experience the solar system in a three-dimensional virtual space instead of reading about it. A tool like Querium tutors high school and college students on STEM topics. (5) It builds a personal lesson plan and provides data to help educators guide learners.
Tips for Educators on Staying Informed and Adapting to New Classroom Technologies
With ChatGPT and other tools on the horizon, change is happening swiftly. Educators must prepare students to think critically and use technology ethically. At the same time, they should stay informed on emerging technologies in the education sector to provide engaging experiences and overcome classroom challenges.
Start by forming strategic partnerships with technology providers. The right companies have experience in the education sector and can keep you abreast of the latest tools and strategies. Look for partners with an extensive portfolio of education IT solutions, like Cox Business. The breadth and depth give educators access to an extended ecosystem of resources and knowledge.
AI In Education: Establish a Student-Centric Digital Landscape
Technology can help educators overcome barriers and improve student experiences. Yet, it requires a solid foundation and purposeful approach. Build an effective plan by partnering with a reliable technology partner. Cox Business works with K-12 and higher ed institutions nationwide, developing custom solutions for your campus and budget. Contact us to learn how to create an engaging learning environment for your faculty and students.
Unlock the Future of Education!
Embrace the Future of Learning: Explore our website to discover how Cox Business can help your educational institution embrace the future of learning. Learn about our innovative solutions for integrating digital tools, empowering teachers, and fostering creativity and innovation in the classroom.
Learn more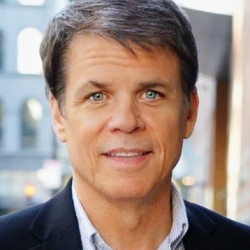 Latest posts by Martin Jones
(see all)