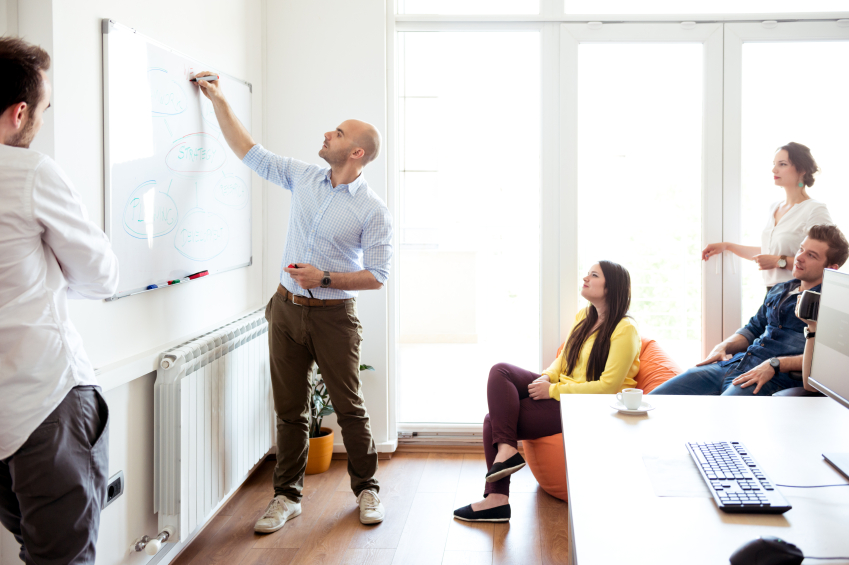 One of the benefits of being a Marketing leader for so many years is that I have created a network and peer group consisting of marketing professionals in similar job roles and functions. Some members of this group are in my industry, some are outside the industry, and some are even direct competitors who connect a few times a year to check in and share insights., This eclectic network has proven to be very valuable as it provides a common environment where we share ideas, client stories, best practices, laughs, and complain about the rapid changes in marketing. Recently, I have seen an increase in the number of texts that I have received from this peer group, all with legitimate concerns with the direction of marketing, demand generation, and sales. The disruption is in full force and new skills, tools, and approaches are needed to embrace the changes.
"Just ran a new eMail campaign. A total of 3 downloads from 25,000 emails."
"My open rates have gone from 11% to 6%. The last few months."
"I have experienced a 30% reduction from leads to opportunity on my content marketing campaigns. Nothing is working! Not sure what to do."
"My costs are skyrocketing on Google PPC and the quality of leads is becoming in poor."
In our texts and conversations back and forth, we all have shared the changes as a result of the disruption. Over the past 3-4 months there has been a real and significant panic about leads, arms raised about the shifts in SEM and SEO, frustration with the lack of opportunities being created from content and account-based campaigns, and an increase in our CEOs hammering us for greater flow of top of funnel deals and improved ROI.
How do we embrace the disruption? Despite all the new technologies and tools, marketing and demand generation is getting much more difficult and not easier! Here are some thoughts on why and what we should be doing about it.
Reliance on Content Marketing
Marketing teams have built up a reliance on content-based marketing programs. Everyone has bought into content marketing programs and are spending significantly on development of content. The challenge is that markets are finite and buyers are being barraged with content in the form of emails after emails and blog after blog. First, there is just so much innovative content to develop and second, there is just so much people can read and absorbed. We have to recognize that we will soon reach the saturation point of content and readers are going to tune it out.
Shift in Google's Pay-Per-Click (PPC)
One of the biggest changes we are experiencing is the shift from Google away from the right hand pay Per Click (PPC) advertisements. I have read all of the information about how the right side ads were not all that affective, but removing all of those ads has created a real issue of supply and demand for PPC advertisers. We are all competing for limited "shelf space" and this is driving up costs. It's a smart move by Google, but companies that rely on PPC for leads are going to spend more, or get really smart about what they are spending on.
Convoluted Messaging
Organizations continue to really struggle with messaging. They are trying. They are using neuro-marketing and other newfangled techniques, but messaging is getting over complicated and full of jargon. Look at the main competitors in any industry and the messages are undifferentiated and the value proposition unsubstantiated.
Recommendations to Embrace the Disruption
While things are changing in marketing, to be effective, you have to change and adjust as well. This has to occur in part by strong leadership, and as part of the execution of the departmental strategy over the long-term. This will take time, but here are a few short-term tactics that may help you Adjust:
A/B Testing on Landing pages and emails Blasts – Marketing automation tools are great as many of them provide tools to try A/B testing on emails as well as PPC Landing Pages. I am often very surprised that marketing teams do not actually use them, nor do they segment their audiences with different messaging. With email campaigns, leverage the tools of marketing automation by making up smaller targeted lists, crafting alternative messaging, and then implementing A/B tests on each segment. This will take a bit more time, but it is time well spent. With Landing Pages for PPC, try and test many different types of landing pages. Short, long, with video, without video, with an offer, with no offer. There are a lot of articles indicating best practices of landing pages, but you have to test what works best for you. I don't feel that there is one set best practice as what works for one organization in one industry, may not work for another company. Just Test. Test. Test and test.
Personalization – I am a big proponent of personalized marketing. Some organizations have adopted account-based marketing where you focus your efforts and messaging at an account and sometimes industry level. In this instance of personal marketing, I am talking more about taking your efforts down a level and making your outreach personal to the individual level. Research your target buyer(s) on Google, LinkedIn, Twitter, etc and craft messages specifically to him/her. Marketing departments tend to shy away from this approach as it takes longer, is more difficult, and a bit more risky if it does not work.
Don't Get Caught into the Numbers – we need to start focusing more and more on customers and the customer buyer cycle; it becomes less about reaching a desired lead number and more about desired opportunity or closed client goal. Think about different types of fishing, You can throw a large net out in the ocean and pull in a lot of different fish you can't eat or sell, or you can focus on using the right bait and location to catch the big tuna. Don't get so focused on reporting on a large lead waterfall number. When focused and tested marketing works, your credibility is proven, you provide value, and the rewards are much higher.
Relevancy – I have read many articles about the inability of sales and marketing professionals, as well as employees throughout the company, to articulate the company's message and value proposition. Article after article identifies this inability as one of the biggest challenges that organizations face today. Many organizations are focused in the wrong direction to solve this issue. They focus on cute tactics to tighten messaging or just add as many buzz words to the company description as possible. What they are missing is a sound knowledge of business acumen. I have found that marketing and sales professionals struggle to really speak the language of business. They don't fully understand their company strategy or their customer's business. When you step back in this case, how can they be expected to articulate the value proposition and ultimately, prove their value proposition? In some shape or fashion, organizations have to make business acumen more of a priority. We have seen time after time that business acumen is nice to have, not a must have. HR should make this an integral part of every on-boarding program.
Nurturing – Nurturing leads in my opinion remains a major issues for sales and marketing functions. Some of this goes back to the discussion above on the lack of personalization, where too much of nurturing is implemented in an automated and a click the box mentality. If I had a dime for every time I heard "Ahh they just downloaded something. That is not a lead. Why should I follow-up with it? It's not qualified." I would be rich. Nurturing has to be a well thought out process. Just don't send people standard "marketing stuff" and expect a response. You can still use your marketing automation tools, but try and connect with people at the individual level. Each lead should be treated as a piece of gold. Another suggestion that marketing and sales professionals need to do is actually use their sales training. Everyone sales person at some time is taught a variation of an objection resolution model. Use it! If you finally get through to a prospect while nurturing and they say we are not interested, manage the objection and learn why so that you may be able to uncover an actual need. Just don't say "Ok" and never talk to that person again.
Face-to-Face Opportunities – Live events, like Trade shows and executive breakfasts, have taken a back seat to many digital approaches in marketing. Re-think your trade show and event strategy because it is an opportunity to be face-to-face with a prospect. If you attend a trade show, spend a lot of time supporting and driving traffic to your booth. There is nothing better than a live meeting. Just make sure you follow up after the show!
Summary
As more sales and marketing organizations evolve and disrupt their approaches by adopting digital marketing delivery, tracking tools, and analytics, marketing, sales and demand generation is going to become more and more difficult for companies. eMail blasts, re-marketing, webinars, content-marketing, if you are doing it, be aware that your competitors are doing the same thing. Your prospects are being inundated from all angles with similar messaging and campaigns and it is all becoming a blur to them. The more this happens, the more your products and services will become commoditized and the more difficult your job becomes. You need to constantly change your approach and provide insights, innovation, creativity, and value to prospects at a granular and individual level in order to distinguish your company from every other company.
This article was written by Jim Brodo from Business2Community and was licensed through the NewsCred publisher network.

Jim Brodo is Chief Marketing Officer at Advantexe Learning Solutions. Advantexe focuses on building the business acumen skills and competencies of employees through a simulation-centric approach to learning. With over 25 years of experience in marketing, training and development, and business simulation development, Jim is an award winning marketing executive with a proven background in driving pipeline value, revenue creation, and return on marketing investment through innovative demand generation strategies and tactics across digital and traditional mediums.

Jim has been recognized as top CMO by SmartCEO, Best of Biz Marketing Executive, and his marketing programs have been awarded numerous awards from the Stevie and Killer Content Awards. Jim's specialties include; Search Engine Optimization (SEO), Search Engine Marketing (SEM), brand development and execution, content-based marketing and syndication, account-based marketing, strategic market planning, marketing automation, and sales enablement.

Latest posts by Jim Brodo