How Smart Park Solutions Empower & Transform Communities
As cities strive to be more innovative in building thriving communities where people want to work, live, and play, having vibrant public parks, or Smart Parks, becomes essential to creating the kind of experience residents and visitors would like. But there are many questions communities must ask themselves when establishing new parks or revitalizing older ones.
The questions include: what value do we place on our public parks, and how do we reimagine parks to provide better access to recreation, keep parkgoers safe, increase property values, fuel local economic growth, and create new opportunities that offer a return on investment?
Also, how can park and recreation leaders work with limited resources to improve park use and assets?
The answer to these questions is to use innovative technologies that improve park assets, make them safer, simplify maintenance, and help in better decision-making by providing real-time data and information.
Discover how Smart Parks Solutions use IoT technologies to empower your staff in making better decisions and driving positive outcomes for your entire community through better public park facilities.

Learn more
Using Cox Business's Smart Parks Solutions gives park and recreation leaders four simple ways to use their current resources better and create more successful parks for the entire community.
View Usage of Park Assets to Guide Decisions on Future Improvements or Additions
Community satisfaction levels in public parks are directly tied to whether parkgoers feel safe, whether facilities are clean, and whether they have assets that residents enjoy using. But how are a park's assets being used? Are there underused areas that could be redesigned to attract more people over time?
How do leaders make informed decisions on future expansions or renovations?
By leveraging Computer Vision cameras to gather visual data on the Cox Business Smart Communities platform, park administrators can observe patterns in the utilization of soccer fields, playgrounds, tennis courts, walking trails, and other key park features. For instance, the information gathered might reveal a decline in tennis court usage, presenting an opportunity to introduce highly sought-after pickleball courts. Alternatively, it may show that playground swings are consistently occupied during specific hours, suggesting the possibility of adding more swings in underused playground areas.
Understanding how the park is being used and where opportunities exist for improvement would be a significant challenge for park employees to monitor and document manually. Utilizing Smart Park Solutions gives your staff insights from multiple park locations, all from one digital site, leaving employees valuable time to focus on other important aspects of their work.
Enjoy Maintenance Efficiencies Through Remote Monitoring & Automation
Maintenance staff must make regular trips to all park locations to keep a park clean and ensure everything works. Time on the road driving from park to park adds time and fuel costs. Those costs are incurred even if everything is okay when they arrive.
If your employees and maintenance crews could remotely monitor critical areas of each park from one location, they could easily identify where trash receptacles are full, where lights may have been left on, or where facilities have gates that need to be closed properly after hours. Identifying what needs to happen at each location streamlines the number of trips and time on site, driving costs down and freeing up staff to work on other things.
Additionally, many aspects of a park can be automated or managed with remote access. Having staff close gates from remote locations, program lighting times, or manually turn them on and off from their cell phones can improve efficiencies and increases employee morale and job satisfaction.
Improve Public Safety with Real-Time Video Alerts across Multiple Locations
People want to feel safe in public parks. If they don't feel safe, they aren't going to visit. Parks are busy at all hours of the day. Whether it's early morning yoga and senior walking groups or afternoon moms with kids on the playground and evening soccer families, ensuring a safe public park means providing law enforcement with the tools they need to help keep people safe.
Smart Park Solutions helps you collaborate with local law enforcement, providing them access to live, high-resolution park video feeds with built-in features like artificial intelligence (AI). AI can detect people and vehicles of interest and recognize and read car license plates. A central command center where you can see multiple park locations and get automated alerts from cameras can help you respond faster to emergencies and keep criminals away who might be looking for an opportunity.
Expand Staff Capabilities Without Having to Add More Resources
Consistent for all parks and recreation departments are that budgets come with limitations and sacrifices. Acquiring funding for new projects or renovations is complex, and many park staff members already feel stretched to maintain quality parks under their purview.
What if it were possible to augment your staff's capabilities, enabling them to be more productive during their workday? Smart Parks Solutions harnesses IoT technology to assist your team in optimizing resource management, streamlining work order scheduling, making informed decisions with real-time video insights, and devising strategies for enhancing park facilities to elevate the experience for visitors.
The technology is employed not to replace existing personnel but to support them and boost their overall performance. It's about accomplishing more by working with better information and being virtually present at the site without the need to be there physically for minor tasks.
How Parks and Recreation Managers Can Take Action
Starting the journey of creating a Smart Park experience for your residents and communities isn't as big of a challenge as you might think. Connecting with the right technology partner with experience implementing Smart Park Solutions in other cities lets you discover what works well now and how it might fit your specific park facilities. Having a partner who can sit down and talk through your individual needs, challenges, and aspirations is essential.
The Cox Business Smart Communities team can share how it all works and walk you through a demonstration online to help you connect all the dots between technologies, park usage, maintenance, resources, and much more. Visit us online today to get the conversation started.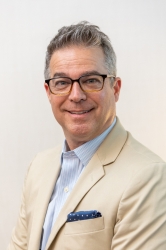 Latest posts by Stephen Rusche
(see all)