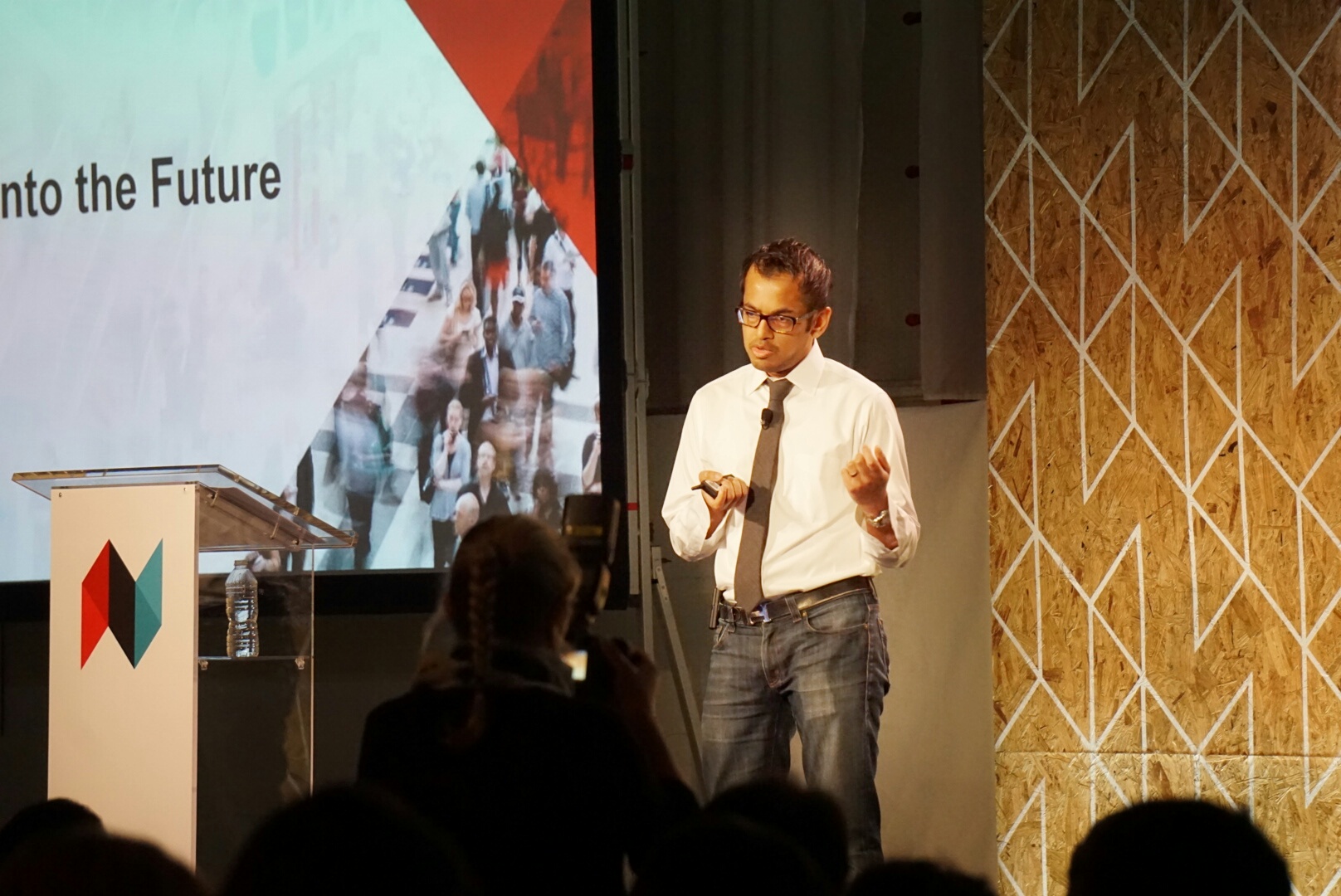 When asking any expert for advice for any subject—be it a business mentor, your doctor, or even an auto mechanic—we all naturally have the same question. "What would you do if you were me?" Intrinsically, we know that the most trusted and honest advice any expert can give will come from the choices they make in their own lives.
That unique "what would you do" story is exactly what NewsCred CEO Shafqat Islam tapped into recently at NewsCred's #ThinkContent 2016 Summit in New York City, when he walked fellow content marketers through how his own company—a leader in content marketing platforms—measures marketing performance and success within their own business.
As a CEO himself, Islam explained, he understands weighing the costs and relative benefits of major content marketing efforts. "We spend a few hundred thousand dollars, maybe more, on content marketing every year," he shared, "and as the CEO, I'm very focused on the bottom line. Are we driving the right behaviors, the right conversions, and getting the right outcomes?"
Relating to the challenges NewsCred's customers and prospects often face, Shafqat used his talk to share insight into his company's own internal process. "If you want to know how a content marketing company does content marketing, these are the metrics we look at at NewsCred."
He explained the NewsCred marketing team focuses on ROI in relation to larger business goals, and he highlighted a few of the key ways. If you didn't make it to #ThinkContent this year, here's what you missed from Shafqat Islam's talk.
Concrete Measurements for Brand Health
Islam began by talking about brand awareness and brand health, which he describes as "leading indicators on the path to purchase." He related to prospect concerns that "how people feel about your brand" is rather nebulous and therefore a difficult metric to explain to CFO's and other executives more focused on the bottom line.
That said, he went on to explain, there are metrics around brand awareness or brand health that can be measured in concrete ways. "From the very top of the funnel, we know that those who have interacted with our content will be twice as likely to accept a meeting with us." Although this metric comes from the very top of the sales funnel, he explains, it shows the value of NewsCred' content marketing efforts from the start.
He also offered unbranded organic search traffic as another example. "Are people finding us even if they don't know who NewsCred is? That's a great key indicator to eventually, will they become customers?"
Conversions That Go Beyond Sales
Shafqat took time to note that while sales are of course the ultimate performance indicator, there are a lot more conversions worth monitoring along the content marketing funnel than sales alone.
Specifically,he discussed behavioral conversions, or conversions that happen that may not lead to an immediate opportunity for a sale.
"Someone comes to our website, and then maybe clicks over to a product page. They may click over to our main NewsCred.com page. They may watch a video. We pay attention to those behavioral indicators because they are keys on the path to purchase."
Also key among these conversion metrics for NewsCred are blog subscriptions. "Subscriptions are really important for us," he explained, "but we track blog subscriptions and lead conversions very separately. They're both really important. Even if you're a consumer brand, I think blog subscribes are an extremely critical link to identify your audience and own that audience."
Content As An Asset, Not An Expense
While most marketers and CFOs alike tend to think of content creation as an ongoing expense, he disagrees with that perspective. Instead, he says, "you should think of content as an asset that grows over time." Creating the same amount of content at the same expense month to month, NewsCred has managed to grow its content library over time—and sees ongoing gains from all those pieces of content. And their clients have experienced similar results,
"The value of the evergreen educational content that you create is building on this asset, and you get a compounding effect over time as your content grows in which your page views and engagement will grow exponentially."
If there's anything Shafqat and his team at NewsCred have learned, it's that content marketing is a marathon and not a sprint. Even while the value of brand health and behavioral metrics may not immediately be reflected in your bottom line, their experience has shown that the long-term payoff is worth the effort and cost.
Key Takeaways:
Consumers who interact with your brand's content are much more likely to take the next step of meeting with you, face to face.
Behavioral indicators such as how a person navigates your site are important, and offer key insights into the actual path to purchase of consumers.
Blog subscriptions are an extremely critical link to identify your audience and owning that audience.
Content should be viewed as an asset that grows over time – not an ongoing expense. There is a compounding effect. As your optimized library of content grows, so does organic traffic to your site, page views, engagement and more.
Martin Jones is a Senior Marketing Manager with the corporate Cox Communications social media team where he assists in leading strategy, campaign ideation and marketing execution for Cox Business social media & content marketing. Today, over 1 million fans engage with Cox Communications content, campaigns and Customer Care on Facebook, Twitter, You Tube. LinkedIn and Google+.
Latest posts by Martin Jones