With all the hype that follows the Ubers, Snapchats and Slacks of the world, it can be hard to come to terms with the dismal fact that 90% of startups fail. Of course, if you're a startup yourself, you're likely all too aware of this stat.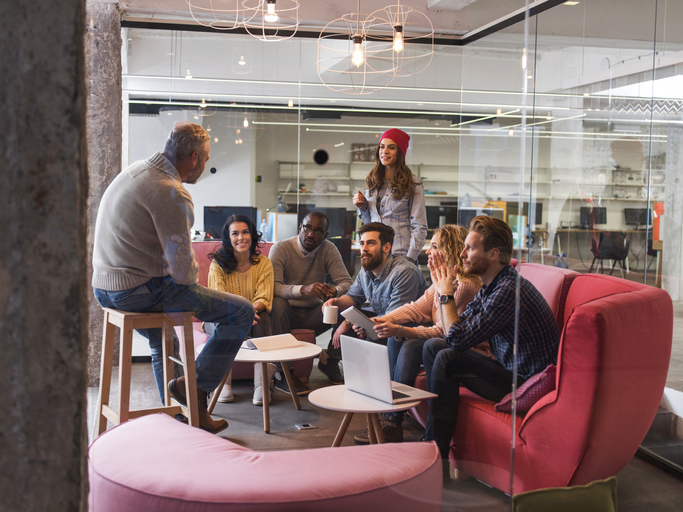 Humana VP of Innovation and Head of Health Ventures Busy Burr has spent 30 years driving innovation as an entrepreneur and investor and emphasizes how vital it is that startup founders fight the temptation to let the journey break — or worse — harden them.
At SXSW Interactive, Burr presented on how to focus on the less obvious components that can give startups staying power. To build a healthy, sustainable startup, she posted, leaders should find their competitive edge within their values, beliefs, and mission, rather than in their startup idea itself.
Busy Burr's tips on building an agile, flexible, athletic company:
1. "Bold ambition, small steps"
Start by setting a bold goal, then breaking it down into tactical steps that can be measured along the way. This not only helps team members stay motivated by knowing they are contributing to the bigger picture, it also helps them stay focused by reaching for small, attainable goals along the way.
Setting an overarching goal with calculated steps also helps your stakeholders better understand how you're going to reach your target. It's important to articulate this roadmap from the start to ensure your vision for the company aligns with your investors' and co-founders' visions.
Burr highlighted the example of Humana's bold goal: improve the health of communities they serve by 20% by 2020, as quantified by the Center of Disease Control's Healthy Days Measure.
"We have this huge mission as a company; it has a deadline and it has a measurement," Burr said. "That means every single person in the company knows they're accountable to help our members have a healthier day than the day before."
2. Whole-hearted leadership
Regardless of the industry, your startup is looking to disrupt, all founders should lead their teams with human emotion at the core. Burr described whole-hearted leadership as "the power that comes from being uncertain and tapping into your own emotions, so you can be emotionally engaged with your customers and the people who work with you."
By being open to listening to your team members and customers, only then can you begin to understand the difference between what you think they need and what they really need to solve their problems. Whole-hearted leadership should also extend into the way you determine which investors will be a good fit for your company.
"You can be in a numbers-focused environment and not lose your soul in it. Ask seeds why they're interested in the company. If it's just money or market share, then they're not on the journey with you," Burr said.
3. Culture of integrity
Your integrity will be tested time and time again in any business, but especially in a stressful startup scenario. It will be a challenge at times to say "no" to cutting corners and to keep your words and actions aligned, especially when the money or support you desperately need is on the line.
"I've always imagined my own kids watching me at work," Burr said. "Am I holding myself up to the same standard I'm trying to teach them? If you're thinking about managing integrity for the long-term, you have to look for those moments that feel like shortcuts and avoid them — because there are tons of them."
Enacting and maintaining a culture of integrity is a different process for every startup because every leader has varying principles and ideas of right and wrong. The important thing is to figure out what matters to you from the start, make it clear to your team and investors, and stick to your guns.
"It's hard to tell what the right thing to do is; it's often very elusive," Burr said. "You have to figure out what your guiding principles are. How are you going to make decisions, do the people you work with know [how] and do you know what is non-negotiable? There's no right or wrong list."
4. Exploit experience
The world of technology and startups has changed drastically in the last decade alone. In the past, people wanted to keep their ideas secret, but we now live in an age where "ideas are cheap." Today's startups have the best chance of succeeding by building support around their idea and inviting people from different backgrounds to contribute to it.
"There's mythology that to truly innovate you have to disrupt and to disrupt you have to be an outsider," Burr said. "But smart people tap into expertise, not just skills. Make sure you're looking for someone who learns really fast or brings an expertise that makes them flexible in what they do."
This also means not only thinking outside the box in terms of skillsets but also thinking outside your own biases when adding team members. While millennials now make up the majority of the workforce and are seen as the leading technology changemakers, Burr reminded the audience that older generations have already witnessed and played a role in transforming the tech industry.
"When you think about building your company, make sure you have people sitting at your side who have actually broken some glass," Burr said. "Recognize that amazing talent can come from places you're not looking."
5. Practice partnership
"Partnerships" between startups and established companies often model a customer-vendor relationship. However, most companies have so much more to offer startups than financial aid.
"Companies hunger for the talent and energy that startups have," Burr said. "They want out-of-the-box thinking, and they have probably tried to solve the problem you're solving a million times and failed."
Companies can provide valuable insight on all of the solutions that didn't work and why, and truly care about finding a solution. Burr recommends asking what the company you're looking to partner with is trying to learn within its current journey so you can find a solution together.
"Then you're in a mode where you're collaborating and actually building something, as opposed to just a financial transaction," Burr said. "Don't be afraid to push for a deeper relationship; don't be afraid to find a champion in the organization that's actually going to help you. If you think of it as a co-creative opportunity from the start, that's what you'll get."