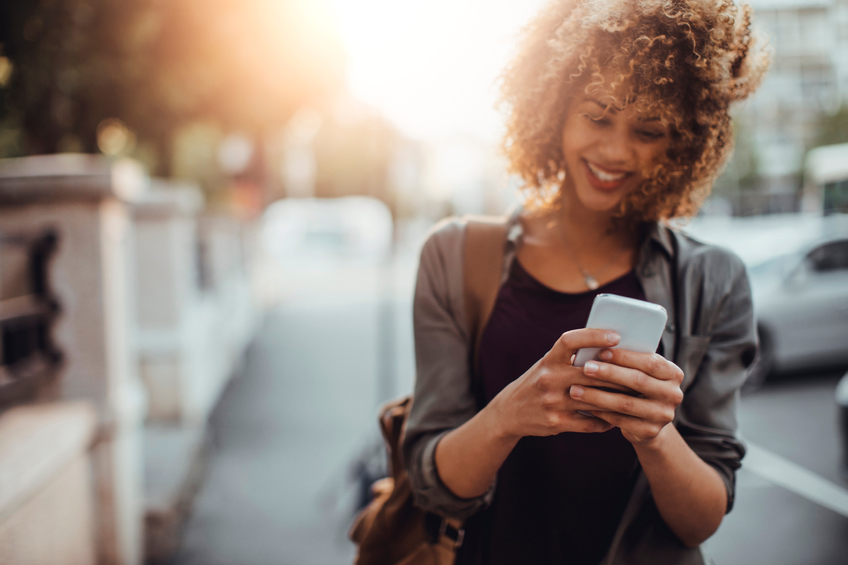 SoLoMo. No, it's not the latest hip Manhattan neighborhood. It's actually an industry term meaning Social-Local-Mobile. Coined several years ago during the onset of the smartphone boom, the emphasis on SoLoMo was the result of the growing popularity of smartphones, social media, and local precision when using search engines. This location-based technology is more effective in curating local results than searches done on desktops.
Now, more and more local businesses are investing their time and money into social media to promote themselves. They're trying to reach customers who are constantly using their mobile devices—the ones who experience life 24/7  through their smartphones and use it to communicate with the world.
So, let's break this down…
Social
When we hear the word 'social,' our minds often go directly to social media: Facebook, Twitter, Instagram. However, social isn't just the platforms we use, but the devices themselves. With so many ways to connect via smartphones, the smartphone is a huge piece of the social pie.
Local
As smartphones became more popular, they had a massive effect on local businesses. Everything from restaurants and retail shops to transportation and personal services has seen a shift due to the precision of local search results as users are able to search for whatever they're looking for within a specific radius. Entire businesses have been built around this geocentric concept (think Uber), and there are many more to come.
Mobile
This one is pretty self-explanatory—everything we're doing, we're doing on mobile devices. Over 200 million Americans own smartphones today, compared to 60 million just six years ago.
Businesses are constantly working on ways to leverage SoLoMo to drive sales, which can be a challenge in an ever-changing technological world. Some questioned the viability of SoLoMo when it became a buzzword, and strategies have changed along with advances in proximity technology. When Facebook first started allowing check-ins, businesses expanded their presence on the platform. As Groupon and LivingSocial grew in popularity, business owners tried to offer the best deal out there. With every new trend comes a new strategy.
What Does Effective SoLoMo Look Like?
Nike has created a very effective SoLoMo strategy with their Nike Plus app. Over 18 million people use the app, which allows users to track their physical activities, find previous running routes, and explore other paths in the area.
Nike has created a community from its app. Users can share their routes and connect with others to encourage them during their activities. The app also uses Facebook to connect users in the same geographic area. Nike also collects a lot of data from its users, including email addresses, locations, interests, and social media presence—a gold mine for their marketing team. All of this while also increasing their own brand awareness.
So what can you learn from Nike, even if you don't have a Nike-sized budget or reach? Offer a service focused on people, not their product. Nike doesn't try to sell to their users, but encourages them to connect on their platform and share it with their friends. Give them the option to leave their data, don't force them to.
Where to Start
Wondering what can your business do to make the most of SoLoMo? Start from the ground up. You can't build a business simply by creating a profile on Facebook, posting a few tweets, and sharing a photo on Instagram. Those tools are useful, but only if you've built your business up from a local perspective. You have to have a strong customer policy and business model in place before you can begin to use SoLoMo to your advantage.
There is no secret weapon or quick and dirty way to make SoLoMo work for your business. Each industry is different, so their approaches need to be unique as well. You need to understand not only your business and your industry, but also your local community. What matters to your customer base, and what can you do to keep them engaged with you? Maybe it's creating an app, optimizing your responsive website, launching a social media campaign or investing in mobile advertising.
Is it Working?
You have the tools to implement SoLoMo to your business model, but how do you know if it's working?
Using retail stores as an example, nearly 90 percent of people will call or visit a store after searching for it on their mobile device. Once in a store, customers will use their phones to look up products, compare prices, and read reviews. They might head over to their favorite social media platform to share a photo and ask connections for their opinions. At checkout, customers can use their smartphone to pay, show the cashier an online coupon from the store's social media, sign up for their email list, and have their receipt sent to them electronically. After the purchase is complete, the buyer might hop onto Yelp and give the store a quick review for others to see.
This is the complete lifecycle of SoLoMo, and it's constant. Everything is interconnected, and the success of your business lies within this cycle.
What's Next?
Some people argue that SoLoMo is dead and that Snapchat is the future. Other say it's wearables, since they can offer further insight into the user's movements, health, and habits.
But the truth is, SoLoMo isn't going anywhere. As long as smartphones and tablets remain ubiquitous, businesses will continue to find ways to make them profitable.
At the end of the day, SoLoMo is not about the social, the mobile, or the local. SoLoMo is ultimately about the person. Devices and social channels are simply access points to the individuals that make up your audience. It's not about where the person is, but what they're looking for. What do they want or need, how can you help them, and in what ways can you engage them? Focus on the person, and the rest will follow.