The business world changes rapidly, bringing new challenges and opportunities, and many entrepreneurs aren't waiting to see where the chips fall. Instead, they're transforming and influencing history while navigating unexpected barriers. Upgrade your social media feeds, email inbox, and podcast selection by following these inspiring women.
1. Ann Handley, Chief Content Officer, Marketing Profs
Building relationships with your customers is critical to your success, and today, possibly more than ever before, it's vital to think outside of the box. Ann Handley says, "Engage the heart, the brain follows happily. Connection before conversion." She's the CCO at Marketing Profs, an online training center packed with resources for entrepreneurs, including training programs, free tutorials, and online events.
Handley is also a speaker and social media influencer. She authored the best-seller, "Everybody Writes," and co-authored "Content Rules: How to Create Killer Blogs, Podcasts, Videos, Ebooks, Webinars (and More) That Engage Customers and Ignite Your Business." Both books are available in several formats and help marketers and business owners improve their approach to digital marketing.
Handley encourages entrepreneurs to reimagine marketing and provides plenty of resources for newbies and professionals. Her insightful content on Twitter and LinkedIn gives you something to think about and act on daily. Plus, you can sign up for her newsletter, Total ANNARCHY, for a bi-weekly dose of ideas. Discover the top ways to interact with customers and leads by following Ann Handley on Twitter (@MarketingProfs).
2. Melinda Emerson, Small Business Expert
Small businesses face unique challenges, and Melinda Emerson is passionate about helping them develop and market their companies. She's the host of the SmallBizChat podcast and author of three books, including "Become Your Own Boss in 12 Months,"  "How to Become a Social Media Ninja," and "Fix Your Business."
Emerson recently spoke at the Business-to-Small-Business (B2SMB) Institute's Forward 22 conference and shares insights on her blog and social media feeds (@SmallBizLady). Her professional development webinars and resources are geared towards SMBs, but she's also well-known for helping Fortune 500 companies market to small businesses. Emerson has advised Pitney Bowes, FedEx, and Xerox and frequently appears on media outlets.
3. Charlene Li, Principal Analyst, Altimeter (a Prophet Company)
Disruption is the name of the game, and Charlene Li is an expert on leadership and digital transformation. She inspires entrepreneurs on social media through her podcast, "The New Rules of Disruption," and has authored and co-authored six books, including "Groundswell: Winning In A World Transformed By Social Technologies," "The Disruption Mindset," and "Open Leadership."
Li founded Altimeter in 2008, and Prophet acquired it in 2015. She remains at Altimeter as a Senior Fellow while consulting, speaking, and serving on several boards. Li says, "The disruption mindset moves leaders and organizations not out of fear and a position of weakness but from the point of view of opportunity and confidence."
Learn how to develop a culture of disruption and lead your company by following Charlene Li on Twitter (@charleneli). Don't forget to check out her podcast and explore topics like overcoming opposition to change and using digital to grow relationships.
4. Sara Du, CEO & Co-Founder, Alloy Automation
Automating business processes is a crucial way to improve outcomes. Consequently, over 80% of respondents to a World Economic Forum survey said, "they are accelerating the automation of their work processes and expanding their use of remote work." Sara Du, the co-founder of the eCommerce automation startup Alloy Automation, lists three focus areas for 2022 on Twitter (@saraduit), including integrating tools to fix data fragmentation, leveraging current customers as an acquisition channel, and upselling intelligently.
Her company has an ecosystem of more than 150 integrated tech partners, and according to a Forbes interview, her team "spans six time zones," so they've adjusted their "working style to be heavily asynchronous and documentation-orientated. The Alloy Automation blog provides tons of information for eCommerce leaders, and Du's LinkedIn and Twitter feeds offer plenty of resources for startups and established businesses.
5. Dr. Julie Albright, Digital Sociologist
Digital transformation isn't a buzzword. It's essential to a company's resilience and competitiveness. Foundry, formerly IDG Communications, found that 91% of organizations "have adopted or have plans to adopt a digital-first business strategy." And Dr. Julie Albright, a digital sociologist, keynote speaker, and author of "Left to Their Own Devices," understands how technologies impact society.
She lectures at the University of California on interactive media psychology and is an Infrastructure Masons board member, an IT and data center professionals organization. Albright frequently participates in discussions about bridging the digital divide and offers insights for leaders in the public and private sectors. Follow Dr. Julie Albright on LinkedIn to learn how the digital landscape is changing and what steps professionals can take to promote inclusivity in the workplace.
6. Jessika Phillips, Founder, NOW Marketing
Building relationships virtually and adopting live video technologies can be daunting for business leaders. However, professionals that excel at communication across multiple channels create deeper connections with their audiences. If relationship-building is on your agenda for 2022 (and it should be!), follow Jessika Phillips, the founder of NOW Marketing and international speaker, on Twitter (@jessikaphillips) and LinkedIn.
Known for her authentic storytelling and CARE method (Capture attention, Articulate your message, Relationship focused, and Exceptional experiences), Phillips delivers insights spanning marketing to customer service. She provides actionable tips and resources for scaling your business while staying connected with clients.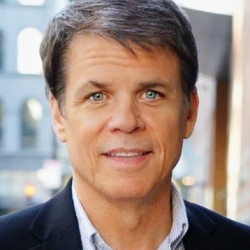 Latest posts by Martin Jones
(see all)