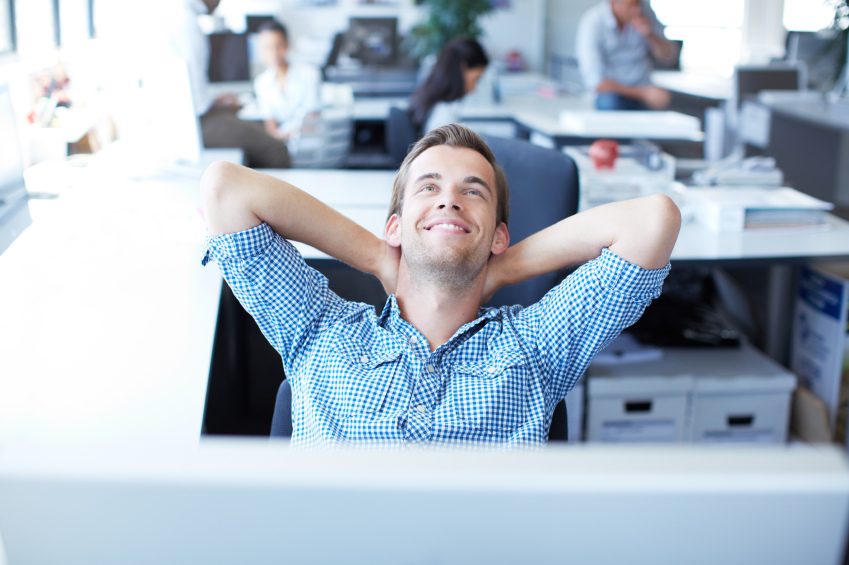 Customers are more connected than ever, and they come to work with the same expectations. They want information and content that's relevant, contextual and up to date. They want effortless and seamless access to the different systems and apps they use every day. They want to collaborate efficiently with co-workers and subject matter experts, where everyone is working off of the same information. And in a mobile world, they want to be able to take action from anywhere.
Unfortunately, legacy business technology doesn't deliver the connected experience employees expect, and employees are left disengaged and less productive as a result. In reality, it's hard to find the right information at the right time and employees are bouncing from system to system and from app to app to get work done (and these systems are rarely accessible via a mobile device).
Think awesome employee experiences are just a "nice-to-have?" Think again — A Gallup "State of the Global Workforce" study reports that 80% of employees are disengaged at work, resulting in more than half a trillion dollars in lost productivity!
The business value of seamless collaboration is well-recognized by many business leaders, managers, and employees, but many current systems fall short, as many large company still utilize legacy, on-premise collaboration systems. As a result, collaboration platforms that embrace ecosystems are communities are on the rise as the solution for businesses looking to connect their employees in a more transparent, logical, and consistent way.
Employee engagement is closely linked with business innovation, a key attribute for businesses looking to adapt in the shifting Age of the Customer. According to Ovum, " An engaged workforce is more likely to understand and appreciate the need for change, thus enabling businesses and institutions to move forward at pace as they evolve to meet new market demands and customer expectations." Employees — and whether or not they feel engaged — hold the keys to business efficacy and how businesses will stack up against the competition.
So how can your business rethink how you engage with each employee? Here are 12 places to start.
1. Recruiting
With an automated recruitment pipeline, you can hire the best candidates quickly. Enable candidates to submit, track, and manage hiring documents and check on hiring status within a community, including integrated third party management tools to give hiring managers an easy way to evaluate candidates.
2. Onboarding
Once you've hired the right candidate, make the onboarding process streamlined within a community and/or a new hire email journey. Connect new hires with subject matter experts and training content so they can get answers to common questions and concerns quickly. Integrate learning management systems or modules for consistent and effective training, within a single destination for certified content and articles. With a one-stop-shop for all their questions, new hires can focus more on getting up to speed, not trying to hunt down the right answer to their FAQ.
Want to learn more about getting started with Employee Community? Download the Employee Community 101 e-book.
3. Support
When your employees act as consumers, they expect personalized, 1-to-1 interactions. But as employees, their experiences are anything but personalized. Treat employees like you would your best customers with a centralized self-service community. Deflect service calls by guiding employees to up-to-date knowledge articles and FAQs. Create a central hub to access and updates documents like benefits information, as well as a ticket management system where employees can create, track, and manage service tickets all in one place.
4. Collaboration
When employees are connected to the right resources and individuals they need to get work done in a community, they can be more productive. With collaboration in the context of business processes, data, files and third parties systems, employees can build groups for project-based collaboration, reducing emails and meetings.
5. News and updates
Keep every employee up to date with what's new at the company with a custom homepage for news and announcements. For longer stories, like articles that feature different team members or exciting projects, consider an internal employee-only blog.
6. Files
Integrate records and files in the flow of business with SharePoint, Box and Google Drive all accessible in one easy and mobile location. As your files change, make sure everyone is up to date with the latest version with Files Sync, that syncs the latest version across all enabled devices.
7. Single sign-on
Provide a seamless launch point to all of your business apps (including third party apps) with single sign-on to increase productivity and decrease confusion.
8. Rewards
Give employees a sounding board to share their team's accomplishments, identify and endorse peers as experts and influencers, and give badges for employee recognition. Each employee can create a profile that enables them to share information, blog posts, and endorsements within groups or the entire company. Enable employees to gain and share certification on specific topics to identify themselves as experts. Boost engagement within the community by introducing gamification that includes scoring systems and ranks for partification.
9. Mobility
Outside of the office your employees are exceedingly mobile-first, and your business systems, apps, and processes need to be, too. With a mobile-first community, your employees can access what they need to get the job done from anywhere.
10. Employee listening
Annual engagement surveys are increasingly being replaced by "employee listening" tools that use pulse surveys, anonymous social tools, and regular feedback check-ins by managers to understand employee engagement on a monthly, weekly, even daily basis — not just once a year. Within a community, community managers can also moderate and analyze discussions, flag inappropriate posts or content, and target recommended content to employees based on their profiles or interests.
11. Leadership programs
As millennials continue to invade the workplace, unlike previous generations they're expecting to work for many companies and experience opportunities to grow their career and gain leadership skills every step of the way. But only 7 percent of businesses state that their companies have accelerated leadership programs for millennials, according to Deloitte. While investment in leadership development has grown by 10 percent since 2015, still, more than one in five companies have no leadership programs at all.
12. Predictive intelligence
In looking to develop the next generation of a company's workforce, more and more HR departments are leveraging external data — such as data from social networking platforms, employment brand data, and data on hiring patterns, and external turnover and demographic data — to predict workforce trends and target top talent.
As employee engagement levels are starting to dip to worrying levels, innovative HR organizations are integrating mobile and cloud technologies to build an app-based set of services designed to incorporate HR programs into an employee's daily life.
This article originally appeared in The Salesforce Blog
This article was written by Emily Stanford from Business2Community and was legally licensed through the NewsCred publisher network.

Emily Stanford is a brand journalist at Salesforce.

Latest posts by Emily Stanford